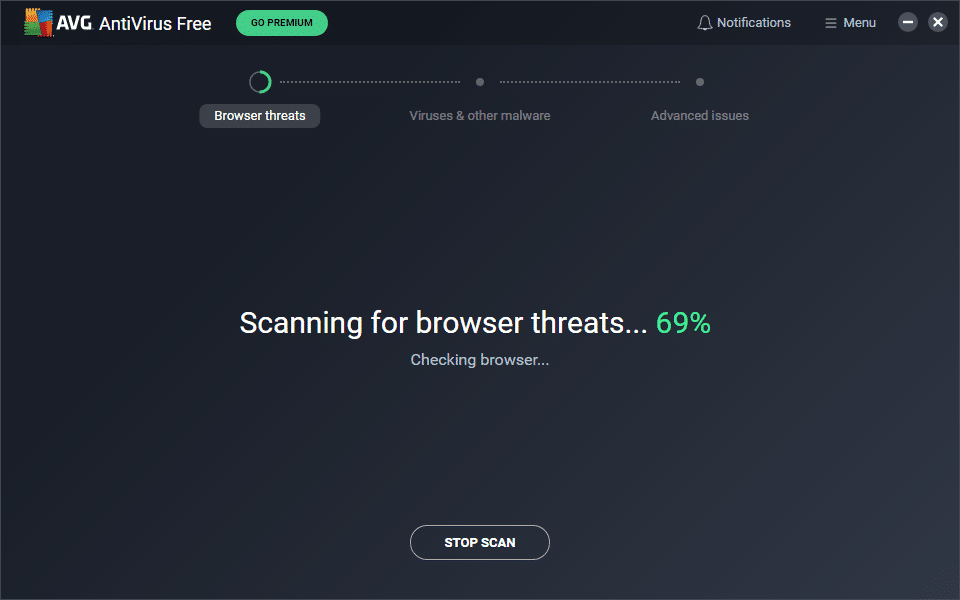 AVG AntiVirus Review
AVG Antivirus, an acronym for Anti-Virus Guard, is a popular antivirus and security suite whose excellent features make it stand out. It was developed by AVG Technologies, a subsidiary of Avast. It is suitable for mobile phones and PCs, safeguarding them against malware and phishing attacks. This feature-rich antivirus suite guarantees the following elements, including benefits.
Performance and User Interface
AVG Antivirus is among the best-performing antivirus suites in the market, guaranteeing a 99.5% online detection and a 94.2% offline detection rate. Its online protection rate is approximately 99.98%, a significantly high percentage. However, a few false positives were reported.
This antivirus can run in a passive mode. It will run background protection features without altering your primary antivirus program. You can rely on its file shredder feature to help remove specific files on your device.
AVG Antivirus has minimal impact on the performance of your device. It uses minimal resources, ensuring that your device performs optimally. In addition, you get daily updates on the health of your machine.
Its modern and seamless user interface makes it significantly easy to navigate. It has readily recognizable thumbnails and headings, ensuring that you launch a scan or access different features effortlessly.
Besides user-friendliness, this user interface features a visually appealing color scheme and design. Its color-grading makes it easy to identify different features without hassles. While it does not allow for customization, not many changes are necessary to this dashboard.
AVG Antivirus displays a message at its top once launched. This message indicates whether or not you are protected, prompting you to take remedial actions whenever necessary. Its dark user interface is suitable for people who prefer dark-mode themes. In this case, background texts will appear green.
This antivirus suite is compatible with multiple operating systems, including Windows, Android, iOS, and OSX.
Scanning
AVG Antivirus allows you to perform a quick or full scan, depending on personal preferences. A quick scan takes approximately 22 seconds. Its general impact on the CPU resources is also significantly low.
On the other hand, a full scan utilizes approximately 425Mbps, which is an excellent disk utilization rate. It takes about 35 minutes to complete this process. During this period, the antivirus can scan over 430,165 files. While this figure is commendable, it is lower than some antivirus options in the market.
Further, AVG runs multiple scanning processes in the background. It has a file shield feature that scans files added or opened on your computer. In addition, it will check any data being transferred, whether into or out of the computer.
AVG antivirus allows you to customize your scans. Personalizing these settings implies you will decide how often the scan can happen. You can also choose how thorough it should be and whether it will be automated.
There are also scan controls, which help determine the intensity of each scan. These scans allow for effortless adjustment, which is vital for better computer speeds in the long run.
Security and Firewall
AVG Antivirus has proven its ability to stop various threats and attacks, including zero-day threats. Preventing zero-day attacks implies that the antivirus is robust enough to detect and neutralize newly-created security threats, including malware and ransomware.
This security suite has a comprehensive firewall that easily justifies its price tag. It checks all incoming and outgoing connections on your network. In addition, you can select various presets, depending on your preferred strictness and usage.
Real-time protection will help boost cybercrime prevention. This feature minimizes exposure to malware and ransomware. It also eliminates the risk of a firewall breach. However, its firewall does not have parental controls, meaning it cannot block sites that are not child-friendly.
AVG Antivirus will also protect you against phishing, often through email. This antivirus will detect phishing attacks that are delivered via email.
AVG Antivirus has a webcam protection feature, which controls how many apps can access your webcam. Minimizing this exposure eliminates the risk of hacking and phishing. There is also an anti-theft phone tracker that protects your phone if it gets lost.
AVG Secure Browser
The AVG Secure Browser program is an excellent browser included in the package. Once you install AVG Antivirus, it will prompt you to install this browser and make it the default choice. It is Chromium-based, meaning it is significantly similar to Google Chrome. Its privacy settings are at the front, making it easier to alter control when necessary.
Its homepage includes a Security and Privacy Center, where you can personalize your preferences. It has ten panels, each representing a specific security function. Navigating through these settings is pretty straightforward, guaranteeing a seamless user experience.
At the same time, it provides anti-tracking features, ensuring there are minimal footprints when using the browser. This element cushions you against exposing yourself to hackers. Moreover, its fingerprint feature makes it hard for unauthorized persons to access the browser and your information.
AVG Secure VPN
You can use AVG SecureVPN across various devices and operating systems. Its premium version allows you to protect up to five devices at once. This VPN is essential in making your IP address and digital footprint.
AVG Antivirus is a robust security suite that works with multiple browsers and operating systems. Its reliability and efficiency make it a popular choice. Above all, it guarantees excellent protection against data breaches and cyber-attacks.