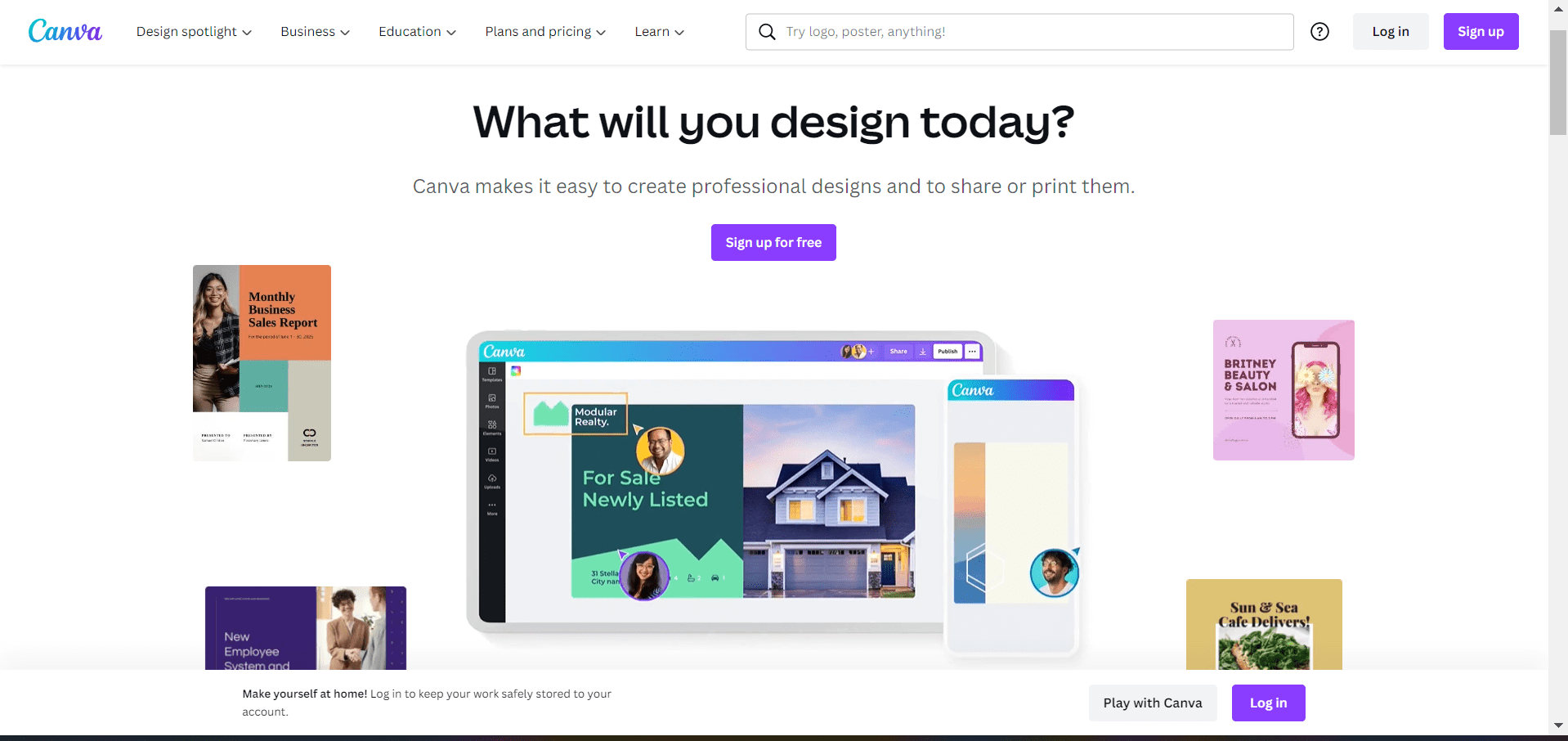 Everything About Canva
If you own a business, operate a blog, design any business print, use mockups, or need any graphic design you can imagine, the chances are high that you'll get a high level of convenience from using Canva.
The best part about this graphics service is that it's incredibly user-friendly. Canva allows novice designers to complete jobs far beyond their capabilities thanks to incredible templates and other pre-made design options.
If you've never used this amazing design tool or have been thinking about trying it, find out more about the most important features below.
What Is Canva?
Canva is a service for creating various graphic designs and mock-ups for personal and professional use. Users sign up for a free or paid account and access a vast library of different templates and visual tools to create an endless number of signs, menus, brochures, banners, social media templates, and much more.
Anybody with the need for any graphic design platform will benefit from Canva. However, how the platform is designed, those with content creation and business-motivated projects will use this versatile tool most.
Dashboard/Interface
After signing into Canva, the dashboard contains many options for creating different graphic design pieces. You've got dozens of different templates for various platforms and projects to choose from.
After selecting what type of business or project you'd like to create, you're taken to the current graphic templates, from which you'll have hundreds of different pre-made layouts to select. Some of the categories available to create include:
Pinterest Pins
Instagram Posts/Reels/Videos
Facebook Posts/Ads
Blog Banners
LinkedIn Banners
YouTube Channel Art
Logos
Slide Presentations
EBooks
Book Covers
Magazine Covers
Class Presentations
Posters
Store Banners
Business Cards
YouTube Intro/Outro
Videos
Website Templates and Kits
Brand Lettering/Colors
Shirt/Coffee Mugs/Other Mockup Items
And the list goes on and on. Alternatively, you can select to start from scratch by choosing a canvas of any size. (pixel x pixel).
Creating
After selecting your preferred template, you're taken to the editor. You've got full control over how you'd like to edit your project/design from inside the editor. Everything from adding photos fully customizable text with special effects, shapes, and backgrounds is at your disposal.
Canva has an entire gallery for you to select elements and graphics from. Their selection is robust – you should have no problem finding almost anything you search for to complete your project.
The editing portion of Canva is straightforward and user-friendly. There are layers involved, but not to the extent of a complicated platform like Photoshop. You can move single elements of a photo, shape, or text forward and backward on your canvas.
That gives you enough control over your work to personalize it without making it over-complicated. While it doesn't have the blending power of a platform like Photoshop, there's more than enough to create exactly what you need in Canva. After all, it's more for business-related mediums and content creation, not a dedicated graphic design tool.
Integration
One of the coolest parts about Canva is its integration features. You're able to link your social media accounts and post directly to the platform of your choosing.
In addition, a content calendar exists for you to fill in, allowing you to create any social media content early and set it to auto-post based on your selected dates and times. This is available on Facebook, Instagram, Pinterest, LinkedIn, and YouTube.
Other integrations include paid services like iStock and other photo and video copyright purchasing services. Link your account and upload your purchased pictures and videos directly to the project you're creating.
Printing/Ordering
Canva also allows you to prepare printing jobs like business cards, banners, posters, flyers, brochures, or dozens of possible items. These can either be handled by you using your office or home printer, or you can choose to send them to an actual print shop or service you use.
Additional Features
Some of the other unique features of Canva include the website template or theme/kit creator. With these, you can create an entire website using custom graphics and text for any platform. The theme/kit creator is geared towards a block-style website like Elementor (also available to integrate with Canva).
An eBook creator allows you to customize every portion of your eBook, from the content to the outside cover, and even control the marketing aspects. There's not much you can't do with Canva.
If you need a tool that handles any business-related graphics, social events, advertising, marketing, or any other industry, Canva is the number one tool in the business. Regardless of whether you're a veteran graphic designer or novice user, all levels of expertise can benefit from the fantastic features of a Canva membership.