Advertisement
---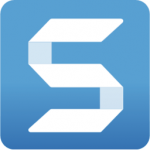 TechSmith SnagIt

Download
TechSmith SnagIt has several advanced tools not available in other screen capture utilities such as various output formats, markup tools, vector based editing and special effects to enhance the final end product. The program saves the screen capture in order. This makes it easy for the user to find them and mark it up. The advanced version of this software is a surprise and has added several innovative features.
Software details
---
Software description
---
TechSmith SnagIt 2019 is one of the dynamic and extensive screen capture software available for Windows platforms. The program offers better quality tools and features for editing, streamline and organizing screen captures. The utility comes in handy if you use Windows screen shots for daily professional use. The new version of this software offers more tools for better productivity.
Know the advantages
• TechSmith SnagIt is one of the most advanced and flexible screen capture utilities available in the market
• It automatically saves the screen, captures in an order and allows the user to merge these shots in an easy manner.
• The software has several unique and powerful tools
• Multiple modes of views are possible to choose the best interface of the screen shot.
TechSmith SnagIt has more unique tools which are required to share, edit, convert format, organize, mark up and annotate the captured images. It is also possible to integrate the software with other programs such as blogger, Flickr, Skype, Firefox and OneNote. A limited period trial version of the software is available to evaluate the quality of the product.