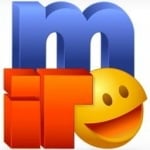 mIRC 2018 is one of the most popular IRC or Internet Relay Chat Client that lets you chat with your friends across multiple chat engines. It was developed in 1995 to provide support for Microsoft Windows operating system. It is a social platform that creates a virtual connection through which you can get connected and send messages to your friends living at the other ends of the world. Not only it is low resource consuming software, but it can also be used in portable mode via removable devices.
Software details
---
Windows 10 / Windows 7 / Windows 8
Software description
---
mIRC is the ultimate tool for chatting and communicating with other people in the IRC network. It is the best and most reputed choice for Windows machines. In using mIRC, you can chat, share, or even work or play with other people in the same network worldwide. Above all, you can chat privately and create or join groups.
Highlight Features
CREATE BUDDY LISTS
TRANSFER FILES
MULTI-SERVER CONNECTIONS
SECURE MESSAGING USING IPv6, SSL ENCRYPTION, AND PROXY
CUSTOMIZABLE SOUNDS AND NOTIFICATIONS
MESSAGE LOGGING AND TRAY NOTIFICATIONS
AND MANY MORE
What is IRC?
If you're looking to use mIRC, you should first understand what and how IRC works. IRC or Internet Chat Relay, in its most basic explanation, is a network that allows people to communicate worldwide. In detail, it is an application layer protocol that allows users to communicate. Unlike most messaging platforms, users can host and connect to different servers. After connecting to a server, you can chat and transfer files to almost anyone on that same network.
Advantage of Using IRC
Using IRC over most messaging platform boils down to freedom and privacy. The data and messages you transfer over messaging services are stored on the company's server, and that most of them aren't that secure. IRC, on the other hand, will be private and secure when you want it to be. You can use different security protocols and proxies to mask your connection. It can't be denied that most feel comfortable chatting with other people when they know that their conversations are private.
mIRC Major Features
Multi-Server Connections
Create or connect to different servers in the IRC network using mIRC. It is so easy to switch and view all servers that you saved.
Security Protocols Support
Unlike most messaging platforms currently available, a user can take pretty much control of IRC security and privacy. mIRC is a robust client that takes this advantage into full use. It supports many security protocols such as IPv6, SSL encryption, proxy, and many more.
Group Messaging
Create or join a group conversation with other users in the IRC network. It's more fun to talk about, even better with more people in a conversation. Group messaging also supports security protocols, making it even better.
Private Conversations
You can create a private server that only you and someone has access to. It acts as a way to converse privately without worrying that others might see it. It is essential and useful for sharing sensitive information and data with other people.
Customizable Client
Customize how mIRC looks based on your preferences. Modify sounds and how notifications behave. Make mIRC yours today!
Notifications Support
mIRC logs messages and sends out notifications for you. Every time you receive a message, a notification will pop up along with a sound that you can customize. Besides, it integrates with the Windows notification tray, so you'll be continuously alerted whenever something came up.
Automation and other Features
You can develop games and other applications right from mIRC. These creations can be shared and accessed by other users in the IRC network as well. Also, you can automate tasks using scripts and actions on the client.