Advertisement
---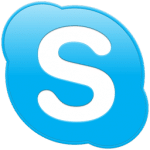 Skype lets you make Internet-based VoIP (voice over Internet protocol) phone calls for free to anyone in the world who also uses Skype on their device. Also you will able to make inexpensive calls from your device to landlines and cell phones worldwide.
Software details
---
Android / iphone / mac / Windows 10 / Windows 8
Software description
---
In today's world, it's no more a challenge to communicate with your friends or family members settled in the other corner of the world. Moreover, if you're too busy to meet your friends or relatives, just log into Skype and talk to them for as long as you want without spending a single penny.
Video and Audio Calling
Skype aims to make communication more feasible for everyone. Whether you want to stay in touch with your best friend settled in another country or want to conduct a professional interview, this is your one-stop solution.
This software offers support for HD quality audio and video. You can make calls and talk to other users for hours. With the help of its group call feature, you can talk to multiple friends simultaneously.
If you want to make a Skype call to a friend who doesn't use this app, then you can do so by purchasing credits.
Chatting Experience
When chatting with your friends, you may send text messages as well as insert additional content to make your chatting experience more fun. For this purpose, you can use emoticons and stickers or share funny GIFs, images, and videos with them.
Skype also makes it easier to share important documents, contacts, and video files with your family or friends. Furthermore, it's no more a challenge to keep your loved ones up-to-date with your current location.
Share Screens
Be it your professional or personal needs, you may want to share your desktop screen with others. For instance, while working on a class project, you may have to share screen to guide your friend on how to perform a specific task. Or in order to collaborate with your colleagues on an important project, you can share screens to efficiently and effectively carry out the task.
Other Features
Here's a brief list of other prominent features of this application:
Customizable interface and functions
Interactive video calls
High-quality audio and video calls
Call recording option
Live captions or subtitles during calls
Change your availability status
Easy-to-use desktop application
The options to view profiles of other users and block scammers
To conclude, Skype is a user-friendly tool that makes it convenient to stay in touch with your loved ones. You can communicate with them via interactive audio and video calls and create online groups for an enhanced experience. Its intuitive GUI makes it easy to use for users of all experience levels.
Alternate Softwares