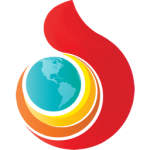 Touch Browser provides more facilities apart from letting you use internet. You can visit webpages, download content, manage downloads, get torrent videos, enjoy online games, listen to music, customize the look of browser and add attractive themes to your Facebook. It is a great choice for fun loving computer users.
Torch Browser is available to be used in Windows as well as Mac Operating System. In a very short time period, after its launch, it has gained popularity from commercial internet users all over the globe. Its bonus feature is that it can run all the add-ons and extensions that are available in the Chrome web store. Since this is based on Chromium source code just like Google Chrome web browser, therefore both are similar in interface and web search history is also synchronized in both browsers.
Installation:
The installation of this software is easy but it will take some time to complete. You can download its setup file from the available link and then run it. The completion of installation process will let you use it for free. The developer team is working to make it better. The latest version that they have launched is 60 that was released in 2018.
Media Grab:
Torch Browser is a great choice for grabbing and downloading data files from internet. There are not too many restrictions about particular formats or using external software and extensions. It provides all the facilities with just a single click.
Torrent Manager:
Torrent lets you download videos in a short amount of time and is therefore most commonly used. In order to attract Torrent users, the browser has included it within its menu bar. The torrent files can be searched, downloaded, added and managed in an easier way.
Downloads:
Sometimes it happens that you want to run the video before its downloading has been finished. Torch browser developers have tried their best to fulfill this requirement of users. Now you can run the videos while downloading. This feature lets you check the quality of videos in time and also saves your time by sparing you from waiting till completion of download.
Music Files:
With Torch Music you can listen to all of your favorite songs. A large library of music is managed for providing users with a lot of entertainment. Music is divided into different categories for making the search easier. You can create playlists for listening to the collection of songs online.
Gaming:
Torch Browser is a blessing for games lovers. The vast collection of online games lets you enjoy in your spare time. Due to the online games you can save your storage space. There is no need to download or save heavy games and thus the speed and performance of your computers can be increased in an effective way.
Facelift:
With the help of this amazing browser it is possible to customize the theme, color, background font and other designs of Facebook. There are many colors and images available for making better and creative decisions.