---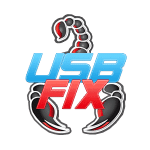 UsbFix is a free malware detection and removal software from SosVirus that helps you detect and remove malware from infected USB drives or other USB removable devices like external Hard disks, smartphones, cameras, memory card readers, among others.
Software details
---
Windows 10 / Windows 7 / Windows 8
Software description
---
As the name suggests, UsbFix is an efficient computer application that helps you keep your USB flash drives or external storage devices secure by removing malware content. It is a free product that analyzes the content stored in USB, external hard disk, mobile phone or music players in order to verify that they are free from harmful viruses that can affect your PC and cause loss of important data. It any malware is found on storage devices then it efficiently removes only those files that contain virus. It is an effective computer utility that should be used whenever any external peripheral is connected to PC.
Optimization:
UsbFix is a simple tool that can analyze the hard disk of your computer and generate report through which you can remove unnecessary data. It detects temporary internet files, deleted files in recycle bin and system logs that can be cleaned. It also shares details about the space occupied by such files and helps you free memory space from useless data in a single click. All you need to do is to click its Clean All button and the software will remove them in no time. Due to its extremely fast speed and reliable performance, it can be used to keep your PC clean from junk.
Customization:
UsbFix is a network security tool that can work according to your requirements. Its Options menu lets you customize various settings. It is a multilingual tool and you can choose English, Spanish, French, Italian or Portuguese as default language. You can select appropriate format for reports of scan results and can get them in BBCode, HTML, CCM or KiosKea formats. Detection of network disk can be enabled for scan of drives connected via network. Furthermore, you can enable or disable listings and auto-run functions for device scan and reports generation.
Drives Cleaning:
The software allows you to clean all connected drives and ensure their security against potential threats by vaccinating them. However if you are unsatisfied with the applied vaccination then you can delete it easily. A well-maintained list of all files and folders present in particular drives can be created and stored to keep track of unwanted changes. You can view the log record through Report option to get notified of actions taken by the software.
Other Features:
UsbFix is available in three editions for its users; Free, Premium and Maintenance. It is an anti-malware tool that can detect and safely remove infected content from external storage devices that are connected to your PC. The results are highly accurate and deletion process is carried out at quick pace. It can also be used to optimize drives and remove unwanted data. However, proper backup is maintained so you can restore files and folders if they are needed in future.
UsbFix is a recommended choice for removing malware from external storage devices due to its simple interface and easy usage. It can scan USB and other devices to detect and remove harmful files as well as it can vaccinate drives to eliminate their chances of getting affected in future.
Alternate Softwares