---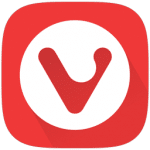 The user interface of Vivaldi can be customized more so than in any other browser out there. You can manually arrange Opened tabs in groups, and you can work with several tabs simultaneously in split screen. Users can extensively configure keyboard shortcuts and mouse gestures in the browser. You can also take notes and make the screenshots of the web pages you visit. And if you are still lacking features and customization, most Google Chrome's extensions work well in Vivaldi.
Unlike many other major browsers, Vivaldi's team values user's privacy. Most settings that can present a risk to your privacy, are switched off by default. And synchronization feature is end-to-end encrypted, which means that the company cannot access the data you synchronize (you have to set a password for this to work).
Software details
---
Linux / mac / Windows 10 / Windows 8
Software description
---
Vivaldi provides options that a typical browser does not. Standard browsers serve the general user, not a specific user. Vivaldi is a unique browser allowing you the ability to mix and match settings.
Vivaldi serves as an alternative browser for those who wish to use something other than the main browsers that have powered the Internet for decades. The reason to consider this browser as a potential alternative to what you have been doing is simply because it is faster, sleeker, and more powerful than many of those older browsers.
It is reasonable to say that the Vivaldi browser is something that can literally change your life and the way that you process the information that you receive.
You can keep a bookmark of your favorite websites ready to go at all times with your Vivaldi browser, and you can trust that you will have instant access to the resources that you need right when you need them anytime.
It is extremely useful to have a browser that simply works the way that you expect it to. When you have something like that going for you, then you truly have the best that the Internet can offer. Many people are already making the switch to Vivaldi to help make their Internet use even more effective.
What is Vivaldi?
A freeware, cross-platform web browser, Vivaldi was developed by Vivaldi Technologies. It was founded by Jon Stephenson von Tetzchner, former founder and Opera Software CEO, and Tatsuki Tomita.  Its official launch was on April 6, 2016.
Vivaldi was structured the same as Google Chrome, Opera, and Blink. At first glance, the web browser is more similar to Opera, rather than Chrome. But there are features that are not available on Opera and other browsers.
How Vivaldi Protects Your Privacy
Working effortlessly between desktop and mobile devices, it syncs your bookmarks, passwords, browsing history, and more. End-to-end encryption is used to protect your data from being accessed by third parties.
Vivaldi includes a built-in pop-up blocker, ad blocker, and tracker blocker. With these features, intrusive ads are blocked, web pages are loaded faster, and you are protected from malicious ads and trackers.
Internet usage has changed dramatically over the years. Many websites track what their visitors do online. Dismissed as required to provide a unique experience for the user, the tracking is used to build user profiles. The profiles are then used to build targeted advertising based on the user's online activity.
Convenience and speed are no longer the most important features when choosing a web browser. You need to consider how much data is collected about your web searches.
One of the best ways to protect your privacy and data is the use of a web browser that is privacy-friendly, such as Vivaldi. With a strict do not track philosophy and their built-in tracking protection, your data is yours alone. Vivaldi has no interest in acquiring your information.
Sites you visit want to gather as much information as possible about their visitors. Browsers have the same idea. Why? To make more sales and further their business. Apps monitor users, create profiles, and sell your data to advertisers for profit. That is how you use their services at no cost.
Features of Vivaldi
Ad Blocker or Pop-up Blocker
This feature blocks intrusive ads, helps with speedy web page loading, and offers protection from trackers and malicious ads. Without ad blocking, advertisements will interrupt your browsing activity and stop web pages from loading quickly.
When advertisements are downloading, pop-ups, banners, animations, etc. slow down browsing activity significantly. The pop-up blocker stops advertisements as soon as a page is requested. Vivaldi relies on a list of URLs that distribute ads, then stops requests to those URLs before they are sent. The ads are never downloaded.
Tracker Blocker
This feature prevents web trackers from following your web activity and gathering personal information about you. When this feature is active, trackers are blocked before they are sent. There are three levels of blocking to choose from – no blocking, block trackers, and block trackers and ads.
Create Tab Stacks
Tab stacks help to eliminate confusion and allow you to stay organized if you have many tabs open. Tabs can also be managed in the window panel and in most cases are used the same way.
Calendar
Never forget an appointment again. With three views to choose from; minimal, compact, or full, you can adjust how much detail you want to show for each event. There is a flexible grid that can expand to meet your needs.
Time slots adjust to fit the events you add, with everything remaining visible. You decide how many computers you wish to house your calendar on – just one or on calendars stored online, such as Google Calendar.
Translator
As our browser is private by design, so is Vivaldi Translate. It is easy to translate website material in an instant with no need for third-party servers who can access your data. No one has access to your private translation activity.
You are able to translate small snippets of text or full web pages into 108 languages with the click of a button. You have access to your translation history. Fast and seamless full-page translations are available on every platform and work on Windows, Android, Linux, and macOS.
Email
As all mail feeds into the same inbox, it is easy to manage emails from mailing lists and multiple accounts. As all email is indexed, you are able to search for them offline. You can compose emails in new tabs, keep more than one message open at a time, and manage them with Vivaldi's extensive tab features.
Notes Panel
Using this feature, you can take notes or add a description to a screenshot. Add thoughts and ideas to any site after visiting it using this feature.
Feed Reader
This feature helps you build a private news feed based on your interests, not online activity. Using the mail feature, your feed items can be managed and displayed. Feed items look like mail, so you can mark them as read and can be indexed like mail, so they are easy to find later. YouTube channels can also be added to your feed reader.
Data Sync
You can sync passwords, bookmarks, open tabs, and more between mobile devices, your laptop, or desktop. Just log in to your Vivaldi account. It is important to remember that sync is not meant to be used for data backup. If the data is not stored locally, it cannot be guaranteed that you will be able to restore the data later.
Prior to using Sync, you need to create an encryption password to encrypt your data. The password needs to be at least 12 characters long, using a combination of characters, numbers, and letters.
This password is used on your computer for encrypting the data you send to the Vivaldi server and to decrypt the received data.
The encryption password is never sent to Vivaldi or any third party. Even if someone gets access to your account username and login password, they will not be able to access your account unless you have shared the encryption password with them.
In the event you forget the password, it is possible to reset it. You will need to upload the data again.
Capture Screenshots
With the built-in Capture tool, you can capture a full-page screenshot or a defined portion of the screen you select. The Vivaldi UI allows users flexibility in how they implement the tool.
There are two types of capture. A full-page capture is a screenshot of the entire page of a website, with a max of 30,000 pixels. Regardless of how you intend to use it, it is a great way to get a complete view in a single image.
If you only need a particular section of the screen for more precision, resize the capture area before taking the screenshot.
You can save the screenshots to a disk for later use or copy them to your clipboard. The capture tool allows you to choose the options: Save as JPEP or Save as PNG.
Sidebar Web Panels
You are able to customize web panels, allowing you to keep your favorite sites within easy reach in the Vivaldi side panels. Opening web panels allows for simultaneous viewing alongside the content in the main window.
Why Try Vivaldi?
You can make Vivaldi work the way you need it to. With keyboard shortcuts, custom search engines, mouse gestures, and quick commands, you can customize your navigation to get the most out of each browsing session.
With so many features built in it, Vivaldi makes it possible to no longer need your favorite extensions. But you can always have extensions installed from the Chrome Web Store, if you desire.
Vivaldi feels a browser should adapt to you – not the other way around. Users want to tweak their browser to make it their own. Without sacrificing security or performance, they want access to advanced tools which they get.
As Vivaldi is owned by its employees, they have no external investors, which gives them the freedom to listen to every idea from its users.
Do you have additional questions about Vivaldi? They have your back! Contact them and get your questions answered.