---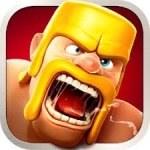 Basically Clash of Clans revolves around the resources as you can't do much without them in the game. You need resources for building troops for attack, building new defenses, for upgrades and literally for everything.
Software details
---
Software description
---
Clash of Clans is a Supercell Strategy game rated E+ for everyone. With the Clash of Clans download, millions of players can play from around the world. Work together or against each other while building a village and raising a clan. When the time comes, take part in epic Clan Wars in hopes of achieving victory. Along the way, warriors will be challenged by mustached Barbarians, Wizards equipped with fire, and well-armed troops.
Features
Join a Clan or start your own
Compete in league play
Use practice mode to hone your skills
Watch attacks as a spectator
Replay attacks to see how they unfolded in real-time
Feature Highlights
Constantly Updating and Evolving
Clash of Clans app is constantly updating and evolving. The original app was released in 2012. Since that time, Supercell gamers have been through countless updates that entertain and keep them coming back for more.
In-Game News Section
Never miss a sneak peek at what's coming up next when you regularly check out the in-game news section. The in-game news section also connects users to Clash of Clans's social media pages, where they can engage with other fans of Clash of Clans on a different platform.
Compete in League Play
Do you think you're the best of the best? If so, take your shot at proving it by joining league play. Here, hundreds of players compete against each other from around the world. When the challenges are done, the scores are posted to prove who is the best of the best.
Create a Unique Battle Strategy
Create a battle strategy unique to your clan. Battle strategies are created from spells, troops, and heroes. Once you find a battle strategy that works, it's important to keep perfecting it so that your enemies don't learn to predict your next move.
Upgrade Your Village
There are two ways to upgrade your village. You can either collect resources through battle, or you can loot your enemies when they least expect it. You can also collect HeroSkins and Sceneries to make your village absolutely unique.
Use Practice Mode
Before you embark on a battle, use the app's practice mode to see your strategy in action. Practice mode is a great way to hone your technique and find the perfect combination of spells, troops, and heroes to tackle a particular quest.
Alternate Softwares