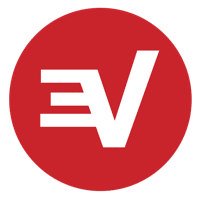 ExpressVPN is a cross platform application compatible with Windows, Mac, Linux and Android OS as well as with routers. The activities performed are encrypted and are not recorded anywhere. Unlimited bandwidth enables users to browse internet and download content at fast speed. Various virtual locations are supported and users can switch their location as many times as they want.
ExpressVPN stands out from its competition by supporting both OpenVPN protocol and split tunneling – two features you might expect from any VPN – as well as offering extras such as Threat Manager for blocking online tracking from specific websites and applications using a constantly-updated list of known threats.
Network Lock, which safeguards data leaks if your VPN connection drops out by temporarily stopping all traffic until protection has been restored, is another welcome feature of the app. Furthermore, you can create an "App and Website Shortcuts" panel in your connection window that holds up to five shortcuts of frequently-used apps (though only compatible on Android). Furthermore, an automatic connect option should you join untrusted networks makes sense and there's even an effective kill switch which cuts off access if VPN stops functioning!
ExpressVPN stands out from its competition by not hiding its premium features behind more expensive subscription lengths; all functionality can be found across them all, without restrictions on how many devices can use the service at one time or downloading files from servers.
The app itself is user-friendly and its elegant design makes it easy to quickly find the settings suitable for your device and internet connection. There are helpful quick-start guides available for newcomers as well as a comprehensive FAQ, in-house articles covering topics from setting up to troubleshooting written by team rather than third-party authors; while they assume some level of technical knowledge they avoid making assumptions about users abilities or providing answers that might confuse them.
Other features we like about ExpressVPN's app include its simple 'Quick Connect' button, which connects without opening the main app; and system tray icon which shows your current location and offers one-click connectivity to most recent destination. Both mobile and desktop app use ExpressVPN's Lightway protocol – faster than UDP but more secure due to eliminating non-essential features for increased performance, while including WolfSSL encryption for increased security.
Tested both mobile and desktop apps on Android, iOS, Windows and Mac platforms – without detecting any DNS or traffic leaks or DNS server outages – we found our tests performed flawlessly; without DNS leakage or traffic loss being noticed during any tests conducted by third parties. Each server also operates its own private 256-bit encrypted DNS servers to ensure no outside parties record your data without your knowledge or approval.
Although we would prefer more advanced features like an inbuilt firewall, overall ExpressVPN offers an excellent blend of features at a reasonable cost. Most competitors charge more per device, whereas multi-device plans begin at just $13 – this is less than any of CyberGhost, Hotspot Shield or Surfshark offer! Plus you get a 30-day money-back guarantee which most competitors do not provide.