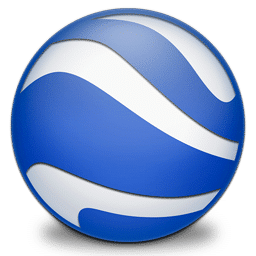 Google earth is an app that provide geographical detail of each point on earth. It contains more detailed view with 2dimention and 3 dimension orientation. It shows streets, buildings, houses and how features appear on real world.
Google Earth is an app that contains an insightful global map. It is comprehensive, and complex with fine details. It can show precise location of any place and part of the world. Google Earth further has a 3D and 2D dimension view bringing a clearer understanding of the place. The app can calculate distances between two or more points by pinning points. It has scale with different units of measuring distance and depth.
In addition, Google Earth has a simple intuitive interface that is easy to navigate through. Any person with any level of skills can get about it easily. The home display has a globe that can spin 360 in any direction. You can zoom to get a clearer image of a place or a feature. The software tries to give the realistic image of the place from aerial which is 2 dimension oriented. You can further have more clear and real view by using 3 dimension orientation.
Furthermore, you can find clear streets and highways to follow by taping the path icon. When you tap any point on the blue paths, you get a clear and real view of the surrounding areas. Google Earth also has a Voyager which helps the user learn about geographical features. Detailed information containing images and videos. These provide finer understanding of the place. In addition to that, there is a search panel at the top of the interface. They are helpful to find out specific locations on earth.
Moreover, Google Earth has a compass at the bottom right. The main significance is to make sure you know to which direction you have tilted the map of the specific location you are viewing. It provides names of places and even land marks and Institutions . This system make it easy to trace and know exact point you wish to know. The software provides longitudinal and latitudinal reading of exact points. This aspect is very crucial for surveyors, explorers and navigators. The exact geographical reading in terms of latitudes and longitudes is important.
Additionally, there is a current location icon on the interface. When you tap it gives an exact location of the place you are. You can trace even into the house you are in. This feature will help you know where you are in case you lose your way. By knowing where you are you can see the surrounding and find your way out. You can also link you google account to the app and create projects or add images and videos on the map. This will enhance easy understanding. When you have linked it to the google account, you can easily retrieve the projects you had created earlier on this app.
Lastly, you can customize the layout of the interface. There are settings that enable you to do that. You can still save images of places on the map for later viewing. Pinning locations and drawing lines will help you follow the route in case you are using aircraft or water vessels or even vehicle. The navigation are precise and accurate. There is little obscuring of features, routes and places.
There is also a photo icon which allows you to get images of places of interests. You get to see overlay of the area. Most are historic, and museums or monuments. Google earth is a freeware which is available for download on play and app stores. No credit or payment required to use it. Once you have installed it you can instantly start using it. It is an add free software hence suitable for those users that are likely irritated by pop up ads on the screen.