Advertisement
---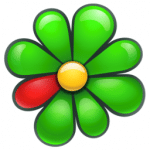 ICQ is a recommended application when you want to make audio or video calls and send messages to your friends. It is a very helpful tool that has a lot of features and a customizable user interface. Various stickers can be used in chat and heavy files can be sent in a short time. The high quality of voice and video are its distinguishing features.
Software details
---
Software description
---
Are you fascinated by apps that come with a live chat option? One of the best apps with this function is ICQ. Easy to download and easy to use, the app comes with many useful features. First off, it is responsive, and it allows you to talk to your friends and family through messages. The app also allows you to send live chats and voice messages. You can also convert any messages to texts if you prefer reading or saving them in form of text.
The app also comes with a history synchronization function. This enables you to save your chats on as many of your devices as you wish. On top of that, your calls are always encrypted, making sure that your chats are always confidential and private.
Anyone who likes a live chat app that is fun to use will like ICQ. You will particularly like the bright stickers that help you express every mood without the need for words
ICQ is one of the oldest instant messaging applications with a large number of users online. Though its importance was decreased slightly when new similar applications were introduced in the market, but its quality and features are still amazing.
How to Use:
First you need to get registered for using ICQ software. You can get a registered account by entering your name, country and mobile number. A verification code will be sent to your mobile number via SMS. Enter this code into the text box and agree with the terms and conditions of license agreement and privacy policy. After the account is verified, you can log in to your account with your Facebook account or by entering your mobile number and password and start chatting with your friends after adding them.
Features:
ICQ is a free application. It is a simple tool for communicating with your family and friends, sharing files and images, making free voice or video calls and sending instant messages. It supports live video chat, Facebook chat and Google Talk. There are various themes and background colors available that you can use for software screens.
It lets you take pictures while you are making video call. The messaging history tool is a new introduction. Messages and videos are opened in a new screen to let you access home screen simultaneously. The contact lists can be managed in an efficient manner and new contacts can be searched and added.
Interface:
It is a flexible application that lets you choose your status from available options to let you choose when you want to communicate with other users. The status can be chosen from Online, Ready to Chat, Away, Invisible and Do not disturb options. All the contacts can be divided into separate categories, so you can chat easily. The conversation with friends becomes more exciting with the use of various newly added emoticons. You can message your friends and make webcam or mobile calls.
ICQ is an easy to use communication program that provides you with great quality voice and video calls. The voice and video are very clear and no delays are caused. The messages are also sent quickly. You can customize various settings based on your personal preferences. It is a safe application to use for instant messaging. It has an attractive interface that is completely customizable.
Support:
It was developed as a desktop application, but its versions for mobile phones are now available too. It offers support for Windows desktop, Windows phone, iOS, Android, Symbian and Mac OS X operating systems. Your system must have high speed and have specifications of 512 MB RAM, 50 MB free hard disk space and Pentium IV 900 MHz processor for smooth communication experience.