---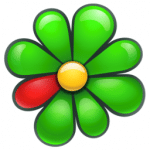 ICQ is a recommended application when you want to make audio or video calls and send messages to your friends.
Software details
---
Software description
---
ICQ is an instant messaging service, which is used to make video calls, play in real time and chat. The software is provided with a flexible interface and notifies the user the online status of other users. ICQ even allows you to send offline messages and delivers them when the user comes online. It also offers the ability to send email, SMS and exchange files with other users even in the multiple chat. The program allows you to access the history and other information about each contact.
Characteristics
This latest version of the software allows you to receive updates from popular social networks, like Facebook and Twitter. You can also update your status through this software and allows you to share your links and favorites with the new status box.
The important features of ICQ
New user interface
Group conversation
Advanced search function
Easy access to unread messages
History of the conversations
Advanced audio and video settings
Gallery emoticons
Import contacts from other services such as social networks, email accounts and instant messaging tools
Access to thousands of free online games
As the name implies, ICQ is a nifty way to keep in touch with your loved ones. This little program will find friends, colleagues and people with similar interests that are located all around the world.
ICQ offers the file transfers to all your contacts, including your friends on Facebook or Google Talk as well as to your mobile contacts. The new version of ICQ allows you to connect to your account from your PC and your mobile.
Alternate Softwares