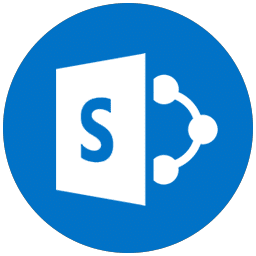 Microsoft SharePoint Download
Microsoft SharePoint is a collaboration platform that helps teams stay organized, share information, and manage content. It can increase efficiency and productivity with easy-to-implement features such as document management, task lists, checklists etc.
Microsoft SharePoint is a document management software by Microsoft. It helps companies with content production, knowledge sharing, and information access. It offers on-premises and cloud- hosted SharePoint solutions for businesses of any size. With SharePoint, users can organize their documents in vast libraries and catalogs. It gives users control over their stored data along with secure access from virtually anywhere.
It also allows teams to create websites to share ideas, collaborate on tasks, streamline processes across the company etc. Furthermore, the applications such as Outlook Web Access (OWA) facilitate greater coherence between calendar appointments. Other features amongst users of different sites within a company provide enhanced functionality compared to earlier versions or competing products.
Workflow Automation
Workflow Automation of Microsoft SharePoint is a powerful tool to automate various processes. It helps to get the desired outcomes faster without any manual intervention. The easy-to-use user interface makes it accessible for non-tech users too. The intuitive menus and templates make it simple to design dynamic workflows from scratch with relative ease. The approval routing feature allows keeping track on workflow progress and approving or rejecting tasks.
The customized actions can set in each state of the workflow, dependent upon results of previous steps. It provides compatibility between different systems and applications used by companies for efficiency and productivity improvement. Advanced logging abilities capture every instance in a detailed manner, eases troubleshooting issues that may arise. The Forms related with tasks enable easier collaboration between individuals involved in a process.
File Sharing
Microsoft SharePoint enables users to share files and documents. File sharing in SharePoint provides secure access to all shared files and documents. Different types of file sharing settings are available with different levels of permission for each user or group of users in the site collection. Files can be shared internally or externally on SharePoint, depending on the level of security required by the companie's policy set for their website participation.
OneDrive also allows users to conveniently store and sync important data from any device linked with your account whenever needed. Through One Drive, a user can share large amounts of data securely among other users using standard authentication procedures like password entry. The main benefit of the feature is that it saves time spent manually sending multiple files one at a time over multiple emails while ensuring controls necessary for secure transfer between stakeholders involved. The companies must move away from tradition FTP solutions which do not include advanced security features related to file shares .
Enterprise Search
Microsoft SharePoint's enterprise search feature allows users to effectively find content across their company. It enables users to find relevant content by providing a navigation zooming ability. Microsoft SharePoint displays context-sensitive facet options based on categories stored in document libraries. It also offers comprehensive security postures for restricted access to sensitive data . This ensures high standards for securing corporate data across multiple sources like databases and sites throughout a company or globally. The Enterprise Search feature helps companies to ensure that every user can find what they need without complication.