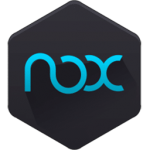 Nox App Player is an emulator developed for providing the users with a platform through which they can run Android apps on their PCs. Its fast speed and variety of features make it suitable for running apps and games.
NoxPlayer is a relatively new Android emulator that enables users to enjoy mobile games and apps on their PC. Its powerful features make it possible to download heavy apps without delay. It is useful for running those apps that are not compatible with your mobile phone and allows you to play games on bigger screen. Once you have logged in to your Google account, you can easily install new apps and can synchronize your records to avoid any data loss. Since it is based on Android KitKat 4.4.2 kernel, thus it can support various apps. The ease of use and simplicity make it a great choice for users.
Nox App Player has an intuitive user interface that provides the experience of original Android devices. It displays icons of installed apps on home page and allows you to edit their placement or remove them. The sidebar contains tools that allow you to perform various operations. Through these options you can create shake effect, simulate touch, capture screen, record video, switch to virtual location, use full screen mode, adjust volume, download APK file, reboot Android, open menu, return to homepage and can go back to previous screen. Each function has a keyboard shortcut key for minimizing the use of pointing device.
Google Play Store is considered as the integral part of Android devices. It is the most popular and safest place to download apps and games. It is present with Nox App Player by default and no additional downloads are required to access it. All you need to do is to open the digital store and log in with your existing Google account or create a new one. Data synchronization is performed to retrieve your settings and apps data and you can continue using the apps from where you had left. Different categories in Play Store allow you to easily find apps on the basis of classification and you can install them in no time.
The emulator allows multiple users to perform activities at a time by offering MultiPlayer Mode. It unlocks instances of the software and each user can log in to his account in separate window. You can add new instance by choosing its type and clicking Add Emulator button. You can also power off, backup or restore any instance.