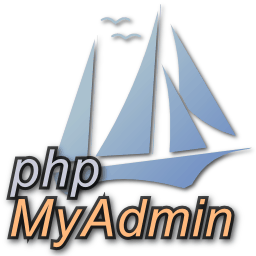 phpMyAdmin is a popular application for MySQL DBMS and can be used to create, drop, delete, alter, export and import database tables.
phpMyAdmin is a web based solution for managing databases including MySQL and MariaDB. It is an open source application that can easily run on almost all operating systems for free. It is a portable tool through which you can create tables or views, store records, manipulate data and assign privileges to users by executing queries. It was initially developed in 1998 using PHP but now JavaScript is also embedded. It possesses a clean graphical interface where operations can be easily performed. It is suitable for beginners who want to carry out data related functions in online mode.
Database:
phpMyAdmin is a reliable tool through which databases can be easily created and managed. It lets you create a database by entering database name, table name and choosing number of columns. Moreover, you can specify name, type, length, default value, attribute and null acceptability for each column in the table. Once the required information is entered, you can enter data in rows and save it for using in web based applications. Each database can contain multiple tables that are associated through relations. Either the processes can be performed by entering SQL queries or with the help of its graphical user interface.
Privileges:
Privileges are assigned to specify the functions that can be performed by individual users. You can add as many user accounts as needed along with other credentials such as password, type, host name and grant. You can choose the actions they can perform on data, database structure, administration and resources. These privileges are assigned by website administrator who is allowed to access user accounts and modify settings as per requirement. In a live website, these privileges determine guest visitors, editors, posts writers and other relevant users.
Import and Export:
Since phpMyAdmin is a web based solution, thus it can be accessed on any PC with internet connection. However, database is stored on local PC and needs to be carried through proper means. After database is successfully created, it can be exported as CSV, XML, SQL, Word document, Excel Spreadsheet, JSON, PDF or LaTeX. Available options include Quick export for minimal options while Custom export for all options. The file can be taken in a removable storage device and imported quickly by browsing through system memory. This feature makes it possible to access same data on multiple PCs without creating databases on individual PCs.
Features:
It is a database management tool compatible with MariaDB and MySQL. It brings database functionalities to internet and can be used easily with its intuitive interface. It provides access to multiple servers and requires dedicated accounts for security sake. It simplifies the process of manipulating data and performs tasks at fast speed. You can easily import and export database files and perform global search operation with complex queries.
phpMyAdmin is a free database manager that deploys stored data in PHP applications. It is preferred by beginners as almost all functions can be performed through mouse clicks without the need of writing queries. It is an open source application capable of running on multiple operating systems and web browsers.