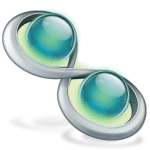 Overall, Trillian is a user friendly application that has brought an evolution in the world of instant messaging. It provides support for various social networking sites, hence the users can easily chat with the users of Trillion services and social sites through single software window.
Trillian is an instant messaging solution that has been solving the needs of individuals, businesses, and industries like healthcare for almost 20 years. It is available for all major operating systems such as Microsoft Windows, Mac OS X, Android, and Linux. You can also use Trillian through a browser interface regardless of what device you are using.
What makes Trillian unique?
Trillian offers a lot of cool features that other instant messaging software doesn't. The most notable of which is its ability to connect to multiple IM services and become a central hub to control all of your instant messaging and social media accounts. Some of the instant messaging services that are compatible with this feature are AIM, Facebook Messenger, Bonjour, Google Talk and some of the social media platforms compatible with it are Facebook, Google, and Jabber.
Other Features
Easy to use messaging – Easily synchronize between devices so that no matter where you are your chat history and media follow.
Groups – Group messaging that persists even when everyone is offline so that it's easy to pick up where you left off.
File sharing – Send and receive large files, pictures, videos, and screen captures.
Themes and emoticons – Themes and emoticons powered by JoyPixels allow you to customize Trillian to look any way you like. Create your own color scheme and choose colors to fit your mood.
Game chat – Trillian provides a chat overlay while you are in a full-screen application, making sure not to interrupt your games.
Individual Use
For individual users, Trillian is completely free to use. Stay in touch with family and friends, share images and files, and create group chats. There is also an Individual Pro version which provides some extra features such as special themes and colors to customize your experience, increased device and storage limits, and the ability to know exactly when your messages have been read by the recipient.
Business Use
The business application of Trillian makes sure that all of your important conversations and business talks don't disappear. Searchable group chats allow employees to easily over past meetings and avoid repetitive questions. Trillians centralized administration also allows you to decide what features and settings specific employees have access to. You can also customize data retention settings. Choose whether to store all past chats or nothing at all.
HealthCare Use
The enhanced security of Trillian ensures that confidential data such as medical information is kept safe. Trillian is implemented by many medical practices to communicate with patients rather than insecure SMS or email. Trillian also allows you to run your own Trillian server behind the firewall on your own network, This is something that is rarely offered by other instant messengers and ensures that you are the only location that contains your data.
The close attention that Trillian takes to special use cases is what makes it stand out among the crowd. Even the business and healthcare versions of Trillian have free trials to utilize, so give it a try. Discover the features that you didn't know that you needed.