---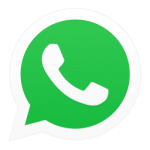 The well-known messaging and call app, WhatsApp is now available for computers. Now you can communicate with your loved ones without using your smartphone. This software makes it easier to send instant messages and make audio or video calls, that too for free. You can manage your messages with its intuitive user interface. It's a safe tool that ensures your messages are safe from unauthorized users. Apart from personal use, businesses are also choosing this app to provide efficient customer support service. It's native software that you can use on your smartphone as well as your Windows PC.
Software details
---
Android / iphone / mac / Windows 10 / Windows 8
Software description
---
WhatsApp Messenger is the world's most popular cross-platform messaging service with 2 billion active users. Developed to offer peer to peer secure communication, WhatsApp evolved to enable communications between users across the internet with a simple user interface and easy to access features.
Focusing on essentials, WhatsApp evolved from a dedicated mobile app for Android and iOS into a universal communication tool with the addition of the desktop version of the app. The desktop version offers the same features as the mobile version with a few exceptions, focusing on making communications easier using a keyboard and mouse.
Features:
– Dedicated desktop app. The dedicated Windows and macOS versions of WhatsApp offer to improve responsiveness and access to all your conversations and shared files.
– Easy file transfer. The desktop app makes it easier to share documents, photos, and videos with your friends. You can drag and drop files from your computer or just browse and select the files you want to share.
– Achieving. Enables you to archive your conversations directly from your computer. As long as your smartphone has a data connection, you get access to your full message history and archive.
– Create chat rooms. Need to chat with more friends at the same time? Create a private room or group and enjoy the same features as on the mobile version.
– Edit profile. Get access to all your profile settings without opening the mobile app. You can change your name and about section using the desktop version of WhatsApp. All your changes on the desktop version will be reflected on the mobile versions as well.
– Change your settings. The desktop version of the app offers you full control. You can manage your blocked contacts directly from the desktop app. You can also change the chat wallpaper by selecting one of the default ones available. You also gain control over notifications or set the application to start when you open your computer. If you do not like the default theme, you can switch to the dark one which will only be reflected on the desktop app. For more details, you can use the Help section in the settings area.
– Change your profile picture. The desktop version allows you to change your profile photo. Choose a photo stored on your computer and set it as a profile picture. Your new profile photo is reflected in the mobile version as well.
– Save your favorite conversations. Mark your favorite conversations by starring them.
– Share audio files. Tired of typing? WhatsApp for Windows allows you to use your microphone to record audio files that you can share directly in conversations without the use of third-party recording software. Record audio messages with the push of a button.
– Record and send video messages. If your computer is equipped with a webcam you can record and send video messages to your friends with the push of a button.
– Access to all your conversations. WhatsApp for Windows allows you to access all your conversations or start new ones as long as your smartphone on which you have WhatsApp has access to the internet.
Alternate Softwares