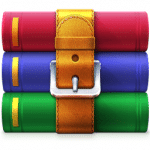 WinRAR is a useful file archiver that helps you manage files. You can now compress large files to save memory space and easily share large files via Email.
Software details
---
Android / Windows 10 / Windows 8
Software description
---
When it comes to advanced data compression utilities, WinRAR is one of the best applications out there. It helps you archive files to reduce their size, manage archive folders, and unzip files as and when needed.
Functions
There are two major operations of this free utility: compressing files and extracting compressed files.
· Compress Data Files
If your system memory is full and you can't store important information due to lack of storage capacity, this application will help you out. It shrinks the files to reduce their sizes without damaging the content in any way.
WinRAR also proves extremely helpful when you want to share documents or videos with your friends. When it comes to sending content via Email, service providers usually enforce a maximum capacity limit. Moreover, it takes long to upload heavy files.
You can rather archive them to reduce their size and easily share them with your friends. WinRAR can create archives in ZIP and RAR formats.
· Extract Archive Folders
Aside from compressing files, WinRAR can also help you extract the content of compressed folders. The content of such folders can't be viewed unless you use a specialized utility tool to access its content.
With WinRAR, you can easily unzip archive folders. Right-click on the archive folder and choose the option "Open with WinRAR". This will direct you to the GUI of the software. You can quickly extract the content of as many archive folders as you want.
WinRAR is compatible with various file formats including ZIP, CAB, RAR, LZH, ARJ, TAR, ACE, UUE, GZip, BZIP2, ISO, 7-Zip, and Z. It comes equipped with a wizard to make the process of unpacking folders simple and more convenient.
· Virus Scans
Never open an archive folder immediately after downloading it on your PC for it may contain malware. WinRAR can halt the operations of your PC.
To protect users from this problem, the developers have introduced a "Virus Scan" option in the latest version of the application. All you need to do is to choose a virus scanner already installed on your PC and it'll quickly scan the folder to ensure that it's free from malware.
Conclusion
WinRAR is a useful utility program available for Windows users. You can download WinRAR for free and then use it to archive files or unpack zipped folders. It performs the desired operations at a quick pace without negatively affecting the performance of your PC.