There are a ton of sports fans out there these days, and most of them would love to keep track of the scores of the various games that they are keeping an eye on. If that sounds like something that you would like to do as well, then you need to know about the best sports score apps that you can possibly use to get the information that you need as soon as you need it. Today, we will go over some of the best sports score apps that are out there to serve you.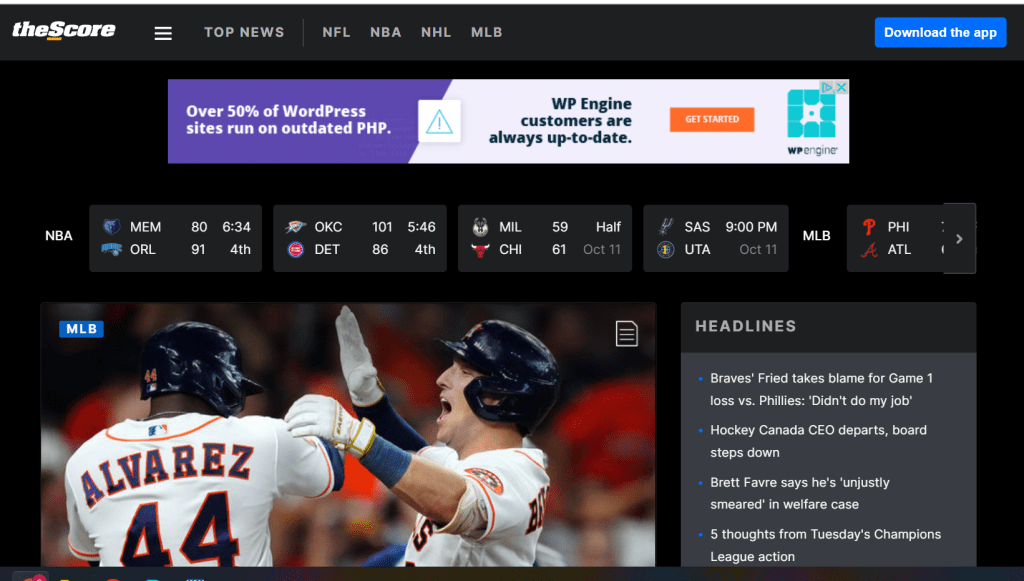 theScore
Lets say that you are the ultimate sports fan and want to keep your eye on the scores for various leagues around your country and around the world. That's no problem when you use theScore app! It is great for monitoring scores of various events across various leagues. Users say that they love the fact that this app updates in real time, and they are highly impressed by the fact that they can keep tabs on all of the events that they select without having to navigate around to different apps. It is all self-contained and provides them with the scores and insights that they require to get the information they need immediately.
theScore also offers other exciting features such as the ability to see pre-game analysis from experts, betting lines, and game narratives to keep an eye out for. In other words, you can use this app before, during, and after any sporting event that you are interested in following.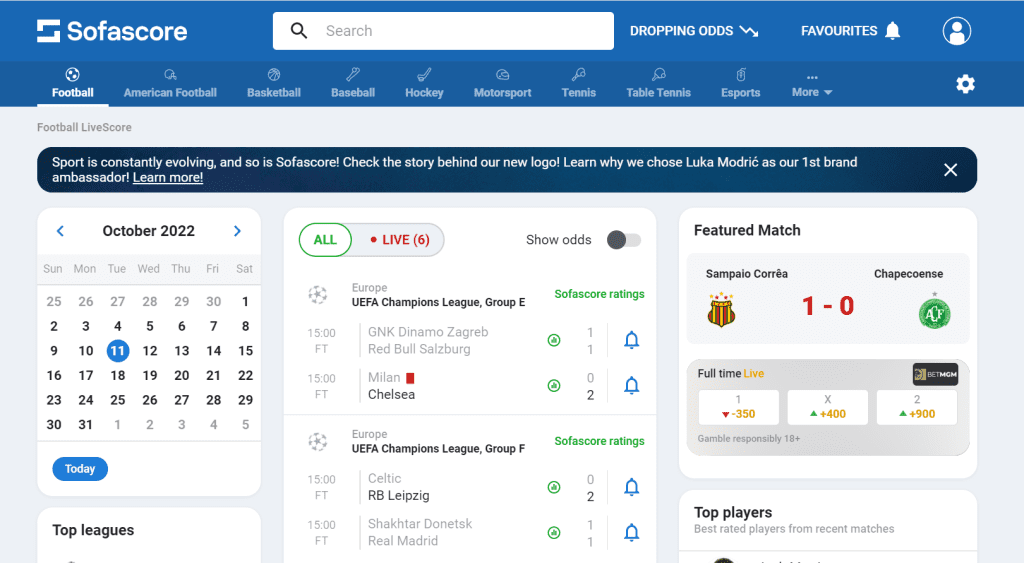 SofaScore
Users of SofaScore know that they can view up to 25 different live scores all at once. Even better, SofaScore has won a reputation for itself for being the place to turn to for scores on international sporting events. It might be a challenge to find those same scores through other venues, but SofaScore is great at covering them and offering fans the information that they require about the events that matter the most to them. Using SofaScore means that one can get all of the finer details about the events that they care the most about.
It is possible to stream goal clips from soccer matches that you are keeping an eye on. This means that you can see the highlights of the game and the most exciting moments even if you don't have access to that match view a regular streaming platform. SofaScore will get you out to the best of the game so you never miss a piece of the action.
There are other tools on the SofaScore website such as the heatmap and player ratings that you may want to know about if you are a casual fan, or if you are a bettor who is looking for some kind of edge that you can exploit.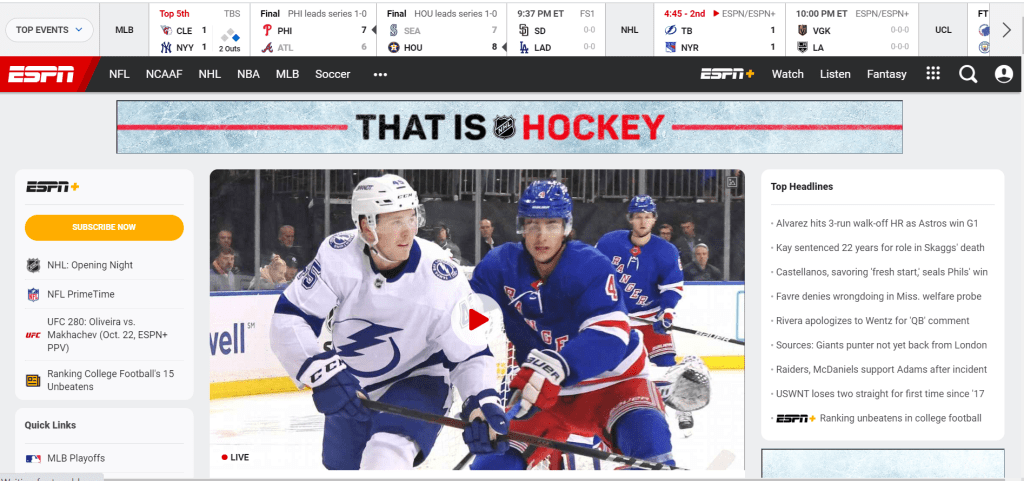 ESPN
They are the "worldwide leader in sports". ESPN is the go-to app and website for people looking for the latest sporting news, scores, and information. They are so popular with fans that ESPN has a cable network that streams sports programming 24/7/365.
The website it great because it is an easy-to-navigate interface that helps you get to the information that you need the most without a major struggle. You can simply click around until you are on the pages that matter to you. Also, if you look at the top of the screen, you will see a stream of updated scores from the top events of the day (or any league that you want to set it to).
Scores are updated in real time, and you can even follow along with a play-by-play tracker on most sporting events. Thus, even if you aren't able to view the games yourself on television, you can still check them out via the ESPN website to see what you have missed out on.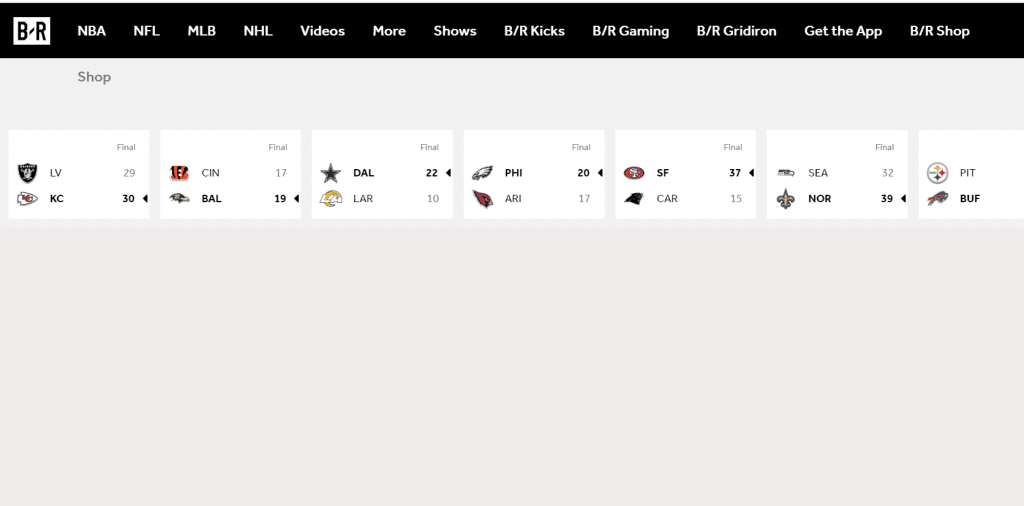 Bleacher Report
This is the kind of website where sports fanatics go to learn the inside scoop about the teams that they love and support. Bleacher Report has the latest information for those who are trying to learn about what their teams are up to.
Bleacher Report has hand-picked stories for every team, player, league, and scenario. If you want to do so, you can link up your fantasy team with the Bleacher Report app to get the latest updates about how your team is doing.
You will want to keep Bleacher Report easily available so you can keep the latest information about all of the sports news that you need when you have this available anytime you need it.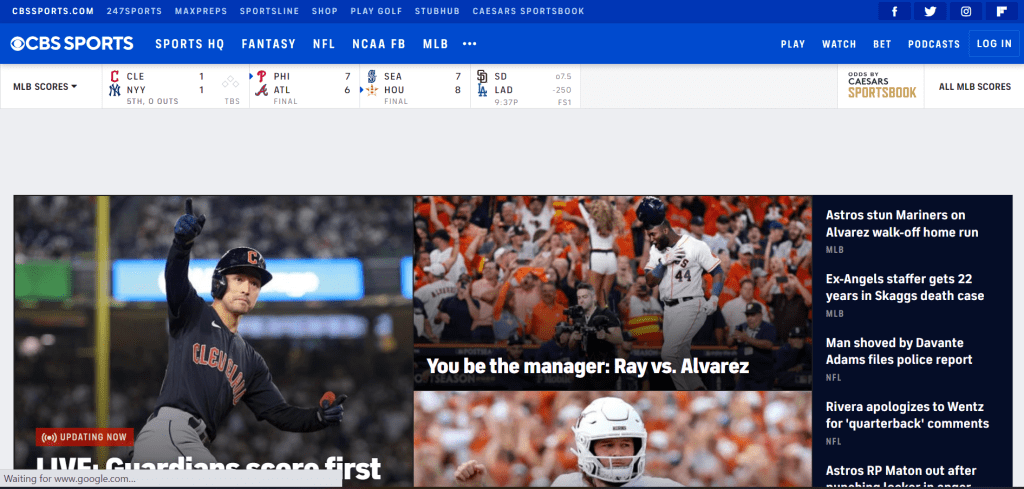 CBS Sports
This app is great at sending out real-time alerts to sports fans to let them know when there is a score update or other important piece of information about the games that they need to know about. It is surprising that other apps have not caught up to what CBS Sports can do, but that is probably because they are a truly leader in sports. They continue to pump out amazing features to their fans and users all the time, and their loyal fanbase continues to reward them for the work that they do.
CBS Sports is a trusted name because it is an arm of the mainstream CBS network. Thus, there is a level of trust that comes with working with CBS Sports that you might not get with other apps. People see the name brand and they know that this is an app that they can trust to help them get the information that they need about the sporting events that they care most deeply about. It is because of this that people often turn to CBS Sports as something to keep available on their phones and computers at all times.
Sports Apps Make for a Better Experience
If you haven't tried sports apps as part of your viewing experience, you are missing out. There are many fans who rely on these apps to provide them with the information they require about the teams that they support and follow. They are able to get a lot more information about those teams when they use apps because it means that they are turning to an organization that has the inside scoop regarding what the teams are doing, what the latest facts and figures are, and what information a true fan would want to know about.
You can gain a lot more from using apps when you are watching the games and matches than if you don't use these features. With that in mind, it is time to think about making sports apps a part of your sports viewing experience.