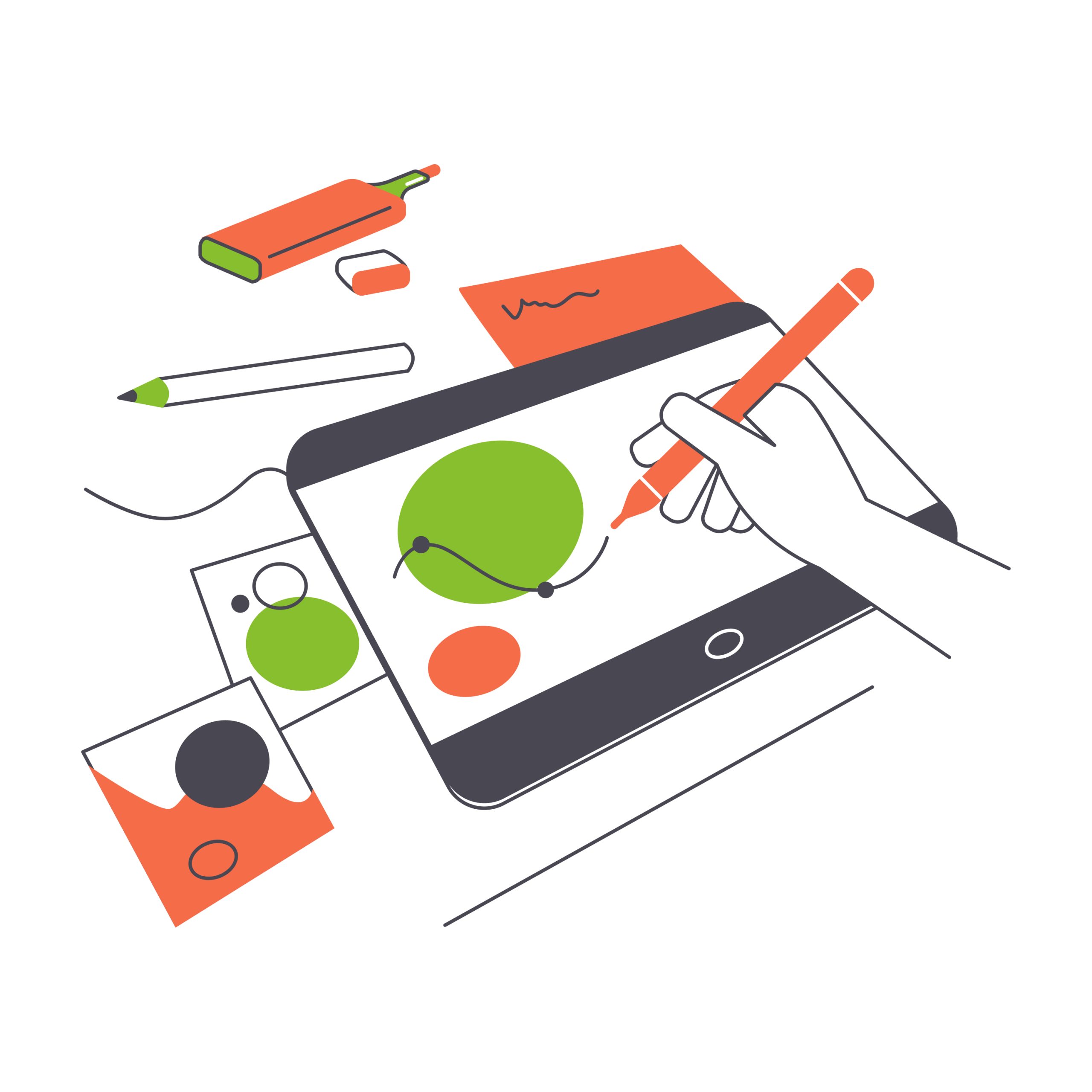 The Best Drawing Tablets
Today, in order to keep your art relevant and innovative, it is imperative to stay up to date with the most cutting edge technology. Drawing tablets allow artists to create amazing art with ease. Digital art is an important way to expand your creative expression and, in a lot of cases, increase your opportunities to make money with your art.
To make the most digital art, you need to be in the know about drawing tablets available today. This quick guide will give you some insider info on great drawing tablets that are available today.
Shopping for a Drawing Tablet
There are a lot of features and details to consider when you are shopping for a great drawing tablet. There are lots of in depth reviews online that will give you extensive details on the specifications of each tablet. You should definitely do your research if you plan to use your drawing tablet for income or as part of your art education. Here are a few factors to consider.
Price- In most cases, the budget will play a part in your drawing tablet choice. Don't assume that just because a tablet is more expensive it is necessarily better. You may be able to find a great drawing tablet at a great price point that totally suits your creative needs.
Capabilities- Remember that not all drawing tablets are created equal. You will need to do your research on each tablet's specifications to ensure you are getting a device that suits your particular needs.
Software compatibility- If you use specific types of art software, you should carefully check that the device you are purchasing will support that software.
Intended user- You should also consider who the intended user will be. Different types of tablets are created for different users. Students, children, professional artists, animation artists, photographers, and other categories can all affect the type of tablet you should buy.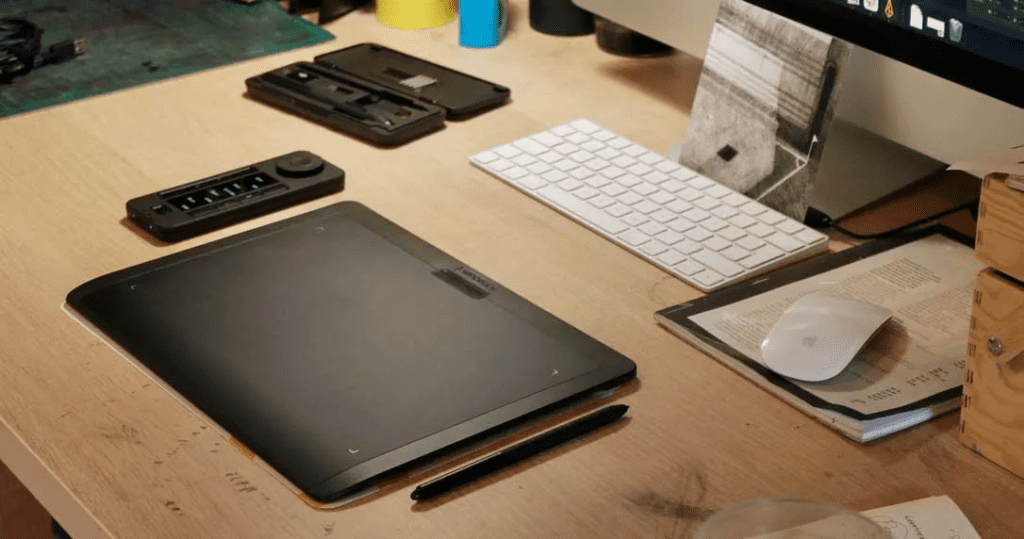 This drawing tablet strikes a great balance between design, power, price, and mobility. Many professionals consider this to be one of the best drawing tablets on the market right now. Xencelabs has quickly risen as a trusted brand for digital artists.
Users love the texture of the drawing surface. This tablet provides an excellent bite against the stylus to ensure maximum control of each stroke. Pressure and tilt sensitivity do not disappoint. This tablet comes with two styluses to ensure you are getting your money's worth with this bundle. One stylus is dedicated for line drawing while the other is designed for shadowing. This tablet is priced for most budgets, but if you find it still a little expensive, there is a smaller version that is more affordable.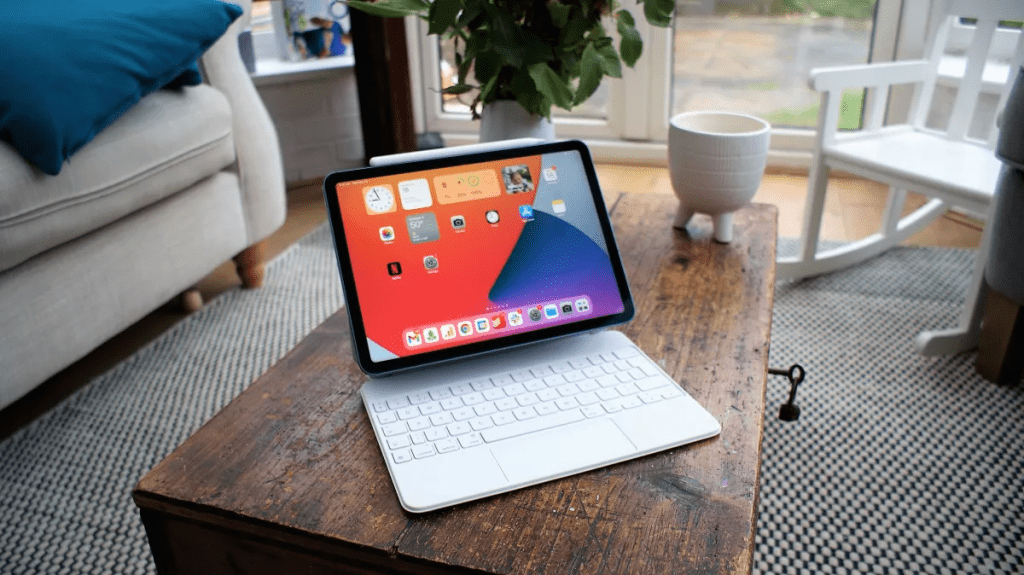 This stunning tablet brings with it the trusted technology of Apple devices. This device uses one of Apple's M1 silicon chips which is one of the new processors recently transforming Apple laptops, computers and tablets. This new technology is skyrocketing Apple into unprecedented technology landscape making it a powerhouse of digital productivity.
Not only does the M1 chip bring powerful technology to this device, but users will also appreciate the 2360×1640 IPS LCD panel delivering an astounding 264 pixels per inch as well as a max brightness of 500 nits.
As if that was not enough, this device also provides the Apple Pencil 2 compatibility. This feature delivers one of the smoothest drawing experiences that is entirely natural. Not only is this an exceptional drawing tablet, but it is also just a great all round tablet period.
Users really appreciate the amazing brightness and local dimming that brings awesome contrast.
Price wise, you should really consider if this is the tablet for you. This is an amazing drawing tablet and it is priced accordingly. If you are looking for an intro tablet for beginners, you might want to consider a different option. However, for those who will rely on their drawing tablet for educational or income purposes, this is a great investment that will not disappoint.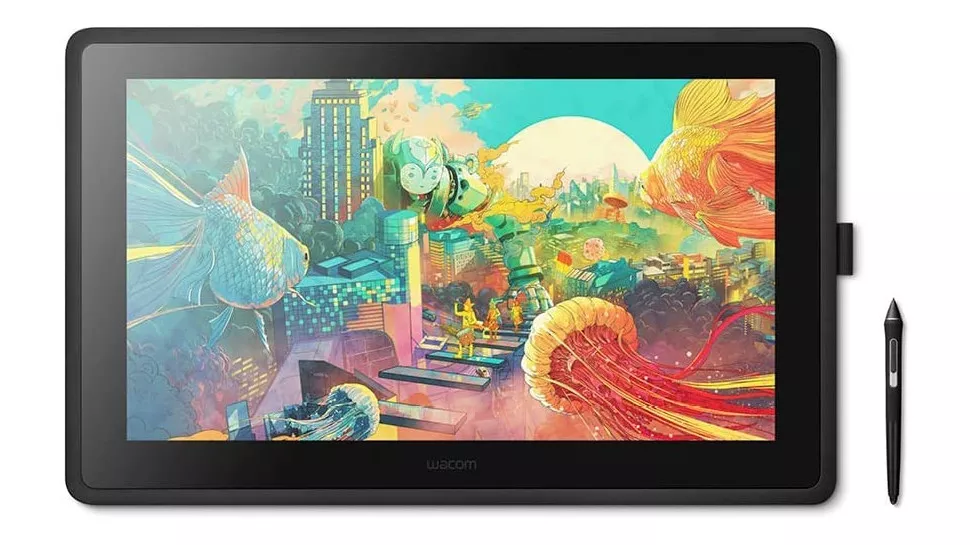 For those looking for a great drawing tablet at a budget price, Wacom brings an amazing product to the market. This tablet is a go to for students who are still learning but are ready for a great product to produce amazing art.
A 22 inch display gives you plenty of room to work. The full HD resolution does not provide as many pixels as some more expensive models, but this is often a perfectly suited tablet for an average digital artist.
Users especially love the Wacom Pro Pen 2 that includes 8,192 levels of pressure sensitivity. The tilt sensitivity allows users to create with increased precision.
This drawing tablet meets most industry standards that would be required by educational facilities making this a great starter drawing tablet for students who are serious about art.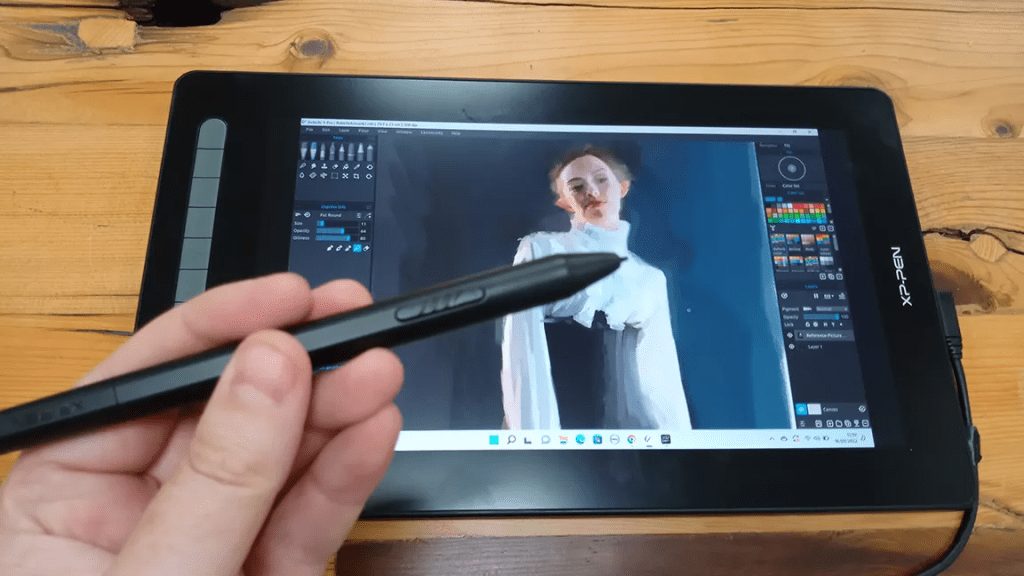 The XP-Pen is a well regarded brand name in the drawing tablet industry. This is also a great budget drawing tablet for beginners and those on a budget. This is a 2022 upgrade of the 15.6 inch tablet from XP. That tablet captivated users and the next generation is sure not to disappoint.
This drawing tablet boasts strong drawing fundamentals. The core drawing experience and the high quality display as well as the excellent X3 stylus makes this a solid drawing tablet for those who have basic digital art needs.
If you are expecting a drawing tablet that comes with a lot of accessories, you might be disappointed, though. There is some limitations on compatibility with ChromeOS or Android. This drawing tablet also does not come with a stand. You would need to buy that.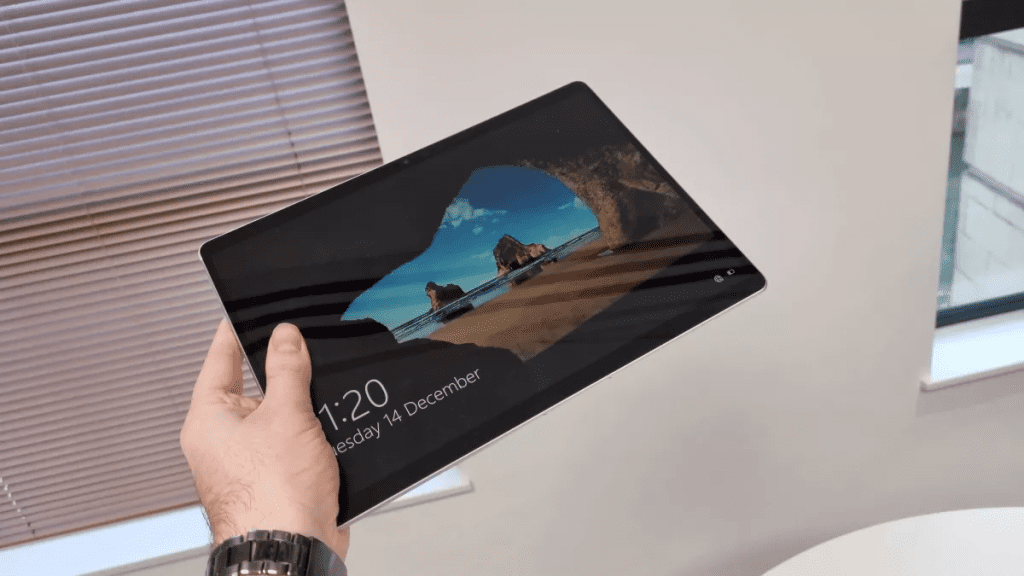 While Apple has made a solid place for itself in the drawing tablet niche, Microsoft has struggled a little to get established here. The latest Microsoft offering, the Surface Pro 8 is about to change that. Priced to compete with the 12.9 inch iPad Pro, there are also other ways this drawing tablets attempts to compete with the iPad product.
The basic model packs the powerful Intel Core i5-1135G7 processor. 8GB of RAM and a 128GB SSD creates a powerhouse for your digital art needs. There are also more powerful models, but they are priced accordingly.
To make the best use of this drawing tablet, you will want to have Windows 11 in order to use the full desktop version along with programs like Photoshop.
Users state that the display is excellent with a resolution of 2,880 x 1,920. This is a highly responsive tablet when used with he Surface Pen stylus. You should note that the stylus does not come standard with this tablet. It will need to be purchased separately.
This is a great option for users who are already part of the Windows ecosystem. You will be able to work seamlessly with programs such as Photoshop.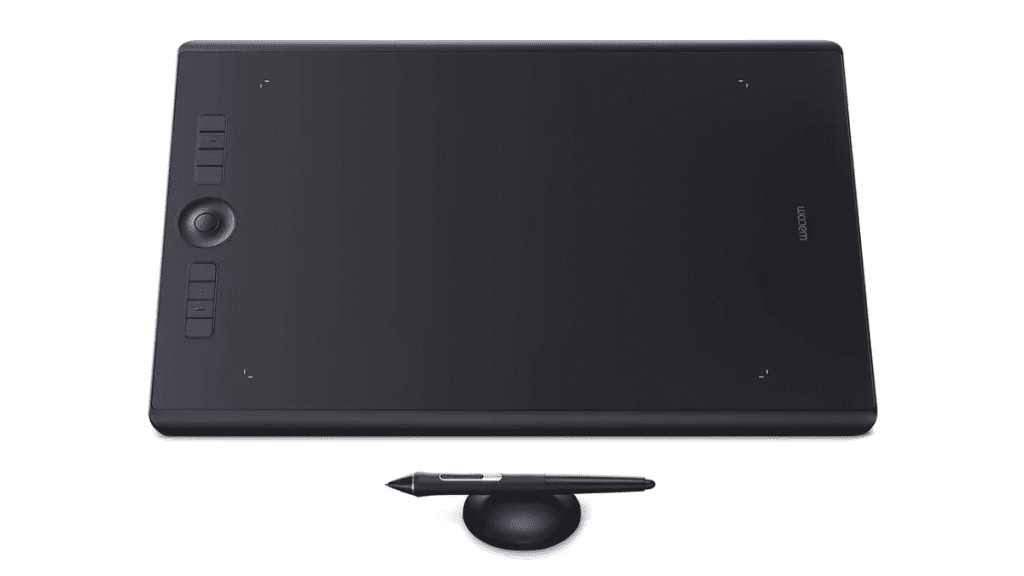 If you are looking for a big work surface, this offering from Wacom. This drawing tablet also uses a pen that feels extremely natural. Many users report that using this tablet is almost just like drawing on paper.
This tablet does not provide the biggest drawing surface on a digital tablet, but it one of the bigger versions. The digital pen brings a 8,192 levels of pressure sensitivity. You can also use this tablet along with other products in the Wacom ecosystem of pens and texture sheets.
As many of their other products, the Wacom is a budget friendly option that works great for beginners or those who have limited money to invest right now. If you need an even more affordable option, you can choose a smaller size. The Intuos Pro Medium and the Intuos Pro Small both bring the same quality as the Intuos Large but with a smaller surface space and a smaller price point.
Final Thoughts
If you are shopping for a new drawing tablet, or looking to invest in your first drawing tablet, you should keep in mind price, user friendliness, capabilities, and compatibility with other software. Other factors to keep in mind will be pressure sensitivity, tilt sensitivity, surface drawing area, and the stylus options.
This is just a small selection of the many drawing tablets that are currently on the market. Be sure to do your research to find the perfect product for your needs and budget.