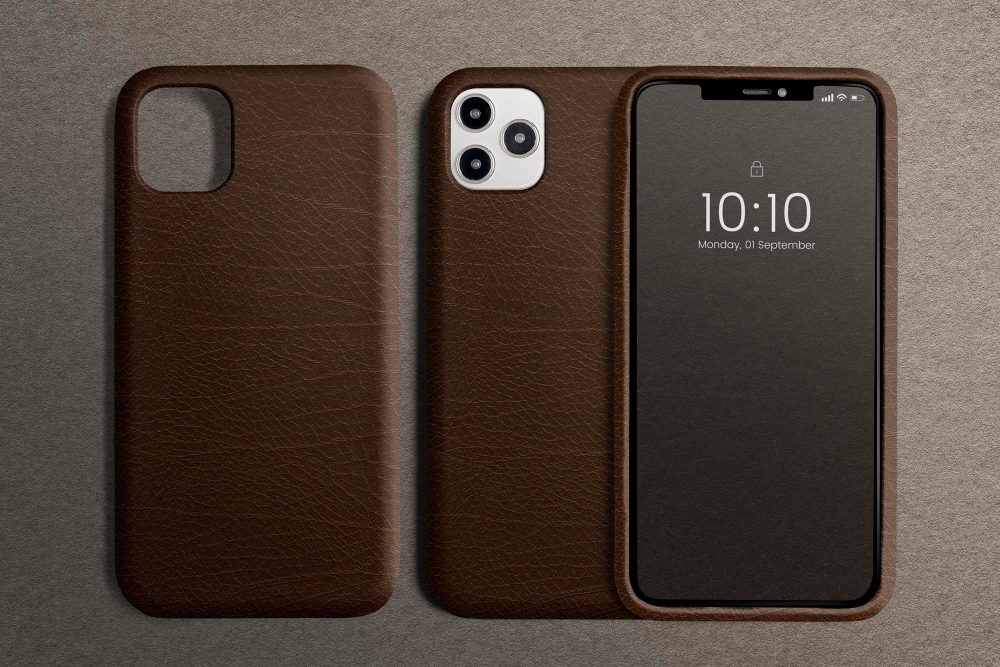 The 15 Best iPhone Wallet Cases
When you want to keep all your important items in one place, a wallet case for your iPhone can be a great option. With a wallet case, you can slip your cards, keys, and cash close to your phone. That way, you'll never rummage through your bag or pockets to find your most valuable belongings again. To help you choose the wallet case that's right for you, we've rounded up 15 of the best iPhone wallet cases below.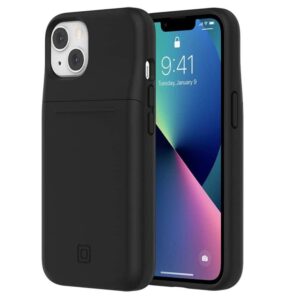 Stashback Case for iPhone 13 by Incipio
For a simple iPhone wallet case without any bells, whistles, or fluff, the Stashback Case might be the right one. At least for iPhone 13 users, this case is a simple black card compartment that's built to last. What's more, the Stashback case has an antimicrobial coating.
If you want to get back to the basics, the Stashback case offers a sturdy, simplistic design. It's purely functional without any of the fuss that some fancier cases might have. Since the case is a little bit heftier than your average phone wallet case, you may be surprised to learn that it can hold up to three cards.
Beyond the wallet aspect of the case, it also does a great job at protecting your iPhone. It can keep your iPhone safe and secure even from drops as high as fourteen feet from the ground.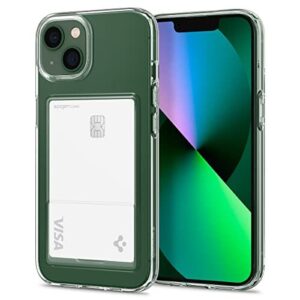 Crystal Slot Case for iPhone 13 by Spigen
If you want a sleek iPhone case that doesn't take up more space than it has to, the Crystal Slot Case may be for you. With a slender design, affordable price point, and strong protection against damage from drops, this pint-sized case packs a punch.
Since this card case only has room for one card, it's not for everyone. For some, its size might be ideal. No one wants an iPhone wallet case with a bunch of empty space. If you just need to slip an ID or public transit pass into your iPhone case for easy access, this is a great choice.
When you get bored by plain black and navy iPhone wallets, the crystal finish on this one is sure to wow you. It has a transparent finish that works well with phones that are a pretty color. Also, if you have decals or other decorations on your phone, this case will let them shine through. Whether you have an iPhone 13 Pro, iPhone 13 Pro mini, or iPhone 13 Max, they have cases to fit. For iPhone 12 and iPhone SE users, this case is also an option.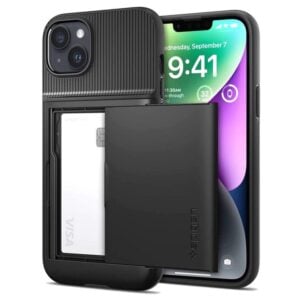 Slim Armor CS Wallet Case iPhone 14 by Spigen
For an affordable option, the Slim Armor CS Wallet Case iPhone 14 by Spigen is hard to beat. The case's subtle design is great for those who appreciate the minimalistic look. With protection against damage from drops that is reasonably reliable, this relatively cheap case doesn't skimp on safety for your phone.
The nifty sliding cover on the wallet compartment is a neat, easy way to keep your cards secure. The main con to this case is that it is not compatible for those who rely on wireless charging. If that's not a deal breaker, though, this case might be a great way to get a wallet case without breaking the bank.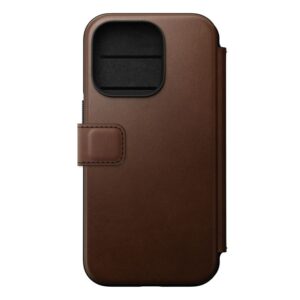 Modern Leather Folio for iPhone 14 by Nomad
For those who are looking for a classy, stylish leather iPhone wallet case, the Modern Leather Folio for iPhone 14 fits the bill. The exceptional craftsmanship and style of this case make it a luxurious move. With a decent amount of room to store multiple cards, this case isn't just about looks. It's incredibly functional, as well.
This case also has exceptional protection for your iPhone despite its lux material. The only downside to this case is probably that the magnetic clasp is not that hard to misplace. It's compatible with wireless charging and MagSafe accessories, so if those are important features for you, it might be a good choice.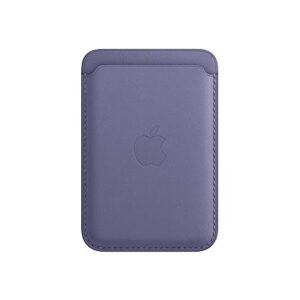 Leather Wallet with MagSafe by Apple
Naturally, there's nothing better sometimes than buying a case straight from Apple. After all, they know their products and their customers best. They tend to aim to please. If you want a leather wallet that pairs with MagSafe accessories, the Leather Wallet with Magsafe is the best choice.
This leather wallet is compatible with technology such as the Apple AirTag. If you find yourself losing your phone often or want peace of mind knowing you could find it easily in a dire situation, this wallet may be the right one for you.
Outside of function, this wallet also holds up to a high standard on the fashion end. Fine European leather makes up this beautiful wallet case. It can hold three cards maximum comfortably, so you can fit your credit card, driver's licence, and other card all in one place.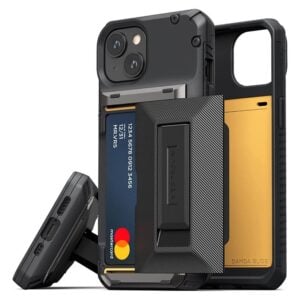 Damda Glide Hybrid Case for iPhone 14
If you're looking for a VRS design, the Damda Glide Hybrid Case for iPhone 14 might be right up your alley. This case offers a sliding wallet compartment, functional design, and a kickstand that has been seamlessly blended into the wallet. The kickstand is very easy to adjust, so whether you're watching a movie in landscape or making a video call in portrait, it'll suit your needs.
While this case will protect your phone from drops and other kinds of damage, it won't work with wireless charging.
Black Ops Wallet Case for iPhone 13 Pro by Element Case
The Black Ops Wallet Case for iPhone 13 by Element Case is a great wallet case choice if you want to look like a total boss. This edgy wallet has a unique design. It's very rugged and it has a kickstand that rivals the Damda Glide Hybrid Case for iPhone 14.
This case is designed for excellent performance and aesthetic value. Comprised of high-end materials such as glass composite that meets military-grade standards and aircraft-grade aluminum, this is no ordinary case. The cardholder is made out of polycarbonate materials and it's easy to take off if you want.
The main issue with this wallet case is that it's significantly pricier than the average wallet case. Still, if you want an excellent, unique wallet case that will garner the envy of all your friends with its oh-so-cool design, this might be worth it.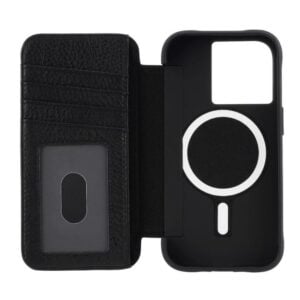 Wallet Folio for iPhone 14 by Case-Mate
If size matters to you on your search for a wallet case for your iPhone, then the Wallet Folio for iPhone is sure to impress you. With four card slots and a large pocket for cash, this wallet will truly be up for the task of replacing a traditional wallet.
Admittedly, the style of this case is pretty boring. While it's not too easy on the eyes, it makes up for what it lacks in fashion through functional design. Don't let its humble looks fool you, though. This wallet comes equipped to handle MagSafe technology.
A basic shell cradles the iPhone as a case while a genuine leather folio cover keeps your cards safe. The folio cover also works as a stand for keeping your device stationary while you are watching videos and other content. With an antimicrobial coating, this case will repel germs as it holds your cards and phone.
This case works with all iPhone 14 models and iPhone 12 models. If the MagSafe compatibility matters to you, this cover is not compatible with the iPhone 12 model sizes.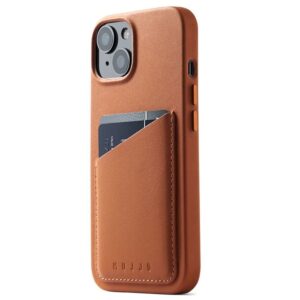 Leather Wallet Case for iPhone 14 by Mujjo
For a leather wallet case that's slender and opulently crafted, the Leather Wallet Case by Mujjo snuffs out the competition. With metal button covers that remain responsive and a relatively decent price point, this wallet case delivers in fashion, function, and affordability compared to similar cases.
The main downside to this wallet case is that it can't hold a lot. If you enjoy a slim wallet case that doesn't add bulky volume to your iPhone, this might be the right one for you.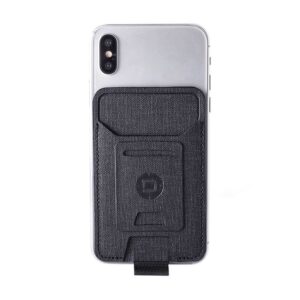 S1 Stealth Phone Pocket by Dango Products
If you already have an iPhone case that you like, you may just want to get a peel-and-stick card holder for your phone. In that case, the S1 Stealth Phone Pocket by Dango Products is the choice we would recommend. The main draw to this phone pocket is that it is compatible to use with whatever iPhone case you have. If you don't have an iPhone, you could probably also stick this card wallet onto your case. Since this wallet is built to last, you won't have to replace it any time soon. What's more, it tends to run cheaper than most full iPhone wallet cases because it takes up less real estate on your phone.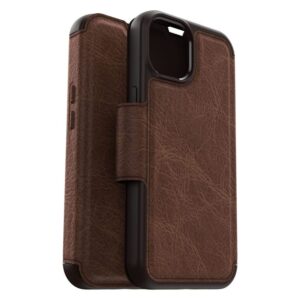 Strada Folio Series Case for iPhone 14 by OtterBox
For a tough-as-nails wallet case that stands up to military-grade testing, the Strada Folio Series Case for iPhone 14 by OtterBox is a strong contender. With its heavy-duty drop-resistance, you might think that it would be ugly or lack style. This is far from the case. This case in particular has genuine leather finishing and a fashionably functional leather latch. While it doesn't have MagSafe magnets baked into the product, it still has plenty of impressive features.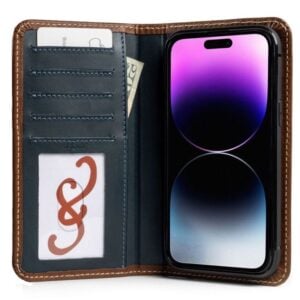 The Pocket Book Case For iPhone 14 Pro by Pad & Quill
For a hand-crafted case with a decent amount of storage space, this one is a wonderful option. It also comes with a viewing window that makes flashing your ID a breeze. The main drawback to the Pocket book Case is that it is chunky. Still, that's to be expected when it can hold so much stuff.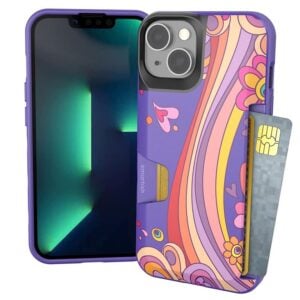 Wallet Slayer Vol. 1 Case for iPhone 14 by Smartish
If you want a colorful wallet case, look no further than the Wallet Slayer Vol. 1 case. This case features a grooved texture that makes it easier to grasp. Its variety of patterns is sure to please anyone who values a "groovy" aesthetic.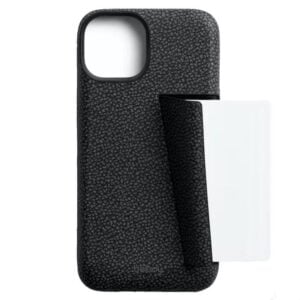 3 Card Case for iPhone 14 by Bellroy
For a card case that values luxurious simplicity, the 3 Card Case by Bellroy is a beautiful one. Holding up to three cards, this case keeps your cards' location secret and safe with a magnetic closure. You can also use the magnetic latch as a kickstand.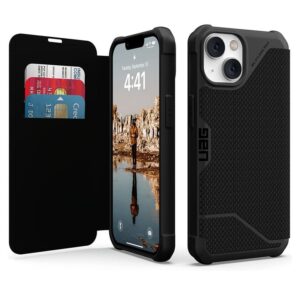 Metropolis Folio Flip Wallet for iPhone 14 by UAG
When you tend to drop your iPhone on the daily, you need a case that can handle the rough-and-tumble lifestyle. Proven to preserve iPhones at drops of 16 feet or less, it can break your phone's fall. With a grippy finish, this case will make it harder than ever for your phone to slip out of your hands. Of course, the wallet compartment only adds to the allure.
Conclusion
Whether you're looking for a wallet case that can hold your ID, credit cards, and cash or one that can also store your phone charger and other essentials, we've got you covered. Check out our roundup of the 15 best iPhone wallet cases below to find the perfect option for keeping all your belongings in one place.