When it comes to choosing the best photo editing software, there are many factors to consider. Some people prefer something basic that crop and do a simple filter, while others want a more comprehensive program with AI capability.
No matter what your needs are, there is a photo editor out there that will suit you.
In this article, we will introduce ten of the best photo editing software on the market today.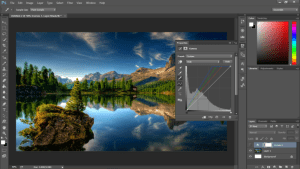 Adobe Photoshop is the most famous digital editing software around. It has a wide range of advanced features and tools that allow users to create stunning images.
Photoshop is suitable for both professional artists and photographers. Even if you are an art student or a creative hobbyist, Photoshop should be in your digital tool chest.
One of the best things about photoshop is its short learning curve for basic features. However, mastering all of its features can take years and you may find it overwhelming if you are new to digital photo editing. If you are feeling stuck, simply use the hover-over help tips or view one of the many tutorial videos on the Adobe Home page.
Use its wide range of features to create simple or complex images. Advanced features include gradients, layers, masking, and advanced color correction.
As a photographer, you can work with raw camera files and use Photoshop as your primary image editor. If you are an artist, Photoshop has pen and paintbrush tools for you to do freehand drawing and painting.
Like most adobe software, you can integrate photoshop into other adobe programs for a more streamlined workflow. It is easy to sync your work in the cloud so you can access it from anywhere.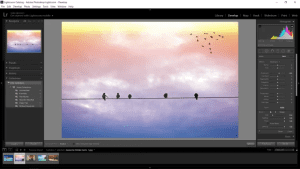 If you use Lightroom Classic, you may be familiar with the basic photo editing tools. These include things like exposure, contrast, highlights, shadows, and whites. All of these can be accessed in the Develop module.
Lightroom is an excellent photo editing software choice for those who want to make quick changes to their photos. It is also a good choice for those who want to organize their photos into albums and collections. So if you don't need extra plugins or prints, this tool may be right for you.
The simple and clear interface makes it easy to adjust to the program. You can also put your work in the cloud to use on other devices. It even comes with an AI search feature that can help you find specific photos in your collection.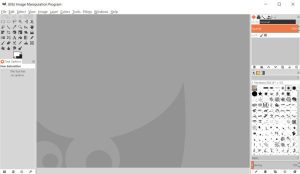 GIMP is an example of a free photo editing software that works well and is popular. It is similar to Photoshop in many ways, but it is not as well known. It also uses up far less storage than more advanced programs, so downloading it is a breeze. So, if you are on an older computer or have limited space, then GIMP is a good fit. The learning curve is very short as the user-friendly interface is quite intuitive.
This software is ideal for those who are just starting out in photo editing. However, more advanced users may find it lacking in some features. So if you want to get your feet wet before purchasing a more expensive program, GIMP is a good one to start with.
This program has all the basic features you would expect from a photo editor such as simple drawing and layer tools. It also has a wide range of plugins and extensions that allow you to customize it to your needs.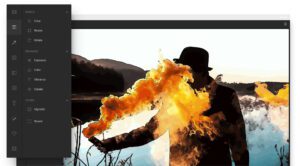 4- Colorcinch
If you want to add a bit of fun and personality to your social media profile pictures, then you should consider using the Colorcinch website. This website offers a range of different effects that can be applied to your photos, including the ability to make them look like they have been drawn by a cartoonist.
To use the Colorcinch website, you will first need to upload a photo of yourself onto the website. Once you have done this, you will be able to select the different effects that you would like to add to your photo. For example, you can choose to have your eyes turned into cartoon characters, or you can add speech bubbles and other accessories.
1- can make your photos look more fun and attractive.
2- It can help you stand out from the rest.
3- Colorcinch can also make your photos look more professional.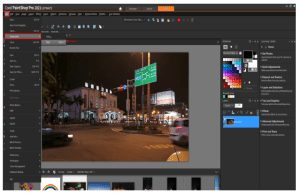 Corel PaintShop Pro is a great choice for those who want an all-in-one solution that includes basic and advanced editing tools.
PaintShop Pro includes layers, RAW support, and advanced color correction. It also has some unique features, such as an integrated web graphics creator. You can edit both vector and raster images.
This program is a great choice for those who want a comprehensive photo editor without the high price tag of Photoshop. You also don't need to utilize a subscription to purchase it.
One of the most popular features is the Learning Center, where you can find video tutorials to help you get the most out of the program.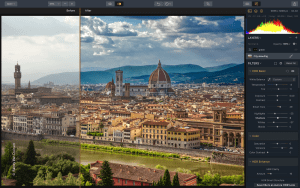 6. Aurora HDR
Aurora HDR is a photo editor that specializes in HDR photography. It is one of the best choices for those who want to edit their HDR photos with ease.
Use this software for tone mapping, HDR merging, and advanced color correction. It also has a user-friendly interface that makes it easy to use, even for those who are new to HDR photography.
This software comes from Skylum, a company that is well-known for its photo editing software.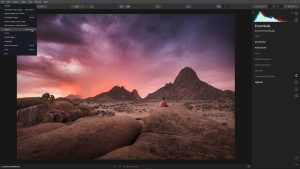 7. Luminar
Luminar is a unique editor from Skylum that uses AI technology to fix photos.
Photographers may enjoy the AI Relight feature that allows you to adjust the lighting in different areas of the photo. Sometimes a dreary sky can ruin an otherwise perfect photo. With Luminar, you can fix that with a single click.
Program features include layers, filters, dust removal, color correction, effects, and much more. Luckily, all these features are available through a user-friendly interface.
This program can also be integrated as a plugin with other programs like Photoshop.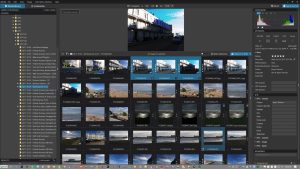 8.   DxO PhotoLab
This software comes from DxO, a company that is well-known for its camera and lens testing. So this software was built with professionals in mind. DxO PhotoLab is their newest product and it is quickly becoming a favorite among photographers.
DxO PhotoLab is a great choice for those who need more autocorrection help. The SmartLighting tool is one way to fix lighting issues automatically.
This program has components including layers, haze removal, advanced color correction, and noise reduction. The noise reduction feature is a particular standout as it can help you salvage bad photos.
DxO PhotoLab also has a clear user-friendly interface that makes it easy to use. Unlike other popular programs, you don't need a subscription – just a one-time payment.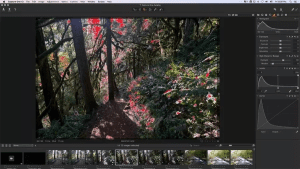 9. Phase One Capture One Pro
If you are a photographer working with raw camera files, then you need a photo editor that can handle them. Phase One Capture One Pro is one of the best choices for those who want to edit their raw photos with ease.
This program includes quick importing, advanced photo adjustment tools, and high-quality raw file conversion. If you tend to use the same commands and tools repeatedly, the program can improve your workflow with Speed Edit. The Speed Edit feature allows users to access tools with one keypress.
This is also a good program to use for collaboration since it has built-in tools for team communication and file sharing. If you use an iPad, the company now has an app so you can edit on it.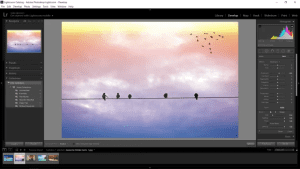 10. Adobe Photoshop Lightroom Classic
Many photographers use Adobe Photoshop Lightroom Classic for its workflow efficiency and raw file processing. It is a program that is more suitable for professionals as opposed to amateurs.
This program includes basic and advanced editing tools, as well as a wide variety of plugins, extensions, and print capability. Adobe Photoshop Lightroom Classic also has a user-friendly interface. Lens and camera-based corrections will make your photos shine.
Adobe Photoshop Lightroom Classic is a subscription-based program, so you will need to pay a monthly fee to use it.
If you want to use the program on your mobile devices, there is an app for both iOS and Android.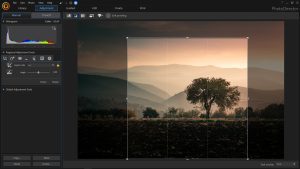 11. CyberLink PhotoDirector
The company that produces this photo editor is known for its video editing software. Users will enjoy a powerful but clear interface that makes workflow easy. AI technology is capable of producing advanced painterly effects and natural-looking HDR photos.
Some of the other features include access to iStock photos, 360-degree photo editing, body reshaping, and layer support. Online storage will also back up your projects automatically.
You have to option of making a one-time purchase or using a subscription.
If you are not ready for the full power of Photoshop, then Adobe Photoshop Express may be a good choice for you.
This program includes basic photo editing features, such as cropping, resizing, and red-eye removal. Adobe Photoshop Express comes with the user-friendly interface the company is known for.
If you like to edit on the go, this software is compatible with mobile. So if you are focused on social media posting, this may be the best program for you. Creating memes directly on mobile is easy to do with this software.
Adobe Photoshop Express is a free program, but there are some in-app purchases available for advanced features.
How To Choose To Right Photo Editor For You
Purpose
When choosing a photo editor, you should first consider what you will be using it for. If you are a professional photographer, then you need a program that has advanced features and can handle raw files. If you are an amateur, then you may not need all the bells and whistles and a simpler program will suffice.
Budget
You should also consider your budget and whether you want to pay a monthly subscription or make a one-time purchase. If you plan on using the program on your mobile devices, then you will need to make sure it is compatible.
Creativity
Think about how creative you want to get. For example, if you want to do heavy manipulation, drawing, and painting, then you will need a program like Adobe Photoshop. If you just want to make basic edits, then a program like Adobe Photoshop Express will suffice. However, if you want to focus on raw file processing, then check out DxO Photolab.
User Interface
Don't forget about the interface. You want a program that is easy to use and navigate so you can focus on your editing and not on trying to figure out how the program works. If you are already an expert, then a more advanced interface won't hold you back.
Some software has a vast array of online tutorials or built-in interface support to help you if you get stuck. The Adobe Suite products all come with this feature.
Compatibility
Make sure the program you choose is compatible with your operating system. If you are a Mac user, then you don't want to choose a Windows-only program. Also, check to see if the software can be used on your mobile devices if you are a pro that is often on the go.
In conclusion, the best photo editing software for you is the one that meets your specific needs. If you are new to photo editing, then a program with a user-friendly interface is a good place to start. And if you are on a budget, then there are free and subscription-based options available. Whatever program you get, make sure to stay up to date on updates.