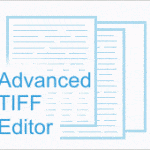 Advanced TIFF Editor Download
Advanced TIFF Editor is an appropriate solution for viewing, editing, printing and converting image files. Its compact interface contains various options, thus new users may need some time in getting familiar with them. However, it is a useful application for experienced users and can work at fast speed without affecting system performance.
Software details
---
Windows 10 / Windows 7 / Windows 8
Software description
---
If you're looking to edit or manage TIFF files, look no further. The Advanced TIFF Editor is the perfect application for you. It is a specially-developed application that allows users to manage and edit TIFF files. Also, it is capable of viewing and works with other document formats.
Advanced TIFF Editor is available for free, so almost everyone can benefit from its impressive capabilities. If you want more advanced and exclusive features, you can upgrade to the premium version. The free version is already great, so it's a reliable choice if you're only starting. We'd recommend checking the premium version if you feel like you would want more.
Advanced TIFF Editor features at a glance.
Support most types of image formats
Great image processing
Export into different images
Reliable image preview
Annotate on images
Batch processing
Manage multiple page documents
Editing selection features
Supports different languages
And many more
Advanced TIFF Editor – All features and functionalities
Support most types of image formats
Advanced TIFF Editor has incredible support for all image formats. Even if you're working with many documents you'll be guaranteed that it will work for you. IN detail, it supports the following image formats:
.bmp
.crw
.cur
.dcx
.emf
.ico
.j2k
.jp2
.jpeg
.jpg
.pcx
.png
.pxm
.tga
.wbmp
.wmf
TIFF compression formats
1, 4, 8, and 24 Bit color depths
PDF
JBIG
DICOM
GIF
AI
DCX
EPS
FAX
PS
TIFF or TIF
Great image processing
Advanced TIFF Editor has a fantastic set of image editing tools. Whether you want to crop your image or perform complex operations, you can do it with Advanced TIFF Editor. Indeed, you can achieve all the necessary processes with this excellent editor. However, if you want to know more, these are the editing features in detail:
Powerful image crop features
Skew images
Healing tool
Insert texts
Resize photos
Modify colors
Insert frames and margins
Modify photo resolution
Freehand draw
Insert shapes
Export into different images
After editing your photos, you can export them into the following formats:
BMP
DCX
DIB
EPS
FAX
GIF
JPEG
PBM
PCX
PDF
PGM
PNG
PPM
PS
RLE
TGA
TIFF
WBMP
Reliable image preview
Advanced TIFF Editor has a great suite of image preview features. View images from any angle you like. If you want to zoom up to the littlest detail, you can do so with the program. Along with the already great editing features, you can also rotate, flip, and transform images if you want to view photos from a different perspective. The view can be stretched, zoomed out, or fit for your device's screen size. Other features include grid, gestures support, image switching, dual monitor support, and many more.
Annotate on images
You can annotate on images with Advanced TIFF Editor's different brushes. Choose from different colors and brushes types, and sizes. You can draw to add elements to an image or insert lines or other identifiers to point out something.
Batch processing
You can process multiple images at once. If you regularly work with many photos, you can thank it for the versatility it provides. All features can be applied when you're batch processing, so you're not missing out on anything.
Manage multiple page documents
It is possible to manage multiple-page documents. Advanced TIFF Editor supports large files, so you'll have more power over your work.
Editing selection features
There are so many selection features. These features allow you to expressly point out a section or element on your photo that you want a specific edit or filter to be applied. Also, you can use this feature when you don't want to print a whole document.
Supports different languages
Advanced TIFF Editor is available for different languages, so you can enjoy its prowess no matter where you are in the world.
Different printing options
It offers so many options for printing. You can print a page in its actual size, zoom it, or make it seem different. Besides, it is easier to print multiple pages on it than using your default printer application. There are so many features that maximize your printing capabilities.