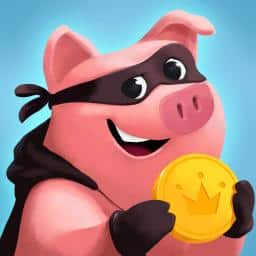 Coin Master lets you connect with Facebook friends and millions of other people while you spin, attack, and raid other villages while building your own.
Coin Master is rated 17+ and free to download and play. Defend your village to protect what you have earned. And take revenge on those that have attacked you to get back what you've lost and take what you are owed. The longer you play, the bigger your village will grow and the more rewards you reap.
Features:
Trade cards with friends online to complete sets
Play with people all around the world online
Rewards get bigger as you move up to the next level
Sync with Facebook to play with social media friends
Free to download and play
Rated 17+
Available on a variety of devices, including iPad, iPod, iPhone, and Android devices
In-app purchases available
Connect with social media accounts for exclusive offers and promotions
Feature Highlights:
Earn Loot
It's easy to earn valuable loot by spinning the Coin Master wheel during the game. When you spin the wheel, you'll get the chance to win shields, attack time, and loot.
Attack and Raid
During the game, you'll have opportunities to attack and raid fellow Viking villages. It's possible to get loot from the Coin Master wheel, but it's also possible to get goods by stealing them from others.
Collect Cards
Cards will be available throughout Coin Master. Collect cards to complete card sets. When you collect a set of cards, you can move on to the next village. Every time you move on to another village, you'll get even greater rewards.
Join a Thriving Online Community
Follow the Coin Master Facebook page for insider information. You will be the first to learn about new game news; you'll also get the opportunity to take advantage of exclusive bonuses and promotions.