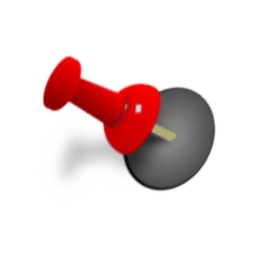 DeskPins is a great way to keep track of your work and stay focused. We highly recommend it for anyone looking for an easy, visual way to manage their tasks. If you're looking for an app that will help you increase your productivity, DeskPins is the answer.
Deskpins tool is a lightweight application that helps with organization and workflow. It is a great multitasking tool that pins the items you find important to the top of your screen. This tool is very easy to use and doesn't require any type of expertise. Once the app is installed, it works right away. There is an unlimited number of pins you can use at any time. It's as simple as clicking on the icon. Additionally, the neat interface has a lot of buttons that can be used to control programs. Programs like calendars and timers can be covered by larger applications without any problems.
Features
Deskpins can be used to put any application at the top. You can simply grab the pin and put it in the window. In addition to this, there are other features you will like:
An unlimited supply of pins
The smart handling of various applications
Wildcard automatic pin support
Addition of global hotkeys
Resource interference is negligible.
Great for multitasking
You can toggle the window pane.
You can change pin color and tracking rate.
 Pros And Cons
While the software has many good features, there are a few things that are considered cons:
Pros –
The software is easy to use and download
It is lightweight.
Some windows are prioritized due to importance
Work as many tools as you wish
Cons –
Pinned windows cannot be ordered
The interface is outdated and old school.
You can download this software as long as you have Windows 7, 8, 10, or 64. Just hit the download button and follow the prompts. Once you unload the zip file, you will be instructed to choose an area on your computer to store the file.
Easy To Use
Deskpins are very simple to use. It is just a simple matter of using your mouse and clicking. Once you click on the icon bar, grab the tab and place it in the window. You will have immediate access to the pins. Everything is very straightforward and easy with the interface. While some people look at Deskpins as a bit old-fashioned, people favor them for productivity. The system actually works better if you have an older version of Windows on your computer. After you have downloaded the software, you can play around in the system for additional functions.
Prioritize Your Desktop
It provides for easier management of your programs and increases productivity. If you have any essential or important programs, Deskpins allows you to access them at anytime. The menu option allows for easy management of Windows tools. Hotkeys are also very effective at providing shortcuts to improve your experience.
If you are in need of simple and easy software that prioritizes your desktop and increases productivity, Deskpins is the app you will enjoy. The idea that it brings your important items to the forefront while leaving less important ones in the background gives you the control you need. Remember, this app is only compatible with older versions of Windows. If you don't have an older version, you will need a compatible Mac computer. Either way, this is a great deal, regardless of whether you're a beginner or someone who is more experienced.