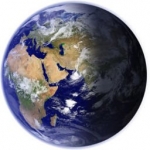 EarthView is an efficient Windows utility that was developed by DeskSoft to facilitate users. It is capable of providing actual images of earth that can be used as wallpaper and screen saver of your PC. It is an easily accessible tool that contains a large number of options. You can easily customize its settings using its toolbar. It supports different views, zoom capability and angles to enjoy distinguished earth scenes.
EarthView is a Windows based application that enables you to choose attractive images of earth as desktop wallpaper and screensaver. The images are dynamic and are modified on the basis of chosen area or time. The images are available for large screens of PCs and adjust well according to the conditions. The high resolution images are very appealing and fascinate those who love nature. It is a user friendly tool that can be easily operated with the help of options and settings. The software can be quickly downloaded and installed on your system with the help of its clear instructions.
Wallpaper:
Wallpaper is an image which appears on desktop and loads along with operating system. It should help you relaxed and refresh your mind. EarthView provides the opportunity to set real-time images of earth as your desktop wallpaper and observe graphical view from different angles. The images are refreshed after particular intervals of time. You can select position, size, map area, zoom and projection type. The view options can be edited by visiting dedicated sections for day view, night view, clouds, cities, background and smoothing settings. Viewpoint settings contain options named camera path, camera position and view selected map area.
Screen Saver:
Screen saver is activated when computer remain idle for specific duration. Images of earth can be used as screen saver which will disappear as soon as any action is performed such as pressing keyboard key. The software lets you choose the time period after which image should be refreshed automatically. Moreover, the activation time should be entered too for specifying the accepted idle time. There are many views available to provide users with various types of images. Globe view and map view are some of the available options.
Options:
General settings let you choose display settings, system idle time, notification settings, multi-monitor support, update automation, global time and day/night transition lines. Clouds can appear in desired resolution. You can select their enhancing details, data source and status. Weather options deal with weather data, units and status and can be personalized with API keys. Internet settings allow you to enable proxy server and test internet connection.
Features:
EarthView contains a straightforward interface where different settings can be modified as per ease. It is a user friendly tool that efficiently meets user requirements. There are multiple settings available for users to handle its operations. It is a light weight tool which is quite small in size and works using limited system resources. It is suitable for both beginners and experienced users due to its simplicity and advanced functions respectively. It is a free tool usable on high resolution screens.