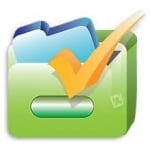 EF Commander is a one of the best Windows file managers that organizes directories and files. It also supports tabbed interface, which defines the mode of view, the user needs in each tab for the files and folders. The utility also has an ID3 Tag support with a built-in audio player and play-list. The software works in the background using less system resources.
EF Commander is a file manager with an FTP client, flexible to use and packed with innovative functions. The program features tabbed Windows, has a configurable toolbar, supports "drag and drop" feature and can perform a variety of actions.
The program offers built-in compactors for ZOO, ZIP, TGZ, TBZ, TAR, LHA, GZIP, CAB and BZIP2. The Internal unpackers of the program are as follows: ZOO, ZIP, TGZ, TBZ, TAR, RPM, RAR, LHA, ISO, IMG, GZIP, CPIO, CAB and many more. Offers CR LF translate for Macintosh, DOS and UNIX. It supports WAV, WMA, FLAC, MP3 and many more using Winamp Plugins.
File viewer for the following extensions: XBM, WMF, WAV, TXT, TIFF, TGA,CUR, BMP, AVI, ANI and much more.
Portable version
EF Commander is so light that you can carry it on your Flash drive. The company also offers the best customer support.