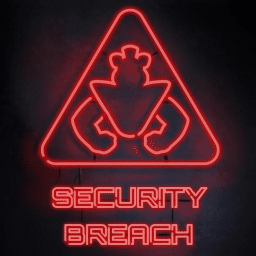 FNAF Security Breach Download
FNAF Security Breach stars Gregory, a child who is locked inside pizzaplex gone awry. Assisting Gregory is series favorite Freddy Fazbear– a bear animatronic who helps Gregory by helping him solve puzzles and avoid capture by other animatronics and a night guard.
Software details
---
Software description
---
Five Nights at Freddy's: Security Breach is the most recent edition to the main series FNAF games. This release came out in December 2021 on PS4, PS5, and PC through Steam and the Epic Games store. There will likely be an XBOX One release in the future, given that the three-month PlayStation console-exclusivity period is over. FNAF Security Breach is $39.99 on all platforms.
Place yourself in Gregory's shoes, being in a first-person point-of-view, as you use camera systems and obstacles to complete tasks. Will you and Freddy escape overnight by reaching the exit of the pizzaplex? That is up to you and your puzzle-solving skills.
Contrary to the game's title, Five Nights at Freddy's: Security Breach only takes place for one night, making it unique for a FNAF game. Also, unlike other FNAF games, Freddy Fazbear, now known as Glamrock Freddy, assists the main character instead of scaring them. Another critical difference between FNAF Security Breach and other FNAF games is that the game has 80's glam-inspired aesthetics, as seen from the updated character designs and pizzaplex interior with neon signs and lights.
Steel Wool Studios, the developer of Five Night's at Freddy's VR: Help Wanted, created Five Night's at Freddy's: Security Breach. The publisher of FNAF Security Breach is ScottGames.
This new chapter is perfect for any new FNAF player or returning fan. There are many unique locations to go to, such as Roxy Raceway and Monty Golf. Like other FNAF games, the game is just short enough to stay fresh through multiple replays, and it has numerous endings for additional replay value. There is the possibility of jump scares, so please be aware before playing this game. Five Nights at Freddy's: Security Breach is rated Teen for Fantasy Violence.