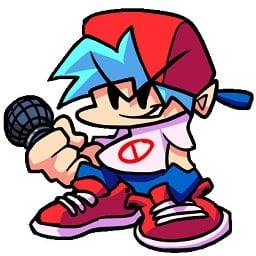 Friday Night Funkin Download
Friday Night Funkin is a music game. You play this game acting as a boyfriend who has a girlfriend but your girlfriend's dad disapprove it. To impress you girlfriend's dad you have to play music and best all your u.
Friday Night Funkin is a donationware rhythm game that was originally developed by Newgrounds users and is meant to be an arcade style game that is going to be fun and easy to play. fnf features a range of characters that you can choose from and does resemble other games like Dance Dance Revolution.
Friday Night Funkin is a game that requires the player to use the main character who is named "Boyfriend" and help him go through the game and defeat other characters by rapping, singing and other contests to help win the affection of "Girlfriend". This game challenges the user to keep up with the other characters and mimic their notes without running out of health until the song is finished. If you are able to do this, you pass and if you do not, the other character wins.
Friday Night Funkin is a music extravaganza game. In this game you have to play music to appeal to your girlfriends father that you are better than him in music. To prove this you have to beat your girlfriends father in all music competitions. The main aim is to prove to your girlfriends father you are the best, so that he can approve your stay with her daughter. You have to press arrows at the right time to produce right tune and also ensure smooth rhythm through the play.
Friday Night Funkin has different modes. You have to complete these modes with precision as possible. There is a story mode in which you have to compete in rap battles with other rap mentors. You have to subdue all of them. The story mode however becomes more complex as you progress. When you begin, it's quite simple and easy but as you progress it becomes hard and difficult. It requires quite accurate coordination between eyes and fingers so as to press the arrows at the right time. You can however perfect your skills whenever you are free. There is a free mode in which you can practice on individual songs. This enhances your accuracy and combination.
Friday Night Funkin is free for download available for windows devices. It works in other operating system but it's not currently supported by mobile phones. Friday Night Funkin has an extensive career mode under story. It prepares you in every way possible by exposing you to various tough musicians. It's to make you ready to face and challenge your girlfriends father and win your girls confidence.
Friday Night Funkin is available in various mods. There are those modes that play online while others can play offline. The users can add mods frequently and they add up to more than a thousand of them. All you have to do is open the game on any browser then select the mod you want to play. In addition, this game is very advantageous when you play it online. You can select any mod even the most latest ones.
It gives you a choice to make. The mods are not necessary to download. You can use them on the online platform. When downloaded, they require more mobile data or internet connection. They further need more storage space. This feature also gives you an easy leeway to shift from one mod to another.
Friday Night Funkin is currently available in English but updates are being made to make it available in other languages. This will make it universal, and useful to a larger audience. It would have targeted individual beings in the local societies a cross the world. The control keys of the game are simple. You can use arrow keys on your keyboard or WASD keys. With this basic knowledge, anyone can play this game with ease. To select any mods you can still use the arrow keys and the enter key on your keyboard. The game is currently supported by computer system, but through modification and customization, it can be supported by mobile phones.
Friday Night Funkin is simple in nature despite being complex in it's formation. It can be easily played using the keys. It has a simple interface despite having a lot of content. When you enter the game you have to just select the mode you want to play then you are set to go. This game is a freeware with no ads popping up while you are using it.