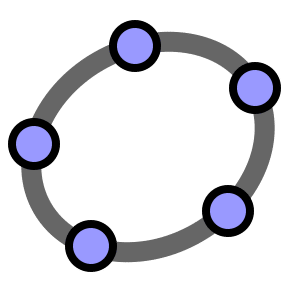 GeoGebra combines learning tools for middle and high school students as well as those in college. Among its resources are lesson plans for algebra, geometry, graphing, statistics, and calculus. Together, the platform has over one million free classroom resources in numerous languages.
GeoGebra makes learning so much fun and accessible. Students and learners can access GeoGebra for free. It is developed so students will have a tool for solving school projects regardless of technological capacities. Moreover, it is available as a mobile app that can be used offline and as a web application. Besides, it also gives educators many resources and tutorials to better improve their app usage or learn other techniques in teaching digitally.
GeoGebra allows users to calculate graphs, complex mathematical problems, 3D factors, and many more. It's a free all-in-one tool for those who are passionate about learning. Educate yourself or help make other lives better with GeoGebra.
GeoGebra: What can you do with it?
Powerful calculator
Graphing calculator
Available in different languages
Easy to understand and use interface
Completely free
Powerful calculator
GeoGebra can perform simple to complex calculations. In the past, you need to own a scientific calculator and perform other tabulations on paper. Today, you can do it with only a piece of software. Utilize your device's capabilities; use it more for learning.
GeoGebra calculates mathematical equations such as algebra, calculus, geometry, and many more. It can also do more complicated and often requires visualizations such as statistics, graphing, and even spreadsheets. Results will display accordingly and can be copied through latex format. Share or copy solutions and learn more.
Graphing calculator
Calculate and point out graphs using GeoGebra. It allows for manual input or generated from a solution. If you're solving a problem, you can view the graph on the other side of the canvas. It is possible to do both things at once. It is useful when you're trying to validate if your answer is right along the way. If you're heavy on multitasking, you'll surely love GeoGebra.
Available in different languages
GeoGebra aims to provide a tool for learning to almost every student worldwide. We believe that all kids and learners should be able to access quality materials and tools. With this in mind, we created GeoGebra to be accessible and usable for any kid. It doesn't matter anywhere you live; you can enjoy and make us of GeoGebra's full power and benefits. Head to the settings and set the language you're most comfortable using. After that, all text and graphics will change to the chosen language so you can better understand and learn.
Easy to understand and use interface
There is no need to worry that you'll be lost entirely with functions and complicated buttons. GeoGebra makes it easy even for beginners to immediately grasp its process. The interface is intuitive enough for everyone to understand.
You can also find tips and videos that teach how to make use of the entire tool's functions. Videos explain how each feature works and how you can apply it to your calculations and other app operations. There are so many explainers and complete documentation to get you started with GeoGebra.
Completely free
GeoGebra is entirely free for everyone. We strongly believe that education should be highly accessible to all. We're doing our part. Above all, our app is open-sourced, so please review the code and learn from it.