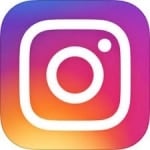 Share pictures, ideas, videos, slices of life, and more with fan favorite social media Instagram
Software details
---
Software description
---
Instagram is a fun and creative social media platform that lets you connect with people, brands, and creators worldwide. From your phone, you can stay in touch with friends and families and stay up-to-date with top brands and like-minded individuals. The app's tools let you share daily moments and life events and add your flair with integrated creation tools.
Features
Use the app's story feature to add videos or photos that disappear in 24 hours
Bring photos and videos to life with easy-to-use creative tools
Send direct messages to other Instagram app users
Add pools to your stories to get advice from friends and followers
The Boomerang feature lets you loop any short video
Choose to share publicly or with a customized audience
Share private memes, photos, and messages with friends and followers
Watch reels to discover short and creative videos
Superzoom lets you add special effects while zooming in on photos
Pin your favorite moments to your story as highlights
Video chat
Post photos, reels, or videos to share with your friends and others on Instagram app
Feature Highlights
Videos and Reels
The videos and reels tool allows you to watch short videos, referred to as Insta reels. The reels are up to 15 seconds long and are often funny and creative. You can upload your short reels to share with communities as a user. Instagram also allows you to like, comment, and share Insta reels. When you share an Insta reel, the video becomes visible in a dedicated space in the app's Explore option, which can help you be discovered by other users and help build your social media following. Insta reels are also shared and streamed on Facebook. Built-in editing tools allow you to add special effects, face filters, stickers, background music, and emojis.
Explore
The explore option is designed to get you inspired. You can search for videos or let Instagram choose the videos it thinks you want to see. If you like the videos and content delivered to your screen, you can opt to follow the creator to get more content delivered to you in the future.
Discover
The discover feature lets you learn about new businesses, brands, and products. You can even shop from brands you fall in love with from the app's discover tool. Stay connected to your Instagram audience with notifications. The user can customize notifications and allow you to know immediately when someone has shared, liked, or commented on your content.
Alternate Softwares