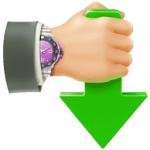 Internet Download Accelerator Download
Internet Download Accelerator efficiently manages three biggest issues when downloading files from internet such as: the speed of the download, managers broken or failed downloads and organizes downloaded files. The program intelligently splits the file being downloaded into numerous parts and transferring these parts concurrently. Like this, the program theoretically offers much faster download in most cases. It is also very useful to reconnect the broken downloads.
If you use multiple browsers, Internet Download Accelerator integrates all of them, by facilitating their management. The program has an amazing feature that it quickly detects the links copied to the clipboard. It automatically manages download links that are, there and automatically requests to download them so the user does not need to bother about broken links. Furthermore, the software comes with an FTP client, a programmer and a download manager so that you can control the software if it starts to hinder your connection with many downloads at the same time, which is very useful in a network or shared connection.
The program does not support multiple languages. However, you can quickly resolve this problem by changing the overall settings of the software. The solution is very simple, just download and unpack the file "idm_ptb2.zip". Drag and drop the folder Languages from the Internet Download Manager. Now restart the Manager on tab view and then choose your preferred language. Download Internet Download Accelerator transfer files and manage them in a simple way. The program is free and is possible to get customer service through email.