Advertisement
---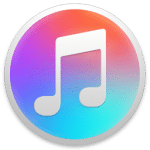 iTunes is a multimedia player that supports Apple OS. You can now enjoy your favorite movies and music on your PC. It facilitates you to edit tags of music files. It also helps you manage your iPod, iPad, and iPhone. You can sync folders, create their backup, manage contacts and download apps you like from App Store. Its simple and intuitive user interface makes it a great choice for beginners and advanced users alike. This freeware was launched by Apple Inc. in 2001 and has become the top choice of iOS users when it comes to digital media players.
Software details
---
mac / Windows 10 / Windows 7 / Windows 8
Software description
---
Apple users know that they can't access iOS device memory unless they use a dedicated application. iTunes is one of the most popular applications that facilitates users to manage files present in device memory. It's also a useful multimedia player that supports almost all formats of audio and video files.
Manage Multimedia Files
You can manage music present in the iTunes library with the help of its desktop application. The software also facilitates you to download multimedia content via the internet. You can sort them on the basis of various categories such as artists, albums, songs, and genres to find a song in no time.
For movies section, the categories include recently added videos and genre. TV shows can be categorized on the basis of recently added videos, episode numbers and genre. You can find podcasts on the basis of stations and sort audiobooks on the basis of authors to find books you want to listen.
Media Player
Don't you enjoy listening to music and watching movies in your spare time via smartphone? You can create their backup through iTunes app. Once you install this software on your PC, you can enjoy videos and music on your PC.
Its built-in media player can play music and movies in high quality. It supports various controls that help you play multimedia, adjust volume, and move to the next or previous song. You can also add subtitles to movies and TV shows to further improve your experience.
You can maintain playlists of your favorite songs so that you can listen to them whenever you want. And shuffle content of playlists and set them on repeat. You can create stations and broadcast your playlist for other iTunes users.
Manage iOS Devices
If you own any iOS device such as iPhone, iPad or iPod, you should download and install iTunes software to manage them effectively. All you need to do is to connect your device with your PC and you can view images, backup contacts, copy apps, listen to music, and play movies stored in the memory.
It takes some time to create a backup. But you can continue using your device during the backup process. Backup saves you from a lot of trouble. If you lose important files, you can retrieve them with ease.
iTunes assists you in managing your iOS devices, creating a backup of data, and enjoying multimedia on your PC. It comes equipped with various functionalities that make life easier for an iOS user.