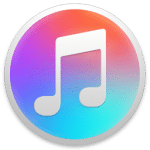 iTunes software by Apple can help you manage libraries of your music and other multimedia files. Then enjoy music, movies, podcasts, and more via its mini-player. Also, this freeware tool works best for creating secure backups and synchronizing multimedia content across devices. It is quite easy to use for beginners and pros alike and resource-friendly too.
For the Apple users and admirers, the launch of iTunes was and is nothing short of a blessing. Because Apple devices connect only to certain software, which are painfully limited in the face of Android's broader reaches, this application is a must for all those who currently have iPhones or iPads. The best part, however, is not that it is an invention of the masterminds of Apple. It is that Apple has been able to perfect it in all ways possible, and only by putting it under a microscope can a critic point out certain flaws, and that too with a mind set on pointing them out.
The Updated Versions:
iTunes has been recently updated to its 12th version, namely iTunes , which has achieved a great applause from the audience. For the most part, this software is cluttered with icons and options, and you need to have a technical mind to navigate your way through it. But that is just how Apple has been all these years. Each update is, fortunately, better than the previous one, something which cannot be said for Android, for the successive updates on Android applications seldom make a difference. Here, however, the software becomes smoother and more efficient with each step, and continues raise our hopes further.
Pros:
iTunes is an Apple product. This is enough to cover most of its features. Apple has a mastermind core of technology and we can expect nothing less than the absolute best from this software as well.
The connection with your iPhone is smoother than before.
The updated versions are neater and more organized.
The previous versions have a DJ feature. The newer ones have an "Up Next" feature. Both allow the creation of lists of favorite tracks.
The design, although technical, looks beautiful.
Cons:
For the larger part, the cons pertain to the complexity of the interface:
iTunes is not a user friendly software. One needs to be vigilant about technology before using it. Most of the Apple users, however, are able to find their way through this.
The newer updated versions are better, but nowhere near jaw dropping. The user reviews speak of redundancy in the functions, with only slight improvements and pruning. Maybe this is because Apple has set a bar too high and expectations peak every time a new service is on its way.
Conclusion
iTunes is a wonderful application for most of the Apple users, who have yearned to download music on their iPhones. The restriction placed on Apple users by the company which enables them to share files only among Apple products and through certain software's works well with this application. For the people who have recently switched to Apple and are being traumatized by this limitation, iTunes is sure to provide a sigh of relief. Although it is technical to use, one eventually learns how to do so, and a user manual accompanies the software to solve any problems that the user might be experiencing.