Advertisement
---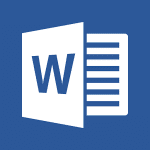 Microsoft Word is an application that can be found in most of the computers in the world. It is the most famous and widely used application for writing purposes that is used in every field of life. In fact, every person in the world seems to be attached with it in one or other form. Therefore, in the present era of digital world, one is ought to know that what is Microsoft Word, what it has to offer, what difference it makes, and what are the benefits of using it and what are the reviews and recommendations for this program.
Software details
---
Android / mac / Windows 10 / Windows 7 / Windows 8
Software description
---
Microsoft Word is the commercial word processing program from Microsoft Corporation. It is an essential part of the Microsoft Office suite. Users can purchase it as a standalone program too. The recent version of
Microsoft Office
contains Word 2021. Its web based version is Office 365, available on a yearly subscription basis. Word is available on Windows as well as Macintosh operating system. Prior to its 2017 version, the default file format was .doc. Since then, .docx has been the assigned file extension.
Brief History:
In 1981, first version of Word was developed by former Xerox programmers – Charles Simonyi and Richard Brodie – hired by Bill gates and Paul Allen. Microsoft word was first launched in 1983. It didn't kickoff straight away, since it looked radically different from WordPerfect, leading word processor at that time. Its 1985 version, which first ran on Macintosh, drew significant sales. It was only in 1989, the first ever version of Word for Windows was released. Since then, Microsoft has introduced umpteen versions on a regular basis.
Do you need Microsoft Word?
If you are to create simple documents with very little formatting, WordPad application on Windows comes handy. When you need more than that, a powerful word processor is required. That's where Word comes in. With Word program, you can choose between a selection of styles and designs. Within a few clicks, you can format documents of almost any size. When you are creating a brochure or writing a book, a simple program like WordPad doesn't cut it.
Top features of Microsoft Word:
Composing and editing functions forms the core of this program. It allows you to type words, sentences and paragraphs. Word allows user to edit and format them. You can do spell check, correct grammar, delete and add words. You can move blocks of text to anywhere in the document. You can format text via boldface font, underlining, italics, bullets and numbering. You can add headers and footers to your document. The program allows you to save documents to your hard drive, which can be re-opened later. Word facilitates user to print documents via attached printer. Another often overlooked feature of Word is its
WYSIWYG
(What you see is what you get) type interface. Things displayed on the screen looks the same when moved to other applications or when printed to paper.
Popularity of Microsoft Word
Microsoft is the king, when it comes to office productivity apps. As a effect, Word still rules as the leading word processing program. .docx file can be opened only through Word application. Thus, not just the sender, but the receiver of the file needs to have Word application too. That is one way Microsoft Word is stamping its monopoly in worldwide word processing market. In the 90's, it gained lion's share (of over 80%) of the market.
Can you access Word for free?
Word Mobile is a free program that helps open word files from PC. On mobiles, this app offers almost all Word functions. Word Online gives you free and total access. If you want unrestricted usage on your PC, you can purchase Microsoft Office that costs under $150 for Office Home. Subscription to Microsoft 365 Personal is $70 per year.