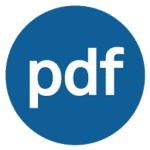 pdfFactory is a highly appreciated PDF conversion tool. It has gained popularity mainly due to its simple functions and versatile capabilities. You can quickly create PDF documents, merge multiple files into a single one, rearrange or remove pages, preview the created documents, improve their security and share them for increasing their accessibility. For getting the final documents with your required dimensions, you can adjust their orientation, size, scale, margins, headers and footers. It is an excellent tool that possesses all the features that are necessary for efficiently creating different PDF documents.
pdfFactory pro is an outstanding computer application whose purpose is to create PDF through all the other computer applications that are capable of printing documents. It actually installs a virtual printer on your system and does not possess a separate screen as its user interface; however, you can access its useful features through other printing software. It is very easy to use and can convert all types of documents into PDF, such as text and images. Its two separate versions are available for free and paid users. Either its Standard version can be downloaded or license fee for Pro edition can be paid for more features.
PDF Creation:
The creation of PDF files from files of any other type is not a difficult task anymore due to the handy functionalities of pdfFactory. It allows you to make PDF files with a single click in a very short time. Either you can create a new document from a single file or merge multiple files from different resources to convert them into a single PDF document. The pages can be moved for rearrangement purpose and can be rotated if they are not in correct position. If any of the pages are not required, then you can delete them before the document is finalized.
Other Features:
pdfFactory allows you to immediately preview the created PDF documents without the need of opening it in a PDF reader software. It embeds all the used fonts within the PDF file. Therefore it does not matter whether the PDF reader possesses the required font or not, as the file will itself display that font. The application ensures that your files are private and secure. For this purpose, you can add digital signatures and watermarks to mark them as your property. You can also Email the created documents quickly. To secure the sent files, they are usually encrypted so that no one else can understand the content.
Online Accounts:
Storing documents on cloud based online storage accounts is in common practice these days. It ensures that the file is safe and can be retrieved in case of unintended deletion from your system. Furthermore, you can access it from other devices too by simply logging in to your registered account. pdfFactory provides support for a number of cloud services including Gmail, Evernote and more. You can easily integrate the desired files with your online accounts by making use of the drag & drop feature offered by the software.