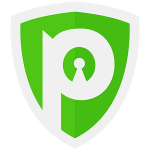 PureVPN is a paid cross-platform application capable of increasing security of systems. Whether you want to switch your IP address or develop resistance against online threats, it can prove to be an effective solution. The activities performed after the service is enabled are not logged anywhere, thus users can carry out their tasks without worries of getting tracked.
PureVPN is a licensed service that enables users to stay safe while performing different types of tasks using internet. The application is available for Windows, Android, iOS and Linux operating system. It is recommended by various worldwide users as it can be translated in English, French, Dutch and Turkish languages. It was officially released in 2006 by GZ Systems and is among the pioneers in the VPN world. The support for multiple network protocols and availability of server in multiple countries has played an integral role in its popularity. Its user friendly interface is another positive aspect.
Data Encryption:
Encryption of data is essential for securing your identity when you are performing tasks such as online shopping, checking details of your bank account or entering Email and password on websites. This information is easily accessible to anyone on public network and can cause serious loss. In order to avoid any harm, you can enable data encryption service of PureVPN by choosing required protocol, purpose of acquiring the service and fastest server of any country. The software provides support for many functions including file sharing, online streaming, online gaming, watching TV and sports streaming.
Web Protection:
Though internet provides access to useful information, but its major drawback is lack of security. Anyone can get their hands on your browsing history and can hack into system through multiple means. Therefore web protection service is introduced that can efficiently deal with threats such as virus, adware, spyware, phishing, bots, spam and other malware. Basically it is a browser add-on that is available for registered users. You can also access TV channels from any country in safe mode. Currently, the Beta version of service is available and it allows access to content from all countries through respective DNS Add-ons.
Split Tunneling:
PureVPN allows you to choose applications that should use VPN service by adding them to split tunneling list. For benefitting from this function, it is necessary to launch software with admin rights. Gamers also prefer it for both online and offline gaming environments. It provides a notification-free interface where users can keep their PCs safe from malware triggered by other gamers.
System Settings:
Settings section deals with the functionalities of software and lets users specify their requirements. Here you can select fast internet, high security or best of both worlds modes as your VPN mode. IPv6 Leak protection, Secure DNS and Internet kill switch are major security options. You can initialize the software on startup, reconnect to network automatically and deactivate auto-updates. The display of traffic can be modified by choosing unit, auto scale, manual scale and visibility time of graph. You can also convert your PC into a virtual Wi-Fi Hotspot easily.