Understanding computers is not everyone's cup of tea.  This used to be a real problem for anyone who didn't want to spend a fortune on repairs when their PC went on the blink due to malware, viruses, and similar problems.  Restoro is an app that can quickly and safely fix common computer problems to enable you to get back to work within minutes.  If you only need one type of software, Restoro is it.
The manufacturers of reputable anti-virus programs, including Microsoft, have specified that Restoro is safe to use with or without other restoration programs for the PC.  Because of its excellent security features, Norton has been awarded the software app its Safety Seal.   The software app has many different uses.
Use Restoro to:
Get rid of computer viruses
Alert you when a website might harm your computer
Make your PC perform better
Maximize your disk space
Replace files that are damaged
Restoro's  outstanding features
Restoro customers are provided with an array of outstanding features they can use to keep their computers in excellent shape.  It can remove malware, isolate damaged system files, eliminate junk files, and repair damaged DLLs and Windows registries. It can also automatically remove damaging or unwanted programs as you direct and more.
Restoro also explains necessary information that is needed for optimization, such as the details about your PC's hardware.  The reports that it generates reveal the computer's operating temperature, which goes far im determining how well your computer will perform.
It also efficiently locates Microsoft files or any apps that crash frequently.  Additionally, it ensures that the user understands which Windows files need repairs and helps users watch for signs that similar problems are on the verge of happening in the future, so you will be fully prepared to deal with them before they happen.
One of the best qualities about Restoro is its ease of use, even for novice computer users.  Users can fix a large number of issues with a single click. Restoro is simple to install and register and comes with easy-to-follow instructions.  It also comes with a customer satisfaction guarantee.
Once the program has been installed on a computer, it will automatically scan for any existing problems and fix any Windows errors that may present.  It also scans the computer for any issues having to do with security and stability, and it does all this in around 5 minutes.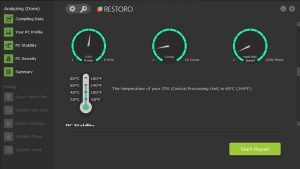 When the scan is complete, the Restoro will issue a report to inform owners about:
Security:
malware
Various viruses
Trojan horses
Computer Worms
Phishing adware
Other security issues
Hardware:
Low memory
Low-speed hard drive
Overheating problems or CPU malfunctions
Stability:
Restoro will generate a comprehensive report that outlines which of your computer programs are problematic. It can help transform your computer into a more reliable machine.
Restoro makes reinstallation easier.
Sometimes a computer will become congested to the point that it no longer works properly.  It will begin to show Windows errors or will malfunction in other ways.  When this happens, the usual solution is the reinstallation of the Windows Operating System.
Not only can reinstalling a Windows operating system take up your valuable time and energy.  It can also result in lost files, such as the system security software, and the computer's original settings that are difficult, if not impossible, to restore.
Restoro can be used to cut back on your computer's idle time and enables users to reinstall their Windows Operating Systems without having to use techniques that only professionals should use.  When using Restoro for this process, users do not have to worry about:
Dealing with multiple system optimizers and registry cleaners that don't work
Guess if your computer has malware or viruses.
Deal with scraped or obsolete Windows reinstallation CDs
Having to start from scratch
Being forced to reinstall broken software apps or drivers or the recovery of passwords or license keys.
You will be amazed by how easy Restoro is to use.  It is made specifically for PC users and was specially designed to be simple to operate.  It comes with an excellent set of features that, with the click of a mouse, can automatically diagnose a problem and use its powerful built-in technology to get rid of viruses, malware, and other bugs to get you back to what you want to be doing in only a few minutes.
If you wonder if you need it, the company has a free version online that will let you run a diagnostic check that can inform you of any problems before you invest in the full version that offers three different plans that can suit your budget.
The Basic tier offers a one-time use of all of Restoro's features.
The Premium tier allows users to access all features for a period of one year and grants a license to use the app for a single PC.
The Extended version is identical to the Premium version but grants licensure for three PCs.
All versions have a 60-day guarantee and a free trial period to test it out.
Restoro Customer Service
The manufacturers of Restoro provide customers with personal attention and have excellent problem-solving knowledge.  They use customer service as a tool for achieving customer satisfaction while providing a product that comes through each and every time.  Restoro is one of the best investments a PC user can make to optimize his or her home or work computer.