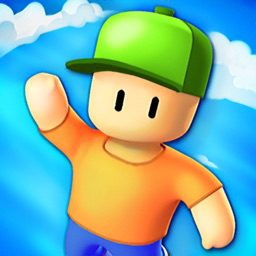 Stumble Guys' vibrant visuals accompany you from the get-go in this video game adaptation of Takeshi's Castle. Each round consists of three separate challenges, from which a certain number of competitors will emerge victorious
Fun battles with up to 32 other players await you in Stumble Guys, an online action game. There are many obstacles you must conquer before you can succeed. It's one of the best Fall Guys clones for mobile devices because it has all the game's top features. Each one has you working on crossing a finish line without dying. Huge snowballs, collapsing platforms, whirling doors, wrecking balls, and other obstacles will make this test difficult but never dull.
Configure Controls
Similar to previous games in this genre, such as Fall Guys, we have a great deal of control over our character's appearance in Stumble Guys. When you fire up the game, you'll see a shop where you can pick up cosmetic skins for your character and useful skills to give them an edge. The game improves upon the player's ability to customize their protagonist's appearance. Changing the color of your skin, face, and attitude, as well as donning a variety of outfits, are all viable alternatives here. This is intriguing because the physics in this game makes it so much fun and unexpected, making them a crucial factor to remember at all times.
Altering Character Customization
Keep this in mind when maintaining command of your character and taking on opponents at their skill levels; the falls will come as a surprise. A wide variety of skins are available for use with Stumble Guys, many of which are free. The game provides free character customization options, but the ones that look the best or maybe the most attractive to some players cost real money. Start with the free ones, and if you find yourself playing this game frequently on Android, treat yourself to a paid one occasionally.