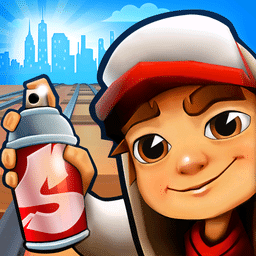 Jake, Tricky, and Fresh are on an adventure in this extremely addictive Subway Surfers. The only thing standing in their way is a grumpy Inspector and his equally unfriendly dog.
When Jake gets busted graffitiing the walls by the Inspector and his dog, the chase is on. Jake must work fast to avoid capture by the quick-thinking Inspector and his clever dog. Work with your friends to dash between trains as quickly as possible. Subway Surfers uses the Unity game engine and is available for download on Apple, IOS, Windows, and Kindle devices. Subway Surfers continuously adds levels, so gamers have access to an endless number of subway stations to explore.
Features
Bright HD graphics
Customize characters
Single-player video game
Endless runner game
Complete your crew with new characters
Compete against your friends
Swipe left and right to avoid contact with obstacles
Feature Highlights
Travel to a New City Every Month
Play Subway Surfers month after month to unlock new locations in the World Tour. Each month, the World Tour match location changes and offers gamers a unique location to unlock, strategize, and ultimately beat.
Earn Rewards for Continuous Play
Gamers that continuously play Subway Surfers earn rewards such as Hunt Tokens. Hunt tokes offers gamers a variety of always-changing rewards, including tokens or tools that will help them beat a certain game level.
Create Your Crew
You're going to need a lot of help to run the subway tracks. So Subway Surfers allows you to unlock new, unique characters to add to your crew. Each new character has his abilities and talents to help you beat difficult levels.
Challenge Friends to Beat Your Score
When you compete with your friends, you can challenge each other through the app's messages. Challenge each other to beat a certain level or see who can get the highest score.
Get to Know the Crew of Subway Surfers
Each of the Subway Surfers crew has their strengths and weaknesses. Jake is the main character of Subway Surfers. Tricky is his female friend and often the brainiest of the group. Fresh is the chillest of the group and what holds them all together. Yutani jokes that she's not from this world and the contraptions she creates make this believable.