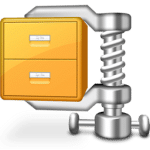 Archiving files is one of the new trends in vogue, thanks to the increasing sizes and increasing spaces that the files were beginning to use. Winzip is leading software that helps to compress those files, making their transfer over the web less hefty and power consuming. It converts the files to its own Zip format, and that should not be a problem for most of the users, for the Zip format is just as flexible as any of the others. Files can be easily extracted and converted into any other format that the user wants them to be in. Furthermore, the software can work on a wide variety of OS, including Windows, iOS, Android and OS X, making transfer of files and extraction of the same through mobiles just as easy.
Storage space is always at a premium, as is the ability to securely save and share critical documentation. WinZip is the number one software package in the world to handle Zip files as well as over a dozen other compression formats. With this software, you are unlocking the power to unzip major file formats, protect sensitive data, share that sensitive data responsibly, and manage files.
Unzip in Over 17 Compression Formats
One of the leading features of WinZip is the versatility of the software package. With this software package, you can unzip in all major formats. This will include compression formats such as Zip, RAR, TAR, and many others.
With the ability to open all major compression formats with the click of a button, you put a lot of power in your hands.
Protection of Privacy
Privacy is at the forefront of everything whether you are using data for personal or business use. You need to keep your data secure where necessary and this software enables that. You can protect your privacy by encrypting files as you zip them. This can also allow you to create PDFs that are in a read-only state. If you have something you want to keep original, you can also apply watermarks to stop someone from copying your file.
Management of Files
Ever want to have complete control over all of your files? With WinZip, you are taking file management to the next level. You can find files with ease, open what you need, make edits, move things around, and more. The files may be on your local hard drive, a local network, or with a cloud service provider.
The great thing about the software package is you can manage all of your files seamlessly no matter their location. You gain a lot of power with the platform to gain control over your files, no matter their location.
Sharing of Files Made Easy
WinZip also enables the ability to share large files with ease. You probably have files that are either too sensitive or too big to send via e-mail. When this is the case, the software provides you with the power to share anything, anywhere.
Take the example of a piece of sensitive financial information you need to share with someone in a secure manner. You can take the information, encrypt it within a Zip file, and off it goes to its destination. You can share via social media, instant messaging platforms, cloud service providers, and more. The WinZip software puts the file in a safe and secure state to make sharing seamless.
The standard WinZip download packs a top-tier user experience in a modern solution that meets the needs of personal and business users. The software can be put to use for a variety of purposes. You can help to work with many compression formats, strive for privacy and security, manage files, and share in an easy way. With all of this at your fingertips, the software continues to innovate and work towards being a de facto solution for so many users.