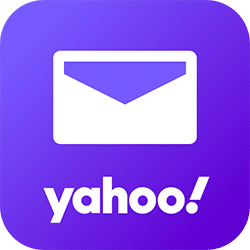 Yahoo Mail is an excellent, popular webmail service in the US, boasting a traffic flow of about 84 million users monthly. The App is a great solution, highlighting the following features.
Email Management
Yahoo Mail App allows you to manage your emails in multiple ways, including linking third-party mail to your Yahoo. You can also edit the name, signature, description, and the reply-to email. This feature also allows you to utilize different or shared inboxes, which you can customize to suit particular preferences.
Its spam blocker feature protects you against phishing and cyberattacks. Since it is automated, you do not need to change the settings all the time. You can also block some senders using the three dots at the top of your panel.
You can also add other third-party addresses to your primary email. This feature allows you more control of your inbox and email reception.
Email Tracking
Yahoo does not directly support open tracking or reading receipts through its webmail interface. Instead, it uses IMAP, which allows you to use different programs to read receipts and track emails.
Response management is also effortless. Yahoo Mail allows you to customize a vacation response, which could come in handy whenever you are out of the office.
Calendar Integration
The Yahoo mail app integrates your email with the calendar seamlessly. It allows you to set up meetings and remind you of particular events. However, you will have to set the day and time of the meeting, including additional information, via the Add More Details button. In addition, you can integrate it with an external calendar, including iCal.
Optimized
The App is optimized, meaning that it will comfortably fit on your screen. This optimization makes it significantly faster, seamless, and more convenient. Its seamless user interface is easy to navigate.
Yahoo Mail is an excellent addition to your phone, whether Android or iOS. It offers multiple features that can significantly improve your mailing experience. The insights above show how.