Google Pixel 6 Review
If you've had your eye on a Google Pixel 6 for the past year, you're not alone. This phone has many desirable features that make it an interesting flagship phone on the market these days. Lucky for you, you don't have to blindly go into the Google Pixel 6 purchasing process. We've tried the phone out and provided an in-depth review to help you decide if this phone is right for you.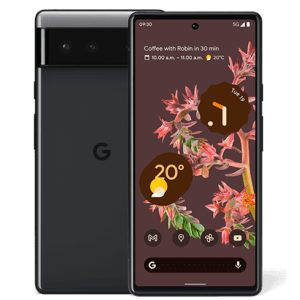 The Basics
The Google Pixel 6 offers some pretty impressive specs at its $600 price point. With a screen that spans 6.4", it fits comfortably in the hand without feeling too clunky or too small. The 2400×1080 resolution makes for an enjoyable viewing or game playing experience on the Pixel 6.
With a 2.8GHz Google Tensor processor, it's not too shabby in performance. In terms of cameras, the Google Pixel 6 is equipped with three cameras. It features 2 rear cameras. One of the rear cameras spans 50MP in width while the other rear camera covers an ultra-wide 12MP angle. In addition to these two rear cameras, it has an 8MP camera on the front for easy selfie snapping.
With 8GB of RAM, it shouldn't close down too many apps while running. The Google Pixel 6 comes in two different storage space options: 128 GB or 256 GB. The price of the phone with 256 GB of storage is at a higher price point than the other one. Still, if you store a lot of photos or large files on your phone, it might be a worthy investment. Additionally, if you have a lot of apps or games that you like to install on your phone, the larger amount of storage space might suit your needs better.
When selecting the option for the storage, keep in mind that this model does not feature a MicroSD card slot. This means that if you choose the smaller storage size,  you'll be stuck without any recourse for improving the amount of storage space. On the other hand, if you know you won't need a lot of space, feel free to grab the 128 GB of storage space. It's not too shabby compared to similarly priced phones on the market.
The phone weighs a little over 7 ounces (206g), which makes it relatively lightweight and easy to carry in a pocket or purse.
Google Pixel 6 Has a Distinct Design
No matter how you feel about the way the Google Pixel 6 looks, it's carved out an identity for itself based on its appearance alone. When you see a Google Pixel 6, the camera bar and distinct look makes it easy to recognize.
While looks aren't everything, an identifiable aesthetic to a phone certainly helps to put it on the map in the public eye. The iPhone has a distinct look to it. Fans of Android and Apple products alike can instantly spot an iPhone because of the way they are designed. Google made a smart decision in our opinion when they took some risks on the look of this phone. While it's not for everyone, it may mark a new notoriety for Google as a company that not only creates quality products, but also has a unique perspective on design.
The thick camera bar might look kind of odd when the phone doesn't have a case on it. Still, it has a cool, futuristic look that's anything but boring. Once you add a case to the phone, it balances out. And we would definitely recommend adding a case to the Google Pixel 6 phone. It's far too pricey, delicate, and easy to drop to risk braving life without putting a case on it.
Since the phone is made of a slick material, it's all too easy for it to slip out of your hands and onto the ground. With the amazing camera quality that this phone offers, it would be a shame to see those cameras shattered because of a pair of butter fingers. If you love the camera and the features of the phone but hate the look of it, a case might help you learn to like it more.
What colors does the Google Pixel 6 come in?
Beyond the structure of the phone, Google offers the Pixel 6 in a variety of hues. With two tone color palettes, the phone plays on the current trend of bright and pastel color combinations. Cute names for the color combinations like "Kinda Coral" and "Sorta Seafoam" help to further solidify the identity of the Google Pixel 6.
While serious older techies might find these sorts of titles gimmicky and silly, the Google Pixel 6 clearly wanted to play to a younger customer base with these quirky names. Still, you don't have to be a Zoomer to appreciate the thought and energy that went into marketing these phones. If you're not into peachy tones or shades of teal, you can opt for a black and gray phone that is as serious as the benefits to this device.
The Biggest Pro: The Pixel 6 Camera
Many people give the Pixel 6 rave reviews based on its high-quality camera alone. We'd have to second this huge benefit to the Pixel 6. Google really outdid themselves when they crafted this camera. While it might not be quite as skilled at capturing HD smooth video as other contenders like Apple's iPhone or Samsung's Galaxy cameras.
Still, for point-and-shoot style shots in still frames, the Pixel 6 delivers a surprisingly clear, crisp image that's hard to beat with other Android phones in the same price range. If you want to capture those gorgeous crimson sunset pictures to post on social media or plan to use to camera to snap photos of products for your side hustle, the Google Pixel 6 is a worthwhile investment for the camera quality alone.
Why else is the Google Pixel 6 great for photos?
Beyond the cameras themselves, the Pixel 6 features a few internal enhancing factors that make your pictures stand out from the crowd. With software that is specially designed to identify darker skin tones in pictures and prevent them from appearing washed out, the software in the camera takes great photos and enhances them to be even better.
What's more, when you have scenes with movement like kids running through a playground, the software can also infuse a blurry effect to the photo that makes it all the more dynamic. On top of that, if you're trying to take pictures of squirmy subjects (like kids or pets that don't want to sit still), the "Face Unblur" can increase your reel of Instagram-worthy photos.
All of these extra features on the camera make this a shutterbug's dream for a phone. When you consider how far this phone has come from earlier iterations of the Pixel model, it's all the more impressive.
Long-lasting battery life makes the Google Pixel 6 stand out
If you don't want to look for a charging station every few hours, you'll be pleased to know that the Google Pixel 6 has great battery life. Sometimes, we've found that we could go more than 24 hours without having to connect the Google Pixel to its charging cord and plug it in. For a smartphone, that kind of battery life is hard to find.
Naturally, we wondered if this would change if we turned the brightness level to the highest setting and flipped the always-on display aspect on. Surprisingly, high brightness and constantly displaying key information wasn't a battery drain. In fact, there was almost no difference in battery life.
When trying to conserve it through low brightness and minimal display usage, the battery didn't last any shorter time. Conversely, high brightness and always keeping the display on didn't kill the battery quickly. This is great news for folks who spend a lot of time outdoors and need a bright screen to see.
Also, when you're using the phone at its brightest setting outside, you probably won't have access to a charger. The battery life makes this a great phone for using outdoors all day or indoors no matter whether you're close to an outlet or not. You'll never panic about the battery levels as long as you have the Google Pixel 6. That is, unless you have a tendency to forget to charge your phone until the last minute. Then you might.
Obviously, constantly streaming high quality videos and playing games with taxing visual effects might lower the battery life during a day. Still, for regular use, this phone is sure to last all day without needing a pick-me-up on the charging cord.
What's the 5G connection like on the Google Pixel 6?
Honestly, the 5G connection on the Pixel 6 is almost too good to be true. Downloading even large files seemed to only take a few seconds–maybe a minute at most. Streaming movies and shows was smooth and didn't buffer like old 4G data might have.
As long as we had an unlimited data SIM card, we could have downloaded movies and streamed music to our hearts' content without a wait. They say patience is a virtue but with the Google Pixel 6, it looks like we won't need it anymore, at least in terms of waiting for downloads and streaming.
Cons of the Google Pixel 6
Like any device, the Google Pixel 6 has some things we liked less than others. One of the main struggles of the Google Pixel 6 is its failure to deliver reliably on the in-display fingerprint reader. While this feature would be super cool, futuristic, and convenient if it worked all the time, it's pretty spotty.
Sometimes, the fingerprint reader works perfectly and lets you into your phone with the touch of the pad. Other times, you'll waste time trying to get it to work and then have to enter your passcode to get into your phone anyway. It's a good idea and it seems like Google has been working on fixing this bug. Still, if the fingerprint reader technology was a huge sell for you on the Google Pixel 6, you might be disappointed.
Additionally, the storage size is set on the Google Pixel 6. You should have a rough idea of what size works for you before you buy the phone because it lacks a memory card slot. Still, as long as you don't need more than 256GB of storage, it shouldn't impact your use of the phone.
Conclusion
Overall, the Pixel 6 by Google delivers on its hype. It has amazing camera quality, interesting features, a sleek and unique design, and it's very user friendly. While we'd like to see more consistency on the fingerprint reader and more options for adding storage, those are small complaints in the grand scheme of things.