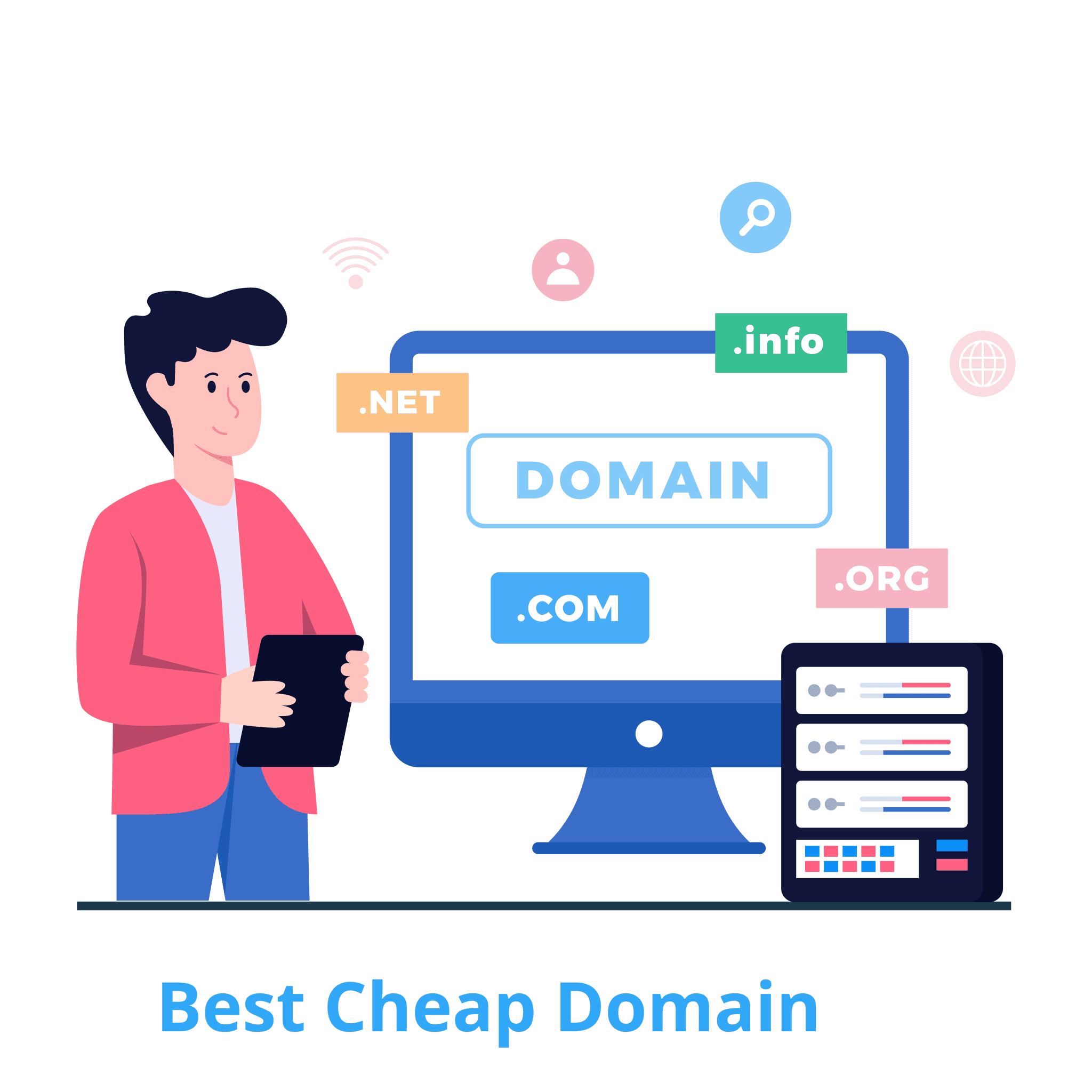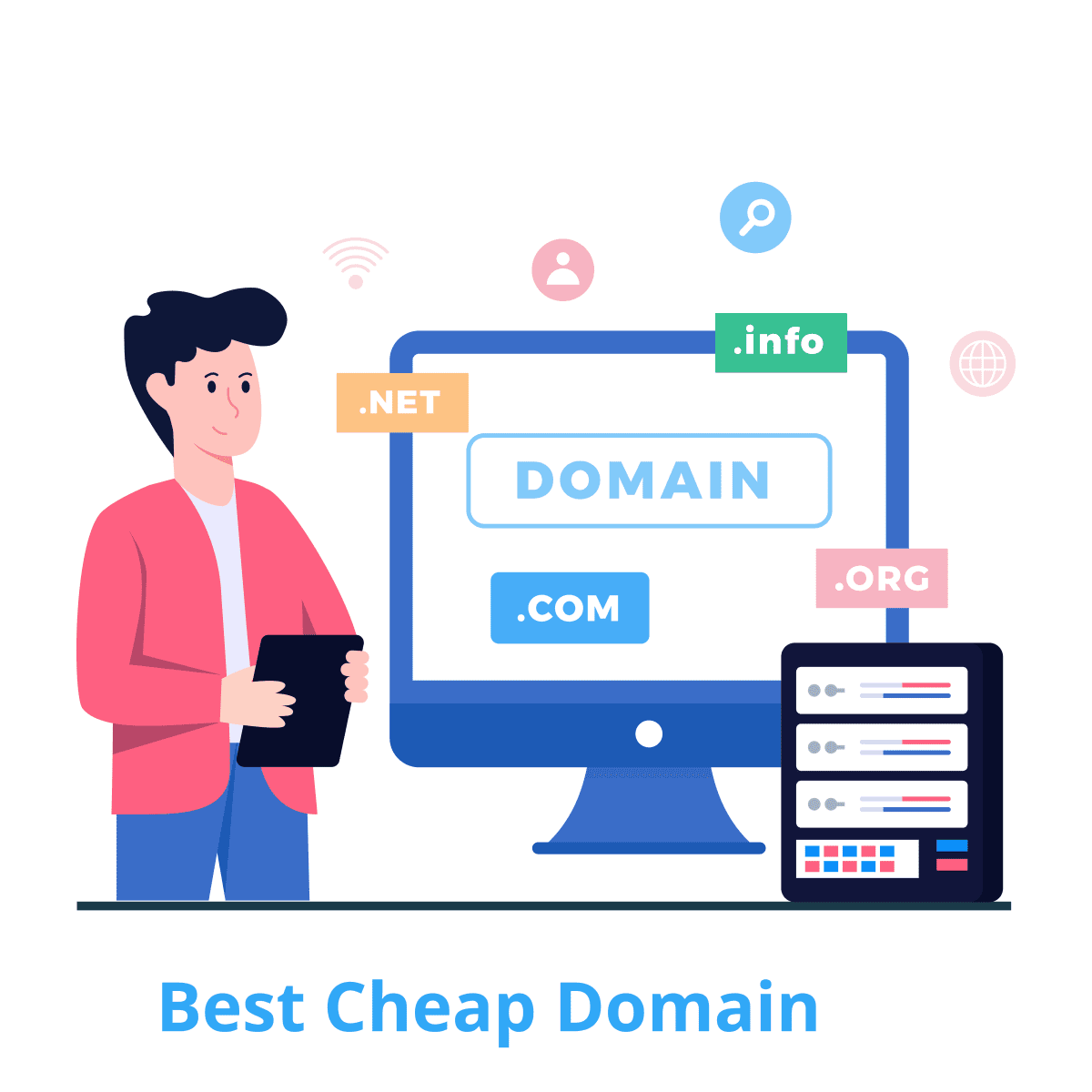 8 Best Cheap Domain Registrars of 2023
Once you've found the perfect domain name, you'll want to go to a domain registrar to claim it officially.
On a domain name registry, users register their preferred website name as long as it is currently available. Technically, a domain name is a series of several numbers with dots for separating groups of numbers. For our purposes, though, a domain name refers to the name of a website such as "example.com" or "example.net."
Rather than registering your domain name manually, a domain registrar takes care of the technical end of domain registry. After you've registered your domain name, you can purchase webhosting.
In this guide, we will discuss all of the pros, cons, and features of the top cheap domain name registrars. Additionally, we have detailed reviews to inform your decision.
The domain registrar's purpose
The whole point of domain registrars is to register domain names in the general domain database. This database is referred to as a "registry." An organization called ICANN is responsible for operating the registry. The organization makes sure that domain names remain compliant with the guidelines the org sets. It also ensures that there aren't duplicate website names on the internet.
What factors should you consider when choosing a cheap domain registrar?
When you are selecting a cheap domain registrar, you should research the pricing of the registrar, how easy it is to use, what privacy it offers if any, additional services, customer support, and ways that the cheap registrar might make the user pay in the long run.
Typically, domain registration can cost anywhere from 99 cents to twenty dollars. If pricing is a major factor for you, one way to lower the price of your domain is to choose a cheaper extension. Steering clear of "premium" domains like .jobs.
Besides the domain name registry features, you'll want to look into how much it costs to renew the domain after you've purchased it. Some cheap domain registrars list the new domain price as significantly cheaper than the renewal price. If you want to stay with the same registrar for years to come, the renewal price matters as much as the initial cost.
1. Namecheap
As the name implies, Namecheap has a variety of different perks that can be impressive for those shopping for cheap domain registries. In terms of costs, the initial costs for the first year are pretty reasonable for TLDs like .com and .net. Additionally, they give users lifetime privacy protection, which is important for website owners who don't want their information out there for all to see.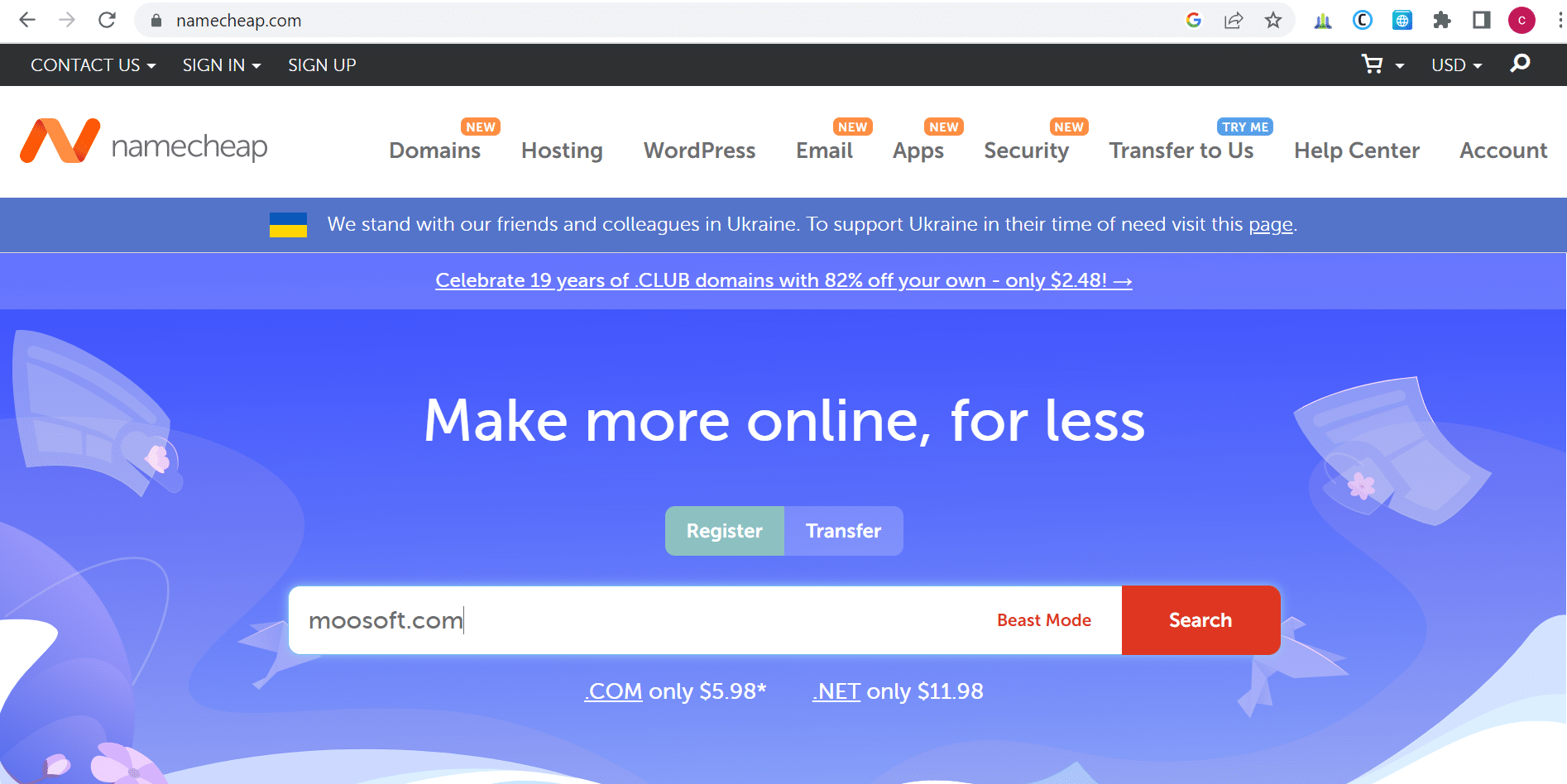 How much does Namecheap charge for domain names?
Namecheap charges $13.98 per year for a .com domain, $12.98 per year for a .net domain, and $12.48 for a .org domain.
Pros and cons
The pros of Namecheap include fantastic support through their live chat feature, WhoisGuard privacy protection at no extra cost, a user interface that is easy to navigate, and several extra services like a Virtual Private Network (VPN). Cons of Namecheap include their lack of phone options for customer support and an increase in the renewal price for domain registration after the initial purchase.
2. GoDaddy
As a household name among computer enthusiasts, GoDaddy is known for its strong marketing campaign and low prices. Their competitively priced domain registration and webhosting plans make them ideal for many users. Their long-standing reputation makes many users trust them, as well.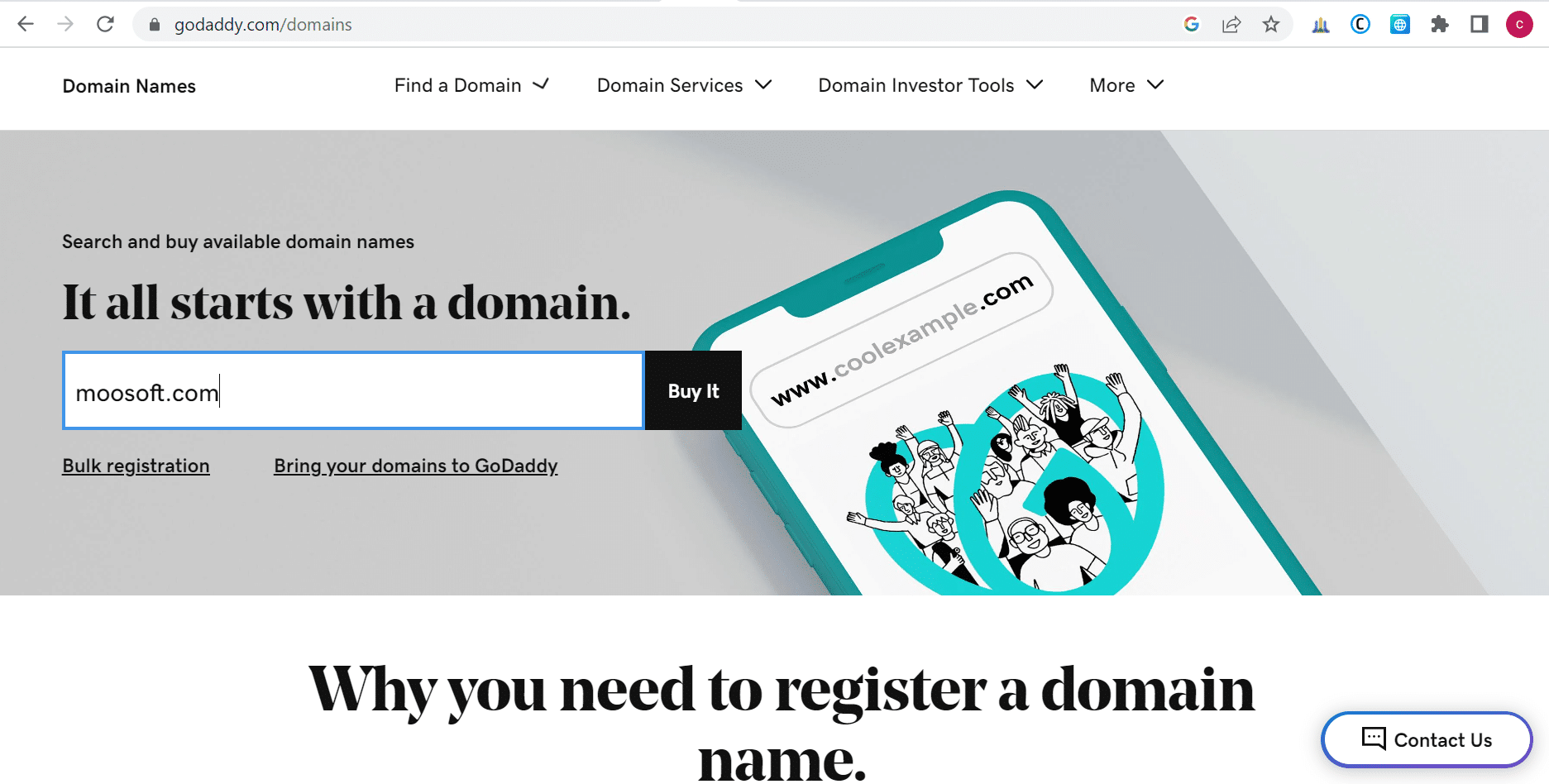 Since you can have a maximum of 100 subdomains, GoDaddy is a great option for small business owners. With 24/7 customer service support over the phone, they're ideal for folks who need to talk to a person over the phone for support. Their Linux interface will appeal to advanced website developers. On their hosting packages, we found that they tend to charge users for every little add-on. This can get annoying and expensive, which is why we don't recommend them for those on an extra tight budget.
How much does GoDaddy charge for domain names?
For a .com domain name, users can expect to pay $19.99 per year. For a .net domain, you'll pay $21.99 and for a .org domain, you'll pay $20.99.
Pros and cons
For pros, GoDaddy is a complete solution to website ownership. They have a simple checkout process and a well-developed number of domain extensions to choose. In terms of cons, GoDaddy upcharges for additional services and aggressively upsells at the checkout page. They also charge more for renewals than for the initial domain name purchase.
3. Google Domains
As one can figure from the name, Google Domains specializes in domain registry, period. They don't offer webhosting at this time. The simple no-frills domain registry process can appeal to those who don't want more than a domain name. As an added bonus, the price you pay for the initial domain is the price you'll pay for the renewal. It's also integrated with all other Google products and protects users' privacy.
How much does Google Domains charge for domain names?
For a .com, .NET, or .org domain name, users pay $12 yearly.
Pros and cons
For pros, the free Whose protection for privacy, cheap price point, and email forwarding at no extra cost are huge. In terms of cons, the automatic renewal default setting and small number of extensions can be a deterrent.
4. Domain.com
While Domain.com sounds like it would only offer domains, they have other services, too. With hundreds of extensions, they're great for those working in tiny niche markets. Additionally, they give users the option to get webhosting and a website building tool through them.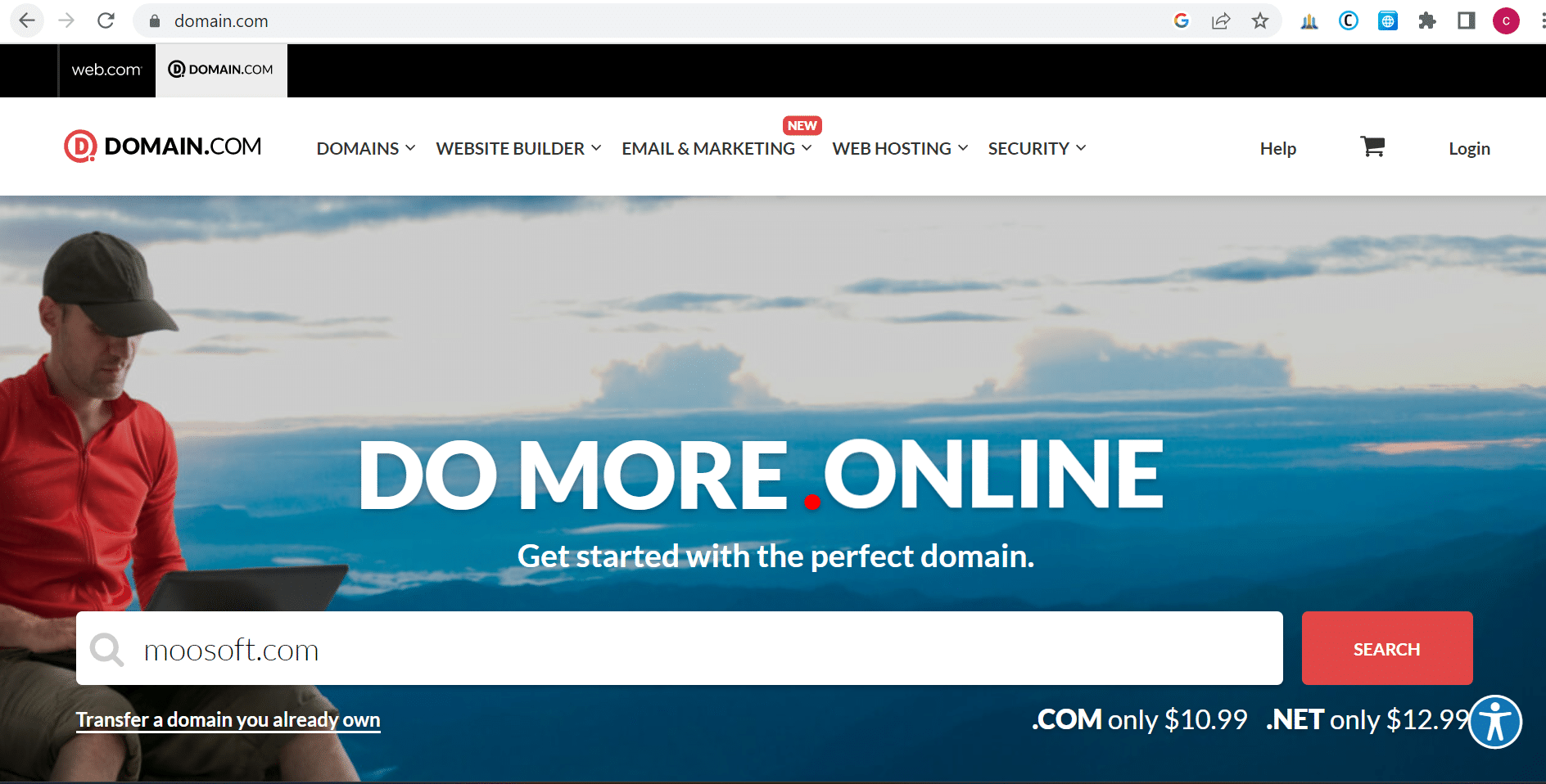 How much does Domain.com charge for domain names?
For a .com domain, they charge $9.99 annually. For a .net domain, they charge $12.99 per year. Their .org domains cost $8.99 per year.
Pros and cons
For pros, Domain.com offers all of your website needs in one place, such as hosting and domain registry. They also boast more than 300 TLDs and unlimited subdomains with every hosting plan. Their cons include aggravating add-on upselling in the checkout process, low quality support, and increased renewal costs. They also charge extra for privacy protection.
5. BuyDomains
BuyDomains has a different service than some other registries. They buy premium domains and sell them to users. This is a fantastic service if your preferred domain name is already taken or if you need strong SEO. You'll need a high budget for it in most cases. You can also use them to transfer a domain but it will cost you.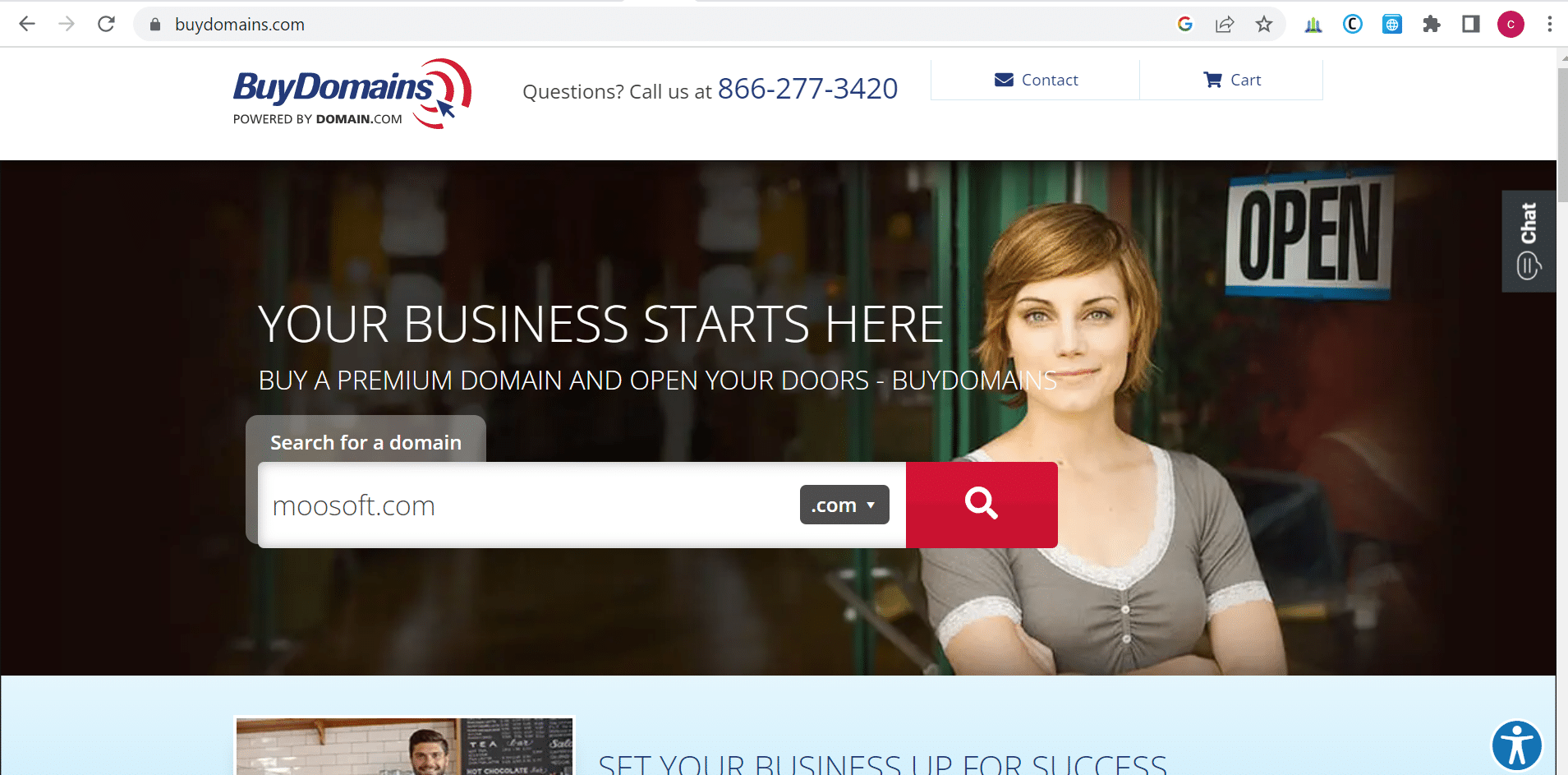 How much does BuyDomains charge for domain names?
BuyDomains pricing varies, so you can expect to pay as little as a few bucks and as much as thousands of dollars for a domain there.
Pros and cons
Pros of BuyDomains include their phenomenal customer support and usefulness to users who have a specific name idea in mind. Their cons include their problematic past, which entails them purchasing domains that have expired and handling them incorrectly.
6. Hover
While Hover is far from the least expensive domain name registry, it is honest and that counts for something. Although their prices do go up with renewals, it's not as huge of a leap as some of the other major domain registrars. Unlike some others, they offer free privacy protection for your information.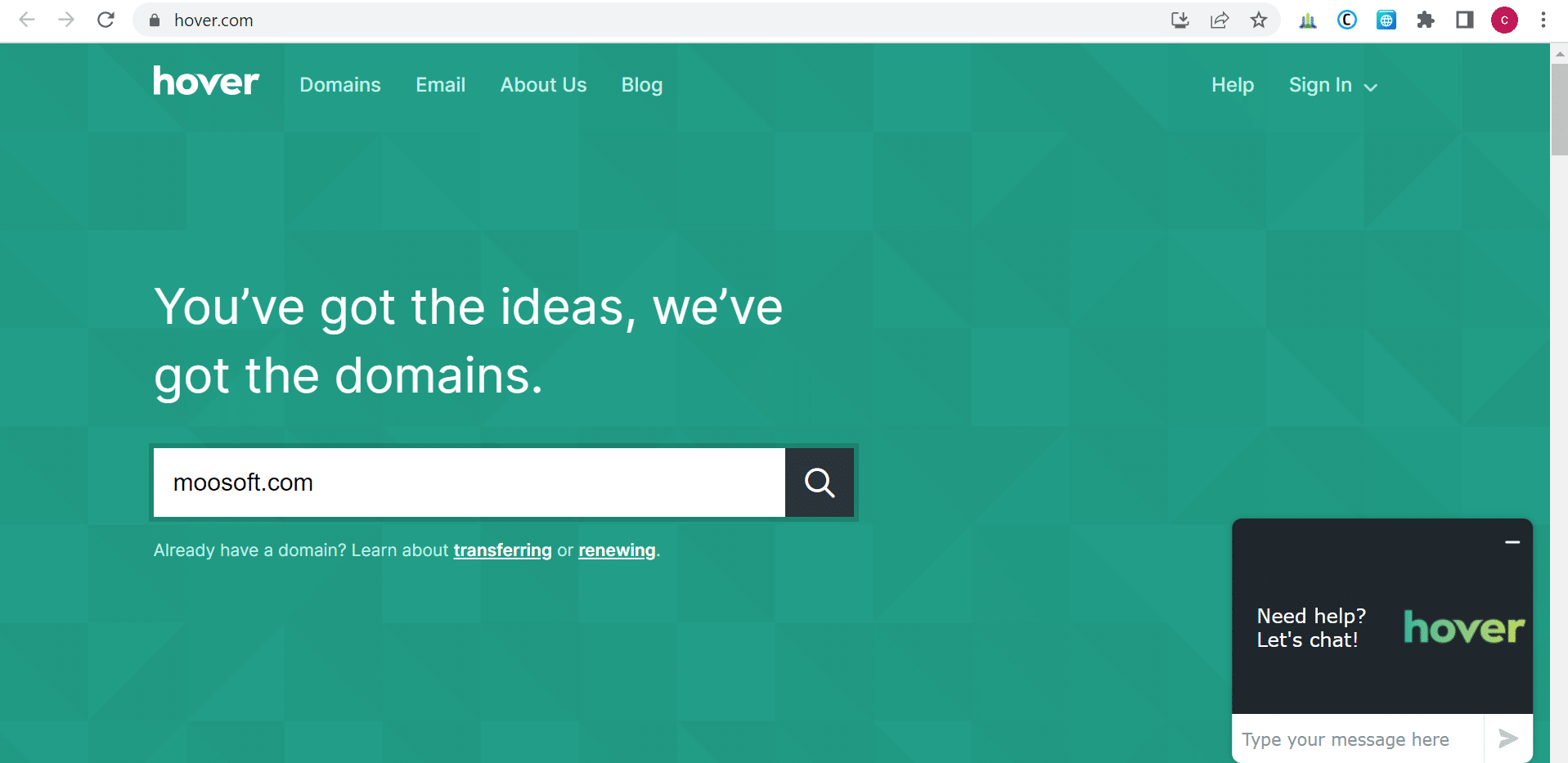 How much does Hover charge for domain names?
For a .com domain, they charge $16.99 per year. For .net domains, they charge $17.49 annually and for .org domains, they charge $13.99 per year.
Pros and cons
The pros of Hover include a streamlined checkout system, sales on extensions, discounted pricing for bulk orders, and Whois privacy protection at no extra cost. Their cons include their lack of extra services beyond registry and lack of support for WordPress.
7. HostGator
As a long-standing domain registrar, HostGator is a popular choice. Their website hosting also makes it ideal for users with little tech experience. If you buy their webhosting first, they'll give you a free domain as a perk. The price does go up after the first year, but this is typical.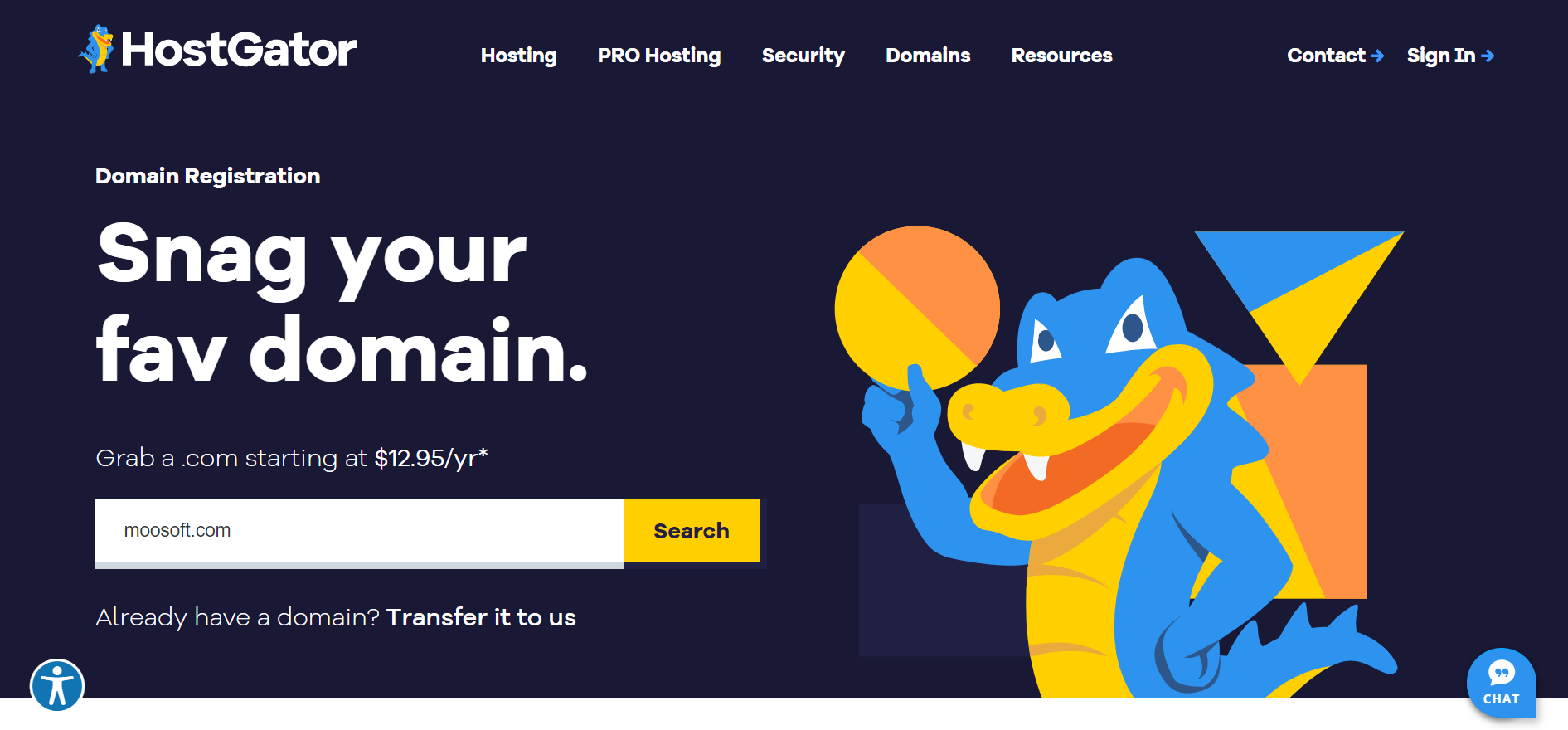 How much does HostGator charge for a domain name?
As we mentioned, with webhosting a domain name may be free. For just the domain name, a .com, .net, or .org domain name will cost $12.95 per year.
Pros and cons
For pros, HostGator is easy for users to navigate. They also have a great base of information and don't charge for domains when purchased with a hosting plan. Their support is available 24 hours a day/7 days a week, which is another pro. The main cons are their increase in renewal costs and lack of free privacy protection.
8. Bluehost
If you want to buy your hosting and domain from the same place, Bluehost is a great choice. They are alsotr544 endorsed by WordPress, which guarantees their quality. With 24/7 website monitoring and an intuitive website builder, there's a lot to love about them.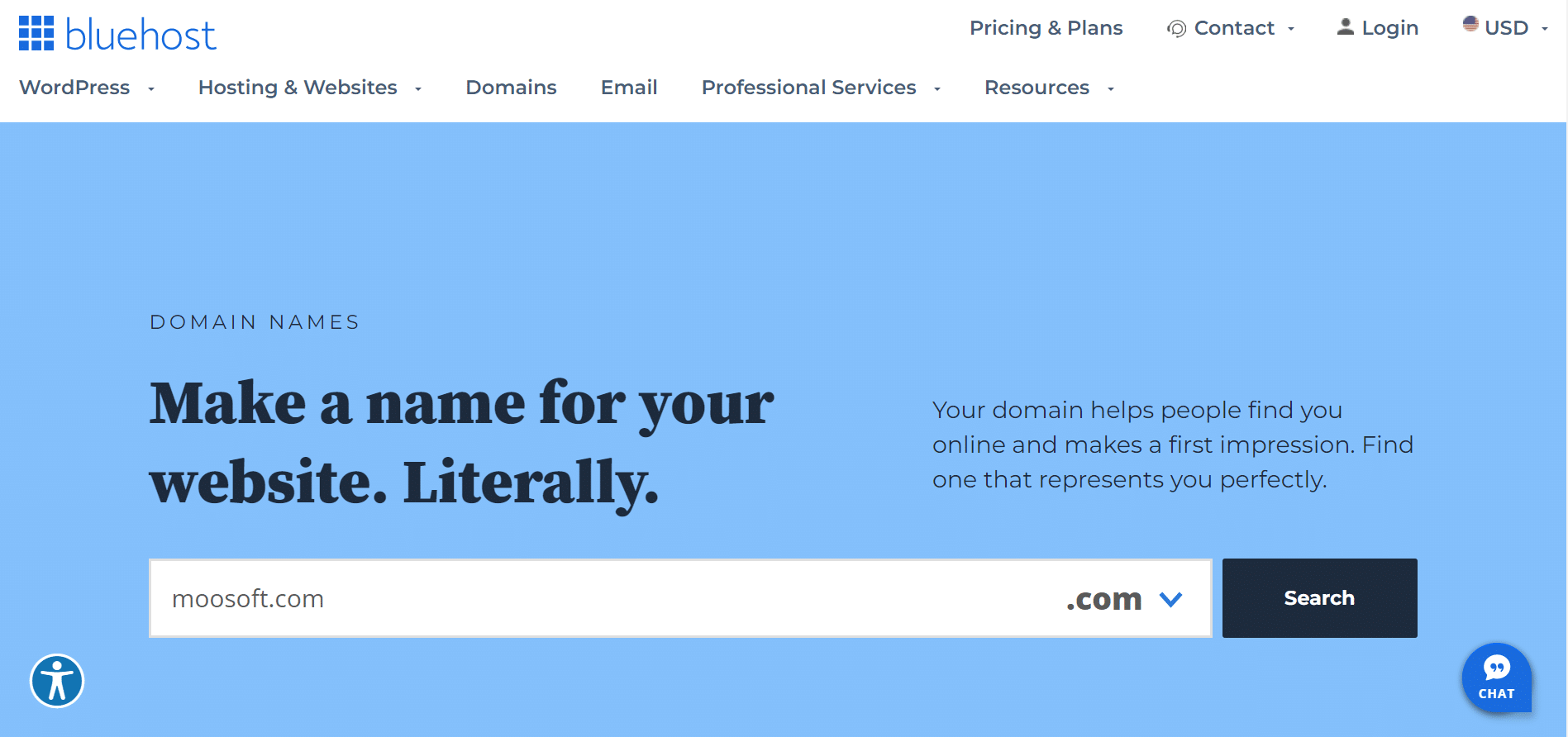 How much does Bluehost charge for a domain name?
For a .com domain, they charge $12.99 per year. Their .net domains jump to $18.99 per year in cost and their .org drops to $9.99 per year.
Pros and cons
For pros, Bluehost offers plenty of additional services, affordable webhosting plans that include a free domain, and no limit on subdomains. They also avoid aggressive upsells. Their cons include mediocre customer support and increased renewal prices.