---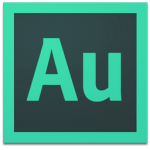 Adobe Audition is a software by Adobe Inc. that allows users to record and edit audio tracks. It has a nice interface that displays digital audio waves on the interface and very easy to navigate. The quality makes your work sound very professional.
Software details
---
Windows 10 / Windows 7 / Windows 8
Software description
---
Adobe Audition is a professional software suite which is dedicated to record, master, edit and mix audio. It is basically a digital audio workstation that provides a platform where individual or multiple files can be selected and various audio processing functions can be applied on them. Initially the software was known as Cool Edit Pro; however it was renamed as Adobe Audition when it was acquired by Adobe Systems in the year 2003. The software allows you to process audio in a non-destructive way and is resource efficient. It is a complete application that is suitable for advanced and professional users.
Multi-track Sessions:
Adobe Audition enables you to work in multi-track mode so that you can create mix and remix of songs or music. You can work with maximum of 128 files at a time. Whole Audio files or their sections can be copied, cut, trimmed, cropped and can be combined with multiple other files. Moreover, you can apply the effects of delay, 3D echo, amplitude, noise reduction, modulation, stereo imagery, time & pitch, reverb, equalizer, distortion and chorus to enhance the audio quality. The mixer option provides the users with an editor where various settings of the audio can be adjusted.
Other Features:
Once the processing is done on the audio files, you can burn the songs or music on CDs with the help of Blu-ray burning feature. This feature helps you maintain the high quality of audio and can burn up to 2 GB of audio file simultaneously at a time. Adobe Audition offers Metronome option which is used for accurate recording of audio in a timely manner. The loudness and dynamics of audio are kept accurate. In case any anomalies and noise have occurred, then equalizers, Spectral Frequency Display and Adaptive Noise Reduction tool can be used for removing them.
User Interface:
The GUI of Adobe Audition is very user friendly. The options are well-categorized into the menus and separate tabs pop up when you choose any option. This feature helps you perform every action individually and easily revert any action if you are not satisfied with the result. Preferences option in Edit Menu lets you customize the layout and adjust the position of each tab. The adjusted settings can be saved as templates and can be adopted for other projects of the same category. There are four major modes of display; Waveform, Spectral Frequency, Logarithmic and Spectral Pan Display.
Conclusion:
Adobe Audition is an advanced tool suitable for professional users who are well aware of video processing. Either you can edit individual files or create sessions where a large number of files can be edited. Its complexity is too high-level for new users, but tutorials and help guide can help them in an effective manner. Adobe Audition suite comes equipped with all the necessary features that are required for creation and editing of audio tracks and its intuitive user interface enables its users to access all the features quite easily
Alternate Softwares