Advertisement
---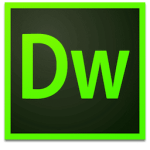 Adobe Dreamweaver

Download
Adobe Dreamweaver is a website development software developed by Adobe Inc. It is proprietary software and therefore, users must pay to use it. Created by Macromedia in 1997, this application acquired its regular updates from Macromedia until the year 2005 when Adobe Systems procured the company. The recent developments made on this tool have improved the support of various web technologies like CSS, Javascript and, several server-side scripting languages like PHP. It supports frameworks such as ASP, ColdFusion, Scriptlet, and PHP.
Unlike most web development tools, Adobe Dreamweaver CC makes use of both the visual design surface and the code editor. This Visual design interface acts as a live preview of what the developer would see on the web browser. The Code Editor comes with various pre-installed features such as code auto-complete, syntax highlighting, and code collapsing to assist the user in writing code.
Adobe Dreamweaver comes with an array of website management tools that enable user-design, code, and managing mobile content. Therefore, a developer can view how both the PC browser and mobile browser will display the content.
Software details
---
Windows 10 / Windows 7 / Windows 8
Software description
---
Adobe Dreamweaver CC 2019 is the top choice of web designers and developers. It's because this software has a simple and intuitive user interface. Moreover, you can easily build a website using its myriad of options and functions.
Quickly Build a Website
Designing and developing websites was never this easy. You can code in any scripting or programming language you're comfortable with. Its auto-complete feature saves time and helps you get done with the coding job in no time. It automatically formats code to make it easier to understand.
The software also offers support for drag and drop options. You can quickly add components and adjust their placement via a single mouse click. You can inspect your website to resolve any issues. It reduces the risk of errors and assists you in building a website your customers will love.
Customize User Interface
The software provides users with multiple display windows. You can write code for your website using its Code tab. If you want to view the results along with coding, you should opt for its Split tab. Design tab only displays the end result and allows you to add components by dragging and dropping them at the desired position.
You can customize the appearance of the application via its View menu. You can decide which tabs and options should appear on the window as per your preference.
Manage Your Website
You need not worry about your website if you use Adobe Dreamweaver. Using its Site menu, you can create an attractive website as well as manage web pages effectively.
You can create a website and save it on your system for time being. You can define its version and choose a server where you intend to upload it. Advanced settings allow you to add templates, customize web fonts, and insert JQuery code for improved user experience.
Build Responsive Websites
A majority of people use their smartphones to access the internet. So, it's extremely important you should build responsive websites that fit any screen.
This software helps you create responsive websites with ease. You can define screen size when viewing the end product to ensure it can adapt to any screen and browser.
Adobe Dreamweaver is a popular application for building websites. This easy-to-use application facilitates both experienced and novice users to design and develop a website. You can build an attractive website for your business to increase your customer base and keep them engaged.