Choose from 40,000 Brushes
The Clip Studio Paint app includes 40,000 brushes for users to choose from. Go to the material store to browse and download brush types. Specialized brush types available include, but aren't limited to:
India ink brushes
Crayons
Markers
Colored pencils
If you use Photoshop and already have a few favorite brushes you love to use, you can import them into the brushes section to continue enjoying them in Clip Studio Paint. In addition, there are brand new brushes added daily by users from all over the world. So, it's a good idea to check out the brushes section on a regular basis.
After you've chosen your favorite brushes, you can customize the way you use the brushes. For example, you can do that if you want your brush line to be thicker. If you want the color of your line to bleed a bit more, you can also do that. All brushes can be customized in a number of ways. There are also tutorials on how to customize brushes to create specific types of artwork.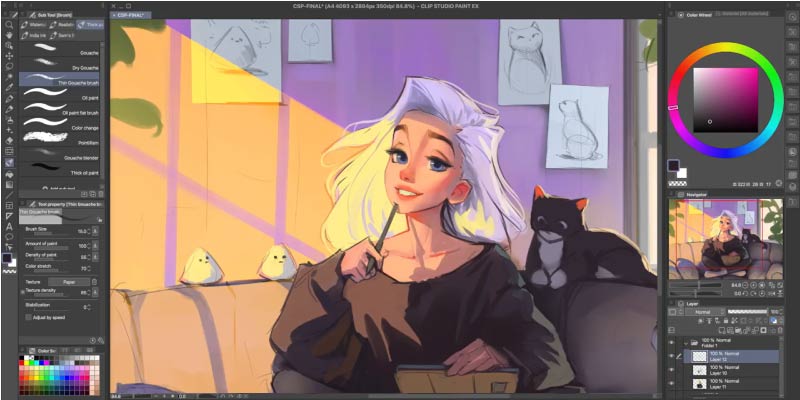 Clip Studio Paints' Brush Engine
Clip Studio Paints' Brush Engine allows the app to pick up delicate variations in pressure, which allows the effective transfer of every stroke you make. In addition, pen pressure sensitivity can be customized for each brush or pen chosen.
Explore Different Types of Media
While exploring the different brush types, you can also explore different types of art media. Here, you can also explore different media types, such as
Oil paint brushes
Pens
Watercolors
Gouaches
Even if you aren't familiar with these types of artwork, you can begin exploring the different media through tutorials included in the app.
3D Drawing is Easy to Do
Clip Studio Paint includes 3D models to help users better understand anatomy. With this understanding, artists can figure out tricky poses accurately. For example, artists can pose and angle a body type using a 3D model.
Once the model is constructed, the artist will draw directly over it or build it in AI. There is an entire section of the app dedicated to 3D artwork and how to use it to create artwork.
Comic and Web Toon Features
Clip Studio Art is also packed with comic and web-toon features. With these tools, artists can create panel frames, effect lines for the manga, speech bubbles, focused lines, and much more.
This feature also includes materials and 3D tools that make comic and web drawings easier.
A built-in webtoon canvas lets you keep an eye on your entire composition. The tool is even better for mobile devices because it provides a smartphone preview.
Make Videos
In addition to drawing illustrations, you can bring your images to life through video. Easily add movement to your drawings and play them at a frame rate that works for your project.
Once you've mastered the movement, you can also add sound and create camera work angles that bring the animation to life. You can make your videos as long or as short as you'd like.
Choose from 3 Clip Studio Paint Bundles
Clip Studio Paint is available in three bundles to appeal to all artists, professionals, and hobbyists alike. Some features of the app are only available as paid subscriptions. To ensure artists can get the tools they want, but not waste money on the tools they don't want, Clip Studio Paint is broken down into three subscription types, including:
The Debut version is only accessible with tablets. It is the most basic version of the app. More sophisticated artists may want to upgrade their
The Pro-version adds more support to the Debut-version. Support features include vector-based drawing help, customizable textures, and comic book-focused features.
The EX version includes everything in the Pro-version while allowing for book exporting and easy creation of multi-page documents.
Desktop and Smartphone Versions Work Identically
If you want to draw but don't have access to a laptop or tablet, you can still use Clip Studio Paint. The same features and tools are available through the smartphone app and the desktop app version. There are also different versions of the app just for the smartphone.
Get Involved in the Clip Studio Paint Community
The Clip Studio Paint app has over 20 million users. The app also has a massive community of users that engage with each other online. By participating in the online community or following the app's YouTube channel, you can learn to use the software better and even access professional tutorials to create artwork or learn how to use different medias of art.
Share Your Artwork with Social Media
Are you pleased with the artwork you've created with Clip Studio Art? You can share your artwork with your favorite social media followers from the app. After completing artwork, you can find a social media button to share your artwork.
Clip Studio Assets
Free and paid assets are included in the Clip Studio Art download. These assets include everything from brushes to how-tos. Once you download a file from the Clip Studio assets section, you can use it in the app. You can browse the different assets and learn how to recreate them on your own. Users and Clip Studio Paint professionals upload their own assets on a regular basis, so the assets are always changing.
User Gallery
Users can upload their Clip Studio Art creations to regular contests. If chosen as a contest winner, artists can have their artwork published online for all to admire.
There are many apps that allow you to ocreate different types of illustrations. But, Clip Studio Paint allows a community of artists to collaborate together to teach and share a variety of art and art types.