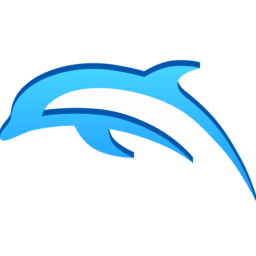 Dolphin is an efficient application through which you can play Nintendo device games on your computer. Though its user interface is simple, but configuration menus are quite difficult to handle. This useful tool can be used by those who do not own gaming consoles; however those who have Wii Remotes can connect the device via Bluetooth and enjoy gaming on big screen.
Dolphin is an open-source Nintendo Gamecube and Wii Emulator for PC gamers. It allows gamers to play their favorite games from these past two systems in full 1080p HD with any controller, and adds several new features such as reworked online gameplay and turbo speed. Dolphin runs on Windows, Mac, Android, and Linux, and can play a vast majority of the physical games available to the Gamecube and Wii, as well as Virtual Console, Wiiware, and Wii Channel titles.
Dolphin gives users many powerful tools and features that were lacking in the original consoles.
Save-States and Fast-Forward allow the player to play how they want, giving multiple tries for tricky games, or a much needed boost for slow sections. Older games can sometimes be more frustrating to a modern player than intended, and Save States allow for this frustration to be mitigated.
Games can be played regardless of region of origin, giving access to Japan and Europe-exclusive games to North American players and vice versa. Games like Captain Rainbow or Doshin the Giant that were never released in North America can finally be enjoyed fully by any player.
Action Replay and Gecko cheat codes can be used, without needing access to the cheat software itself. In-built cheat options allow for the player to modify the original game however they wish, and Community Modded games allow for even further customization options.
Local Multiplayer and Nintendo Wi-Fi connection are supported. This means that even when the official servers go offline, games can still be played both locally and across the world with anyone.
Tool-Assisted Speedruns can be recorded, allowing for players to create the perfect run and share it with others. With frame by frame inputs and save states alike, even the most difficult games can be made to appear effortless.
Real Gamecube Controllers and Wiimote, as well as their accessories, can be used so long as they can connect to the users computer. Through Bluetooth, Wii Remotes can again be used to play Wii Games just as originally intended.
In-depth Controller mapping gives players without the original controllers the ability to play their games however they wish, allowing for modern features such as gyro aiming and touch pads to be used in titles that were made before the technology was in wide use. Modern controller features can allow for a fully custom experience, and button mapping allows for any control scheme imaginable to be used.
Custom texture mapping and full 1080p HD output allows for games to look better than ever before, as well as being able to use anistropic filtering, widescreen, anti-aliasing, and higher Frames per Second than intended means that any game can look its absolute best on your computer.
Dolphin is an emulator that allows its user to play Gamecube and Wii Games exactly how they want, and offers features meant to improve the overall gaming experience. Customization is core to what it does, and what it allows you to do, and it gives you the exact tools you need to create any gaming experience you could want while playing Gamecube and Wii titles.