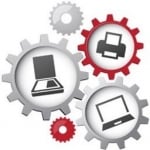 Driver Genius is a useful application with an intuitive GUI. You can update drivers, create their backup, and restore required drivers on your PC. It also helps you save memory space by getting rid of invalid drivers.
Driver Genius is an application software which is designed to provide a check in a PC's installed drivers currently. It is typically done against a database of available drivers in the PCs for software and hardware application of the device.
Advantage
It is a software which quickly detects large quantities of drivers when a test is carried on a PC.
The software is compatible with Windows XP to the latest.
Disadvantage
The one click-fix is not available, and this makes it for one to manually select the drivers and do what one wants to fix.
Verdict
In general, it is one of the most excellent software in scanning the performance of a computer. It is contrary that it lacks the feature which makes it easy to use. The backup and restore system is available, and this allows one to have scheduled scans regularly. However, not being secure in its use when it comes to issues of installing updates, as it does not make a confirmation on the use of OEM sources (Original Equipment Manufacturer).
Many programs exist. Driver genius software comes 110 out of the existing 277 software. It is thus an option to take as it bridges the needs of any potential client in need of checking programme updates on their PC's. Unlike other software's the system to obtain updates it automatic. It thus provides no room to have the one-click fix scanning and update option for the drivers.
There is an option of using OEMs which is not provided, but it uses selected drives hence giving a guarantee on the use of proper drivers during updates. When one has problems or needs assistance on troubleshooting, it is easy to reach the company's professional care desk via email. A database composing of several videos exists on the website where one can acquire information on the product use.