Advertisement
---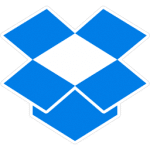 Dropbox is an online platform where you can store data files and folders. You can share data with your friends and access it from anywhere by entering your username and password. Once you store data in Dropbox folder, its content is synchronized to servers as well as other devices where you have installed it. It offers 2GB free memory space, but you can get additional cloud space by purchasing its paid license. It's a user-friendly tool that is compatible with multiple operating systems. Launched by Dropbox Inc. in 2007, this platform is the top choice of many users.
Software details
---
Android / Linux / mac / Windows 10 / Windows 8
Software description
---
Are you always looking for ways to save your files in n organized manner? Dropbox is one of the best spaces to save your files online. the creative collaborative tool is designed to help you organize your files in one place, and to safely synchronize them with your phone, tablet or computer. The benefit of using Dropbox is that you can be able to access your files whenever and anywhere you want.
It also enables users to send large files to other people, whether they have a Dropbox account or not. For those who use it regularly, Dropbox offers an easy way of working on the same files through shared folders. All you have to do is give others access to the files and you can all work on a project together. Dropbox also features a document scanner which you can use to convert receipts, notes and even whiteboards into PDF. Sign up and get started with Dropbox!