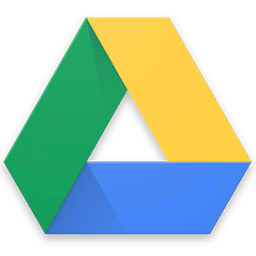 Also known as Google Backup and Sync, Google Drive is the ultimate solution for keeping important documents, memorable photos, and multimedia. You need not worry about losing files anymore and can retrieve them on any device you use. You can also share data with your friends by sending them the link of the storage drive. Since you can decide whether or not other users can download or edit the content, no unauthorized user can modify data. This file hosting service was launched in 2014. Since then it has become one of the most popular storage systems, having more than 800 million registered users.
Google Drive is a productivity app that allows you to store, share, and collaborate with files. Drive can be downloaded to mobile devices, computers, and tablets. In addition, folders can be synced across devices to allow you to access all your information from any device at any time.
Features
Encrypted and secure access to your files
Cloud-native technology
Built on Google's AI
Comment on files in real-time
Native support for 100+ file types
Store team content in a shared folder
Find files fast with integrated search capabilities
Choose from personal or business software
Collaborate with Microsoft Excel software without the need to convert
Easily integrates with other Google products like Google Docs and Slides
Store hundreds of file types
Integrates with dozens of popular collaboration software
Encrypted and Secure Files Reduce Risk
With Google Drive, files shared with you are scanned. Any suspicious files are scanned and removed if malware, phishing, or spam risk is detected.
Cloud-Native Technology Reduces Risk to Local Drive
Files included in this app are cloud-based. With this technology, files you receive in the app pose very little threat to your computer's local Drive.
Store Hundreds of File Types
Google Drive allows you to store hundreds of different file types without converting the files. Examples of files stored in Google Drive include images, PDFs, and CADs.
Google Search Embedded in Drive
Google uses its trusted AI to offer its search technology in Drive. With this tool, users can quickly search within Drive to locate files or information needed to complete projects.
Collaborates with Dozens of Team Software
Suppose your team uses other software for mainstream projects and collaboration. In that case, you'll be glad to know Google Drive is compatible with various other popular software options, such as Adobe, Autodesk AutoCAD, DocuSign, and Slack.
Shared Folders Eliminate the Need to Grant Permissions
Shared folders can be created for team collaboration. Everyone assigned to that folder can see anything placed in it with a shared folder. This means that creators of the folder, and those that add to the folder don't have to worry about granting permission to individuals. Instead, anyone with access to the folder has access to its information.
Find Information Quickly
With search features built right into Drive, users can quickly browse the Internet without leaving the Drive's interface.